19 July 2021
The Covid-19 crisis has clearly disrupted everyday life. Its impact has forced many consumers to explore new customer journeys in how and where they shop for food and groceries. Furthermore, the closure of hospitality during lockdowns led to a significant shift in spend towards the grocery sector with UK households consuming an additional seven billion meals at home in 2020 (Kantar).
Retail Economics estimates that the impact of this behavioural change led to an extra £00bn spent on groceries during the pandemic (March 2020 –March 2021), an increase of £00 per month compared with pre-pandemic norms. However, these figures fail to tell the whole story for the sector. Consumer concerns about their health and personal finances led to significant shifts in where they shopped, what they bought, and how much they spent.
This report identifies five key trends that will shape the UK's grocery sector over the next five years:
1. Convenience: From office blocks to chimney pots
2. Online: A permanent part of the mix
3. On-Demand Delivery: Rapid rise but consolidation on the cards
4. Discounting: Price wars to intensify
5. Sustainability: Increasing focus on going green
Trend 1
Convenience: From office blocks to chimney pots
The Covid-19 crisis has created unique challenges for convenience retailing. Increased homeworking has seen drastic reductions in city centre footfall, resulting in fewer 'on the go' shopping trips.
Convenience stores in residential areas however saw their sales spike, as shoppers stayed local. Lockdowns functioned as a stark reminder for consumers that the ability to shop close to home is crucial; and that convenience stores in towns and neighbourhoods can be a lifeline at times.
Retail Economics research shows that overall convenience sales reached £00bn in 2020, up 00% year-on-year, with local shopping and hospitality closures offsetting the impact of remote working.
shoppers incorporated frequent 'on the go' shopping trips as part of a commute. However, long-term changes in working patterns (hybrid home-to-office, potential shorter working weeks) are likely to reverse this trend. Covid-19 impacts will cause significant structural change in the labour market. In 2019, 27% of the workforce operated from home during the year on average (ONS). In 2020, this figure jumped to 37%.
The level of permanency in home working is debatable, albeit numerous surveys have shown a preference for maintaining flexible policies that incorporate home working –even in a post-Covid world.
85% of UK adults working from home want a hybrid approach going forward. Over a third (36%) would like to spend the majority or all of their time homeworking.
Figure 1 – Convenience sales under pressure from shift to hybrid working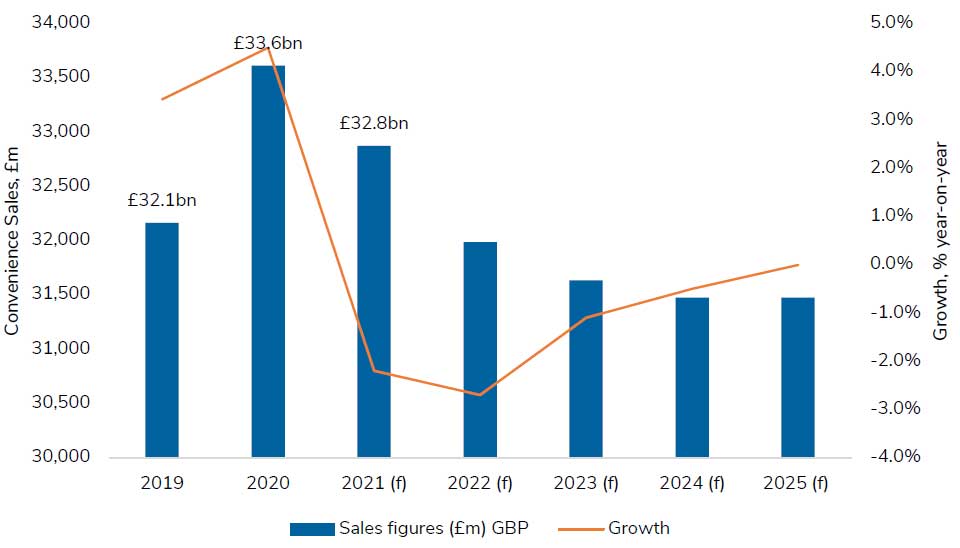 Source: Retail Economics
Changing convenience strategies
With home working set to remain, we expect companies to reposition their convenience store portfolios, pivoting towards local high streets and underserved areas where people live, rather than city centre hubs where they commute to.
Iceland Foods and Poundland have both launched new convenience store formats this year, prioritising neighbourhood locations in Yorkshire and the North East. Likewise, Marks & Spencer are targeting more than 150 UK locations as part of a major push to expand its smaller format food stores in local areas beyond major cities.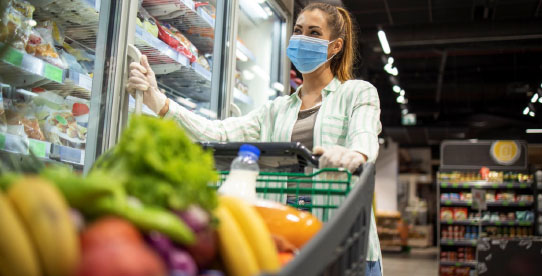 Many retailers may ultimately find themselves vulnerable to unprofitable smaller-format stores that previously relied on high levels of commuter footfall. For example, Booths is closing its Media City store in Manchester due to "significant losses".
The upmarket grocer said the store had been impacted by the shift to home working, which led to a significant reduction in footfall and sales.
Trend 2
Online: a permanent part of the mix
Clearly, one of the most significant consumer behaviour changes to have emerged from the pandemic is the shift to online.
Despite supermarkets remaining open throughout the crisis, the grocery sector has experienced one of the largest shifts towards online within the retail industry. The proportion of online sales more than doubled compared with the previous year –accounting for 00% of total grocery sales in 2020.
A new wave of online shoppers
Retail Economics research found that 11% of consumers purchased online groceries for the first time during the pandemic, having previously only ever bought in-store.
Furthermore, three in five shoppers said they had purchased groceries online more frequently since the outbreak.
A significant proportion of consumers have now been exposed to digital-first customer journeys, either for the first time or more regularly than before. They have overcome the initial barriers of setting up online accounts, entering payment details and overcoming issues of trust.
But for retailers going forward, it is critical to distinguish consumers that have made temporary changes in their shopping behaviour from those that intend to permanently shift their habits online, even after the impact of the pandemic subsides.
Figure 3 offers insight into this question by measuring the relative channel preference of shopping for groceries across each stage of the customer journey, from the awareness of new products and brands, through to the return of items and customer service (broken down by consumer age).
Figure 3–Grocery channel preference by age at each stage of the customer journey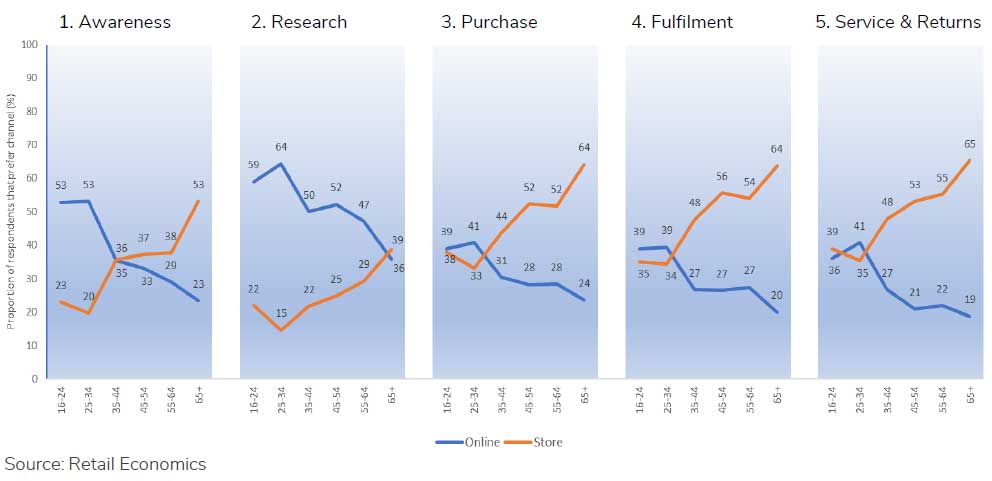 The digital divide
There is a strong correlation by age with older consumers much more likely to prefer the physical experience than younger generations. A sharp channel divide occurs between 'digital natives' (those born into digital environments, typically 16-34 years old) and those that are not. Digital natives tend to value the role of online channels more than older consumers at each stage of the customer journey.
Physical-first
At the point of purchase and beyond, most consumers value the physical experience that stores offer, more than the online channel. These stages of the customer journey (purchase, fulfilment, service & returns) typically present more friction and scope for error when shopping online.
Our research found that one in two consumers experienced difficulties in finding an available delivery slot when ordering groceries online over the past twelve months, while 32% of shoppers had to pay extra to get their preferred delivery time.
Figure 4 -Thinking about your experience of online grocery shopping in the last 12 months, which, if any, of the following have you experienced?

Regarding fulfilment, almost half (47%) of consumers experienced product substitutions with their online grocery deliveries during the pandemic, with 30% having items missing off their order entirely.
Many retailers struggled to cope with the sudden surge in online demand early in the crisis as their websites were tested to breaking point, exceeding fulfilment capacity. The industry has responded well by quickly scaling up online operations and boosting capacity, but consumers' overall experiences for online grocery shopping during the pandemic are mixed, highlighting the need for improvement from retailers.
Digital inspiration
Only at the research stage early in the customer journey do grocery shoppers exhibit a clear preference for online versus in-store. Just over half of consumers prefer to do any research for their food shop online, with online channels conducive for price comparisons and product reviews.
Regional disparities
London (which benefits from greater connectivity and mature online networks) shows the strongest preference for online. In contrast, consumers in the North East are the greatest advocates for physical grocery shopping, consistently preferring to shop in-store at each stage of the customer journey, even the research stage.
The North East has the lowest proportion of online grocery shoppers in the UK, with less than one in 10 consumers suggesting they do most of their food shopping online, compared to almost one in five in London. The South East demonstrated no clear preference, with all other UK regions preferring the overall in-store customer journey compared to online.
Online Grocery Outlook
Retail Economics forecasts the online penetration rate for food sales to dip to 00% in 2021, as just over a quarter of consumers (26%) said they had increased their online grocery shopping only temporarily.
Among those that tried online grocery shopping for the first time during the pandemic, 40% said they do not expect to continue to do so regularly. This will see some of the heightened online spend from 2020 revert to spending in-store as the pandemic recedes.
Data from Kantar also supports this notion, with the volume of physical shopping trips quickly rebounding as restrictions are eased. Rising levels of confidence amongst consumers, particularly older shoppers and those that are fully vaccinated, is driving a recovery in supermarket footfall while also contributing to a slowdown in online sales growth.
However, some of the online uplift in 2020 from changes in shopping behaviour will stick. A third of consumers intend to permanently increase the frequency that they shop for groceries online.
An important condition for shoppers' behavioural 'stickiness' when spending online is the level of convenience home shopping provides as restrictions ease. More time spent working from home will significantly increase opportunities for consumers to receive online deliveries during the day and at a convenient time, supporting further adoption of online shopping.
This will see the online penetration rate for grocery continue to step up to 00% in 2025, from 12.6% in 2020, according to Retail Economics forecasts.
Figure 6 - Online food sales to grow from 2022 onwards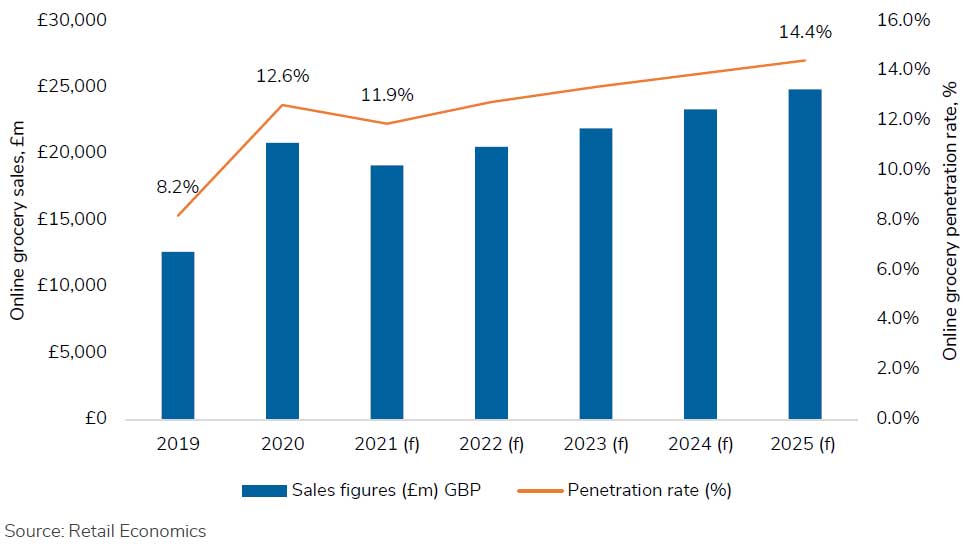 Retailers invest in online
Retailers are heavily investing online with sustained future growth in mind. As such, the industry is undergoing vast changes as retailers focus on increasing online capacity and improving delivery options. For example, Morrisons has grown its online capacity fivefold on last year, demonstrating the scale of change players are making to service customers across channels. Even established online rivals are shoring up capacity. Ocado intends to open a further two customer fulfilment centres over the course of the next year, in addition to 12 micro sites (primarily in London) to support the roll out of Ocado's rapid Zoom delivery service.
Some of the online uplift in 2020 from changes in shopping behaviour will stick. A third of consumers intend to permanently increase the frequency that they shop for groceries online.
Post-Covid Shopper Cohorts
Based on consumers' channel preferences during the crisis and their long-term shopping intentions, our research identifies five types of British grocery shoppers to emerge from the pandemic:
1. Store Loyalists (27%) -Never shopped online for groceries, strong loyalty to store.
More than one in four consumers have never shopped online for groceries, neither pre-pandemic nor since the outbreak. Half of this cohort said they were not even willing to try online grocery shopping, demonstrating a clear preference for physical food stores. Store loyalists are typically over the age of 55, many of whom feel that the in-store experience offers something that online cannot replicate.
2. Store Reverters (22%) -Tried shopping online but prefer in-store
This group of consumers have shopped online for groceries during the pandemic, some for the very first time, but they prefer in-store and will 'revert' to primarily shopping at supermarkets for their groceries. These consumers, typically older, are likely to have had negative experiences shopping online for groceries and while they may not be completely averse to giving it another go, they do not intend to do so on a regular basis.
3. Multichannel Mixers (25%) –Open to online, but still mostly shop in-store
A quarter of consumers are multichannel shoppers, flexible about how and where they shop for food. They sometimes shop online for groceries but prefer to do most of their grocery spending at a store. This group is typically made up of young adults.
4. Digital Newbies (7%) -New to online groceries, prefer it to store
These consumers are new to online grocery shopping and generally prefer it to in-store. There has been a permanent change in their shopping behaviour as they intend to continue shopping online on a regular basis, even after the impact of the pandemic recedes. Shoppers in this cohort are likely to be under the age of 45.
5. Digital Natives (18%) -Majority of grocery spending online before and after pandemic
Just under one in five consumers have shopped online frequently for groceries for more than 12months. Most of their grocery shopping was done online even before the pandemic and this is expected to continue. This cohort is evenly distributed across age groups, a mix of young tech savvy consumers, and elderly shoppers who benefit from shopping online, perhaps due to difficulties in making physical shopping trips because of health or mobility issues.
Figure 7 - Five grocery shopper segments have emerged from the Covid-19 crisis.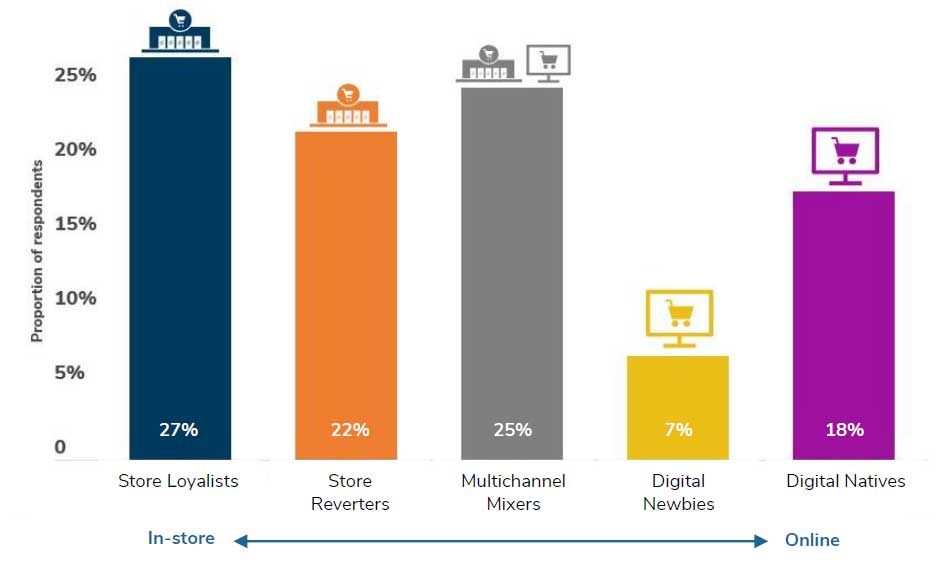 Trend 3
On-Demand Delivery: Rapid rise but consolidation on the cards
Download the full report now > Complete the form at the top of this page to read about this trend...
Trend 4
Discounting: Price wars to intensify
[Download the full report to discover about this trend]
Trend 5
Sustainability: Increasing focus on going green
[Download the full report to discover about this trend]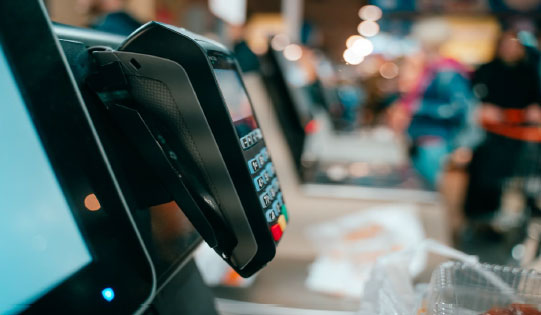 Conclusion
The Covid-19 crisis has significantly impacted the UK grocery market over the past 18 months and will continue to exert a disruptive influence in the short to intermediate term.
The five key trends highlighted in this report (convenience, online, rapid delivery, discount and sustainability) represent shifts that are unfolding at a greater magnitude and pace than ever before, catalysed by the Covid-19 crisis. As such, structural changes, evolving consumer demands and emerging policies require grocery retailers to adopt new strategies to retain existing customers, win new ones and pursue growth.
[Extract - Download the full report to read the full conclusion]
Please complete the form at the top of this page now to access the full report and get more valuable retail insights
Subscribe to Retail Economics to keep abreast of the latest developments and understand what this could mean for your business.