UK Homewares Sector Report
| Insight & Analysis
August 2021
What's included in this report?
Homewares Market Share - top 10 Homeware retailers
Homewares Market Size estimates by category (£m)
Sales Growth by category
Total Homewares Spending by category (£m)
Online Household Goods Sales (y-o-y)
Forecasts for 2021-2025
Footfall by channel and region
Regional Weather data and more…
Report Summary
Period covered: 02 May – 29 May 2021
Note: This report summary is one or two months behind the current month as standard reporting practice. The content is indicative only and incomplete with certain data undisclosed. Subscribe to access this data or take out a free 30 day subscription trial now.
Homewares sales rose by 00% year-on-year in May, according to Retail Economics. However, this figure is distorted by the steep decline seen a year earlier during lockdown.
Retail sales predictably rebounded in May against weak comparisons from the same month last year when sales fell by 00%. That said, May's retail sales performance fell short of expectations given it was the first full month of "non-essential" stores being open this year.
For homewares, the reopening of stores has led to significant gains in sales (00% YoY), with pent-up demand most evident for textiles (e.g. curtains, bedding) where 'touch-and-feel' is key within the customer journey.
UK house prices grew by a staggering 10.9% in May (Nationwide) – the highest rate since 2004. Buyer demand remains strong, but estate agents have reported a shortfall of properties coming on to the market, resulting in mismatch between supply and demand, with price inflation intensifying on the back of this.
Online Household Goods sales slowed considerably in May, rising by 7.9% year-on-year, reflecting tough comparisons from the 122.9% growth recorded a year earlier during the UK's first national lockdown.
Online accounted for 24.0% of total Household Goods sales in May, down from 27.6% the previous month. Nevertheless, the online penetration rate is still significantly higher than pre-pandemic levels (13.2% in May 2019), suggesting a permanent step-change in the proportion of online sales.
Retail Economics forecasts Homewares to grow by 00% year-on-year in 2021, with sales reaching close to £00bn. This would mark a swift recovery for the sector as it returns to 2019's pre-pandemic sales levels.
Demand for Homewares held up relatively well over 2020, defying the economic shock from Covid-19. With people spending more time at home, many consumers prioritised home-related purchases to improve living conditions.
Klarna has launched a new shopping app that allows customers to pay in instalments at any retailer – even if it does not offer the service.
Take out a free 30 day trial subscription to read the full report >
Online Household goods – spend vs. growth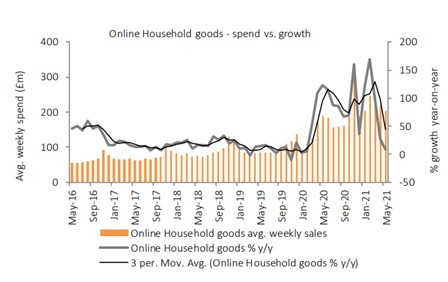 Source: ONS, Retail Economics Analysis