UK Consumer Report
| Trends & Analysis
August 2021
What's included in this report?
Consumer spending overview
Consumer spending trends
Consumer spending by category
Consumer spending by region
Consumer spending by income decile
Retail sales growth
Market size and growth rates
Consumer spending forecasts by category and more…
Report Summary
Period covered: Q1
Note: This report summary is one or two months behind the current month as standard reporting practice. The content is indicative only and incomplete with certain data undisclosed. Subscribe to access this data or take out a free 30 day subscription trial now.
Consumer expenditure fell by 00% in Q1 2021 – the second consecutive quarter to record a decline in consumption levels after the brief recovery in Q3 2020.
Total Expenditure amounted to £00m in Q1 2021.
Similarly, consumer spending fell for the fifth consecutive quarter on an annual basis, contracting by 11.0% in Q1 2021.
UK GDP is estimated to have contracted by 00% in Q1 2021, a slight revision on the preliminary estimate of a 1.5% drop.
Education, Wholesale & Retail trade, and Accommodation & Food services made the largest contributions to the fall due to the tightening of Covid-19 restrictions. Combined, these consumer facing services fell by 7.5% in Q1 2021.
UK households saved a fifth of their disposable income in the first quarter of 2021 with the household saving ratio rising to 00% - the second highest on record, compared with a revised 16.1% in Q4 2020.
This increased confidence that the pace of the economic recovery will be stronger than first anticipated, with households emerging from the pandemic with excess savings.
The Bank of England expects c.10% of the additional savings to be spent as the economy reopens.
Take out a free 30 day trial subscription to read the full report >
Consumer spending falls for the second consecutive quarter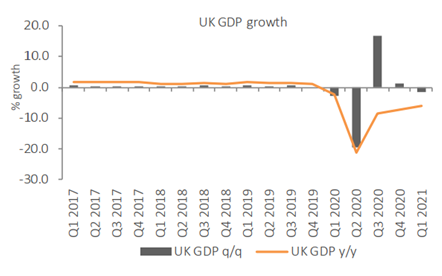 Source: ONS