UK Retail Inflation Report
| Data & Statistics
June 2021
What's included in this report?
Overview of UK Retail Inflation
Consumer inflation by category
Prices, costs & margins
Inflation benchmarks comparisons
Commodity prices & shipping costs
Exchange rates
External data summaries: ONS Consumer Price Index, ONS Producer Price index, BRC-Nielsen Shop Price Index, House price data
Factory Gate Inflation and more…
Report Summary
Period covered: March 2021
Note: Reporting periods are either one or two months behind the current month as standard reporting practice. Certain data is undisclosed. Take out a free 30 day subscription trial to access this data or subscribe.
In March, the headline Consumer Price Index (CPI) rose by 0.7% year-on-year, up from the 0.4% rise in the previous month. The core inflation rate (excl. food & energy prices) also rose by 1.1% year-on-year from the 0.9% rise in February.
Increased Covid restrictions resulted in 67 basket items being unavailable (8.2% of the basket weight) in March.
The largest upward contribution to the change in the CPI inflation rate came from transport (0.18 percentage points, pp) driven almost entirely by motor fuels. Indeed, Petrol and Diesel prices each rose by 3.5 pence per litre between February and March having fallen a year ago during the onset of the pandemic. This offset downward pressure from second-hand cars with prices falling this year compared to a rise a year ago. Demand for second-hand cars rose during the pandemic as an alternative to public transport.
Food & Non-Alcoholic Beverages deflation accelerated in March, falling to -1.4% year-on-year, from -0.6% in February. Downward pressure was exerted by a range of breads and cereal items including chocolate biscuits, packs of individual cakes, and breakfast cereals. This outweighed upward pressure from fruit.
Transport inflation continued to accelerate in March, rising by 0.00% year-on-year from the 2.4% rise in the previous month. Upward pressure was almost entirely driven by motor fuels, with both petrol and diesel prices rising by 3.5 pence per litre this year compared with falls a year ago.
Annual inflation in Recreation & Culture rose by 0.00% in March from the 2.2% rise a month ago. Upward pressure was exerted by a range of sub-sectors including games, toys and hobbies and packaged holidays, all offsetting downward pressure from audio-visual equipment
The commodity indexes we track accelerated sharply in April as they annualised against the onset of the pandemic a year ago. Indeed, the Thomson Reuters CRB Index rose by 63% year-on-year, compared to a 66% annual rise for the GSCI Commodities benchmark.
Consumer Price Index (CPI)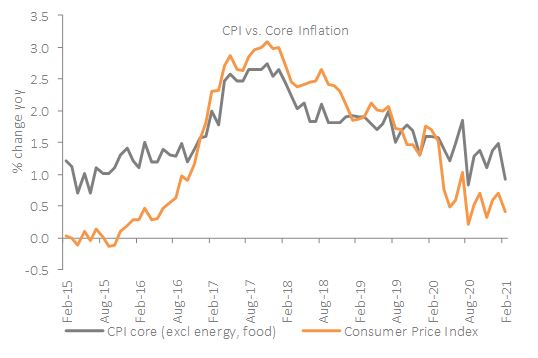 Source: ONS