UK Furniture & Flooring Sector Report
| Trends & Data
June 2021
What's included in this report?
Market Share - top 10 Furniture and Flooring retailers
Market Size estimates (£m)
Furniture and Flooring Sales Growth by category
Total Spending by category (£m)
Online Furniture and Flooring Sales (y-o-y)
Forecasts for 2021 - 2025
Footfall by channel and region
Regional Weather data and more…
Report Summary
Period covered: 28 February – 03 April 2021
Note: This report summary is one or two months behind the current month as standard reporting practice. The content is indicative only and incomplete with certain data undisclosed. Subscribe to access this data or take out a free 30 day subscription trial now.
Furniture & Flooring retail sales rose by 00% in March, year-on-year, with total retail sales rising by 00% year-on-year, according to the Retail Economics Retail Sales Index (value, non-seasonally adjusted, exc. Fuel).
value and non-seasonally adjusted, according to Retail Economics.
Total online sales continued to rise significantly on the previous year. Average weekly sales climbed to £00 billion compared with £1.5 billion in the previous year; online accounted for 00% of all retail spending.
Compared to a year ago, multiple lockdowns have seen consumers become more comfortable with shifting spending online during shop closures, as shoppers switch to previously learnt lockdown behaviour.
Importantly for Furniture & Flooring, housing market momentum is expected to continue in the short term, with indicators from the latest RICS Residential Market Survey showing that buyer enquiries, house sales and new instructions improved in March compared to February.
Greater discretionary spending power from less commuting and cancelled holidays since the pandemic began will support demand, while the extension of the stamp duty holiday until 30 June 2021 should also provide a boost for potential home owners.
Retail Economics research shows that 42% of consumers are not planning to go on holiday this year. Consumers are likely to divert some of their additional savings to high-ticket products and improving home comforts.
Retail Economics forecasts total Furniture and Flooring sales to rise by 00% year-on-year in 2021.
Furniture & Flooring sales suffered from non-essential store closures during the pandemic. Big-ticket items such as furniture are typically more considered purchases and rely heavily on physical interactions in shops. Shoppers are more hesitant to buy online without the sensory experience that shops and good customer service offers.
We expect demand for furniture and flooring to bounce back in 2021 as stores re-open, with planned purchases more likely to have been deferred than cancelled entirely
Average weekly sales for Furniture & Flooring were £00m in March, according to Retail Economics.
ScS said online orders more than doubled in the seven weeks to 13 March, up by 158% year-on-year.
Take out a free 30 day trial subscription to read the full report >
Non-food sales remain well below 2019 levels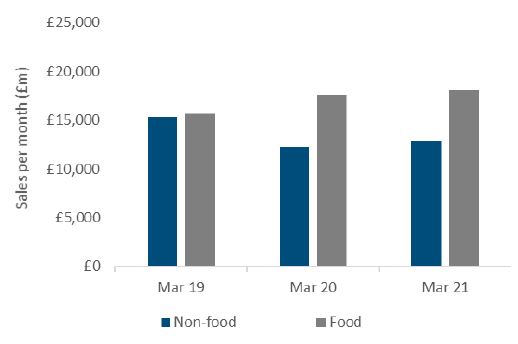 Source: ONS