UK Retail Economic Briefing Report
| Economic Report
August 2021
What's included in this report?
Summary and economic overview
GDP
Labour market statistics
Inflationary trends
Producer prices pressures
Consumer spending
Retail sales trends
Prices, costs and margins
House prices and mortgage approvals
Credit market statistics
Consumer Confidence
Wage Growth and more…
Report Summary
Period covered: May 2021
Note: This report summary is one or two months behind the current month as standard reporting practice. The content is indicative only and incomplete with certain data undisclosed. Subscribe to access this data or take out a free 30 day subscription trial now.
UK economic activity accelerated in April as the UK came out of lockdown. GDP grew by 00% over the month, the strongest growth rate since July 2020.
Services output picked up considerably in April, rising by 3.4% month-onmonth, as restrictions on consumer-facing industries were eased.
Retail sales volumes grew sharply in April, with a monthly increase of 00%, reflecting the re-opening of non-essential stores from 12 April in England and Wales and from 26 April in Scotland.
Hospitality: Reopening of restaurants and bars diverted spend away from the retail industry. Pent up demand for 'socialising' saw restaurant bookings rise by 32% against the previous year (OpenTable). This shift in spending to leisure displaced some spending on retail products.
Retail sales rose by 00% in May, year-on-year, according to the Retail Economics Retail Sales Index.
Retail Economics found that, as a direct impact of hospitality reopening indoors, 00% of consumers spent less on retail items in May.
CPI inflation rose to its highest level since July 2019, accelerating by 2.1% year-on-year, from the 1.5% rise in April. This was ahead of the Bank of England's 2.0% inflation target and above economists' forecasts of a 1.8% rise.
UK house prices jumped by an annual 13.4% in June, the highest rate since 2004, according to mortgage lender Nationwide.
Latest RICS Residential Market Survey shows a widening gap between demand and supply, with fresh listings tailing off while new buyer enquiries rise.
Take out a free 30 day trial subscription to read the full report >
Inflation rises above expectations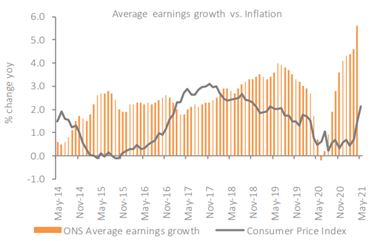 Source: ONS