UK Retail Economic Briefing Report
| Economic Report
May 2021
What's included in this report?
Summary and economic overview
GDP
Labour market statistics
Inflationary trends
Producer prices pressures
Consumer spending
Retail sales trends
Prices, costs and margins
House prices and mortgage approvals
Credit market statistics
Wage Growth and more…
Report Summary
Period covered: 01 Feb 2021 – 28 Feb 2021
Note: This report summary is one or two months behind the current month as standard reporting practice. The content is indicative only and incomplete with certain data undisclosed. Subscribe to access the full report or take out a free 30 day subscription trial.
Gross Domestic Product
Annual GDP fell by 9.8% in 2020, the largest yearly decline on record, the largest annual decline since "The Great Frost" of 1709.
Whilst GDP increased by 1.3% in Q4 2020, the level of economic output in the UK remains 7.3% below its Q4 2019 level.
According to independent forecasts from the Treasury, GDP is forecast to grow by 4.4% in 2021.
Inflation
CPI inflation unexpectedly eased in February, slowing to 0.4% year-on-year from the 0.7% rise in January and below expectations of a rise to 0.8%
In the coming months Inflation is expected to rise close to the Bank of England's inflation target of 2% as the recent rise in oil prices continue to feed through to higher fuel prices.
In real terms, total pay and regular pay is growing at a faster rate than inflation.
Retail Sales Growth
Retail sales fell by 0.00% in February, year-on-year, according to the Retail Economics Retail Sales Index (value, non-seasonally adjusted, exc. Fuel).
The closure of non-essential retail throughout February polarised the performance of food and non-food.
Meanwhile, non-food retailers saw a significant slump in sales, down 0.00% on the previous year, according to Retail Economics
As consumers adapt to the shift towards online, average weekly sales saw an increase from £2.4 billion compared with £1.3 billion in the previous year, with online accounting for 34.5% of all retail spending in February.
Consumer Confidence
GfK's Consumer Confidence index improved by seven points in March to -16, the strongest rise for a year, driven by the vaccine roll-out and roadmap exiting lockdown.
All measures within the index improved compared to the previous month, with perceptions around the economy over the next 12 months demonstrating the greatest improvement.
The major purchases index rose by eight points to -11 in March, some 13 points higher than at the beginning of the year and just nine points lower than a year earlier.
Record GDP decline in 2020 despite improved end to the year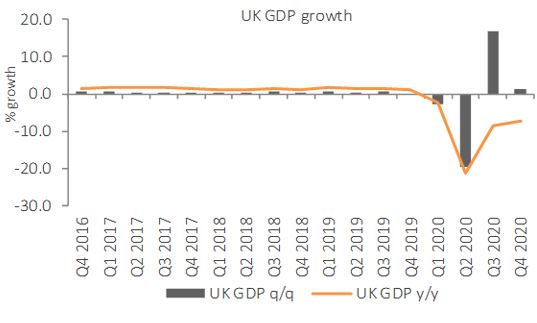 Source: ONS