UK Electricals Sector Report
| Data & Forecasts
June 2021
What's included in this report?
Electricals Market Share - top 10 Electricals retailers
Electricals Market Size estimates (£m)
Electricals Sales Growth by category
Total Spending by category (£m)
Online Electricals Sales (y-o-y)
Forecasts for 2021 - 2025
Footfall by channel and region
Regional Weather data and more…
Report Summary
Period covered: 28 February – 03 April 2021
Note: This report summary is one or two months behind the current month as standard reporting practice. The content is indicative only and incomplete with certain data undisclosed. Subscribe to access this data or take out a free 30 day subscription trial now.
Electricals declined 00% year-on-year in March, according to the Retail Economics Sales Index. While demand for Electricals is beginning to ease after a solid run of growth, March's decline is more of a reflection of high base effects from the same month a year earlier.
Compared to 2019's pre-pandemic levels, Electricals sales remains firmly positive, rising 00% on a two-year basis in March.
Electricals demand has proven extremely resilient during the pandemic. The sector was able to adapt quickly and relatively easily to the closure of physical stores, benefitting from high levels of online penetration before the crisis. This, combined with the boost from increased working from home, has seen Electricals sales growth outperform throughout lockdown periods.
Our latest consumer panel showed that 00% of consumers planned to visit Electricals stores as they reopened in mid-April. This is considerably lower than other sectors such as Clothing and Footwear where there is greater pent-up demand.
Demand for laptops and tablets remained strong in March, particularly for lightweight options. As office workers start to move to more of a hybrid working pattern, there was increased demand for portable devices that can be used for travelling between home and the office. This includes wireless headphones such as Apple's AirPods which are proving very popular.
Consumer confidence saw its strongest rise in a year in March on the back of the rapid vaccine rollout, with GfK's confidence index improving seven points to -16.
Retail Economics forecasts total Electricals sales to rise by 00% year-on-year in 2021. This marks a slight moderation on the strong performance seen over 2020.
Dixons Carphone has decided to close its airport stores business, just months after a scheme allowing VAT-free shopping for overseas tourists was scrapped. Dixons Travel, comprises 35 stores, including eight at Heathrow and four at Gatwick.
Electricals has the highest online penetration rate of any retail sector, projected at 00% of total sales in 2021.
Take out a free 30 day trial subscription to read the full report >
Fig 1. Are you planning to visit any of the following non-essential retail physical stores when they reopen on 12 April?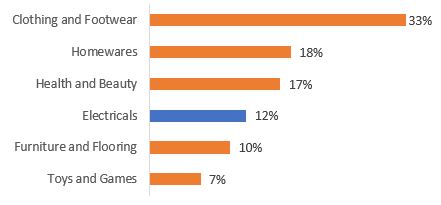 Source: Retail Economics