UK Electricals Sector Report
| Data & Forecasts
April 2021
What's included in this report?
Electricals Market Share - top 10 Electricals retailers
Electricals Market Size estimates (£m)
Electricals Sales Growth by category
Total Spending by category (£m)
Online Electricals Sales (y-o-y)
Forecasts for 2021 - 2025
Footfall by channel and region
Regional Weather data and more…
Report Summary
Period covered 03 January – 30 January 2021
Note: Reporting periods are either one month or two months behind the current month as standard.
No sign of January Blues
Electricals sales increased by 7.2% year-on-year in January – the best performance of any non-food sector.

The closure of schools boosted demand for computers and laptops in January, while many consumers traded up their household appliances for more luxury products as part of a shift to "second-round" home comforts.
UK Retail Market Trends
The announcement of a third national lockdown on 4 January, effective the following day, saw the closure of non-essential retailers once more.

Retail sales fell by 1.7% year-on-year in January, according to the Retail Economics (value, non-seasonally adjusted, ex. Fuel).

However, there was a significant shift towards online as consumers reverted seamlessly to lockdown shopping behaviour.
Lockdown-proof
Even before the pandemic, more purchases of electricals occurred online than in-store.

High online penetration rates mean the Electricals sector is better positioned to adapt to lockdown and non-essential store closures compared to other non-food sectors.
Electricals the star performer in non-food retail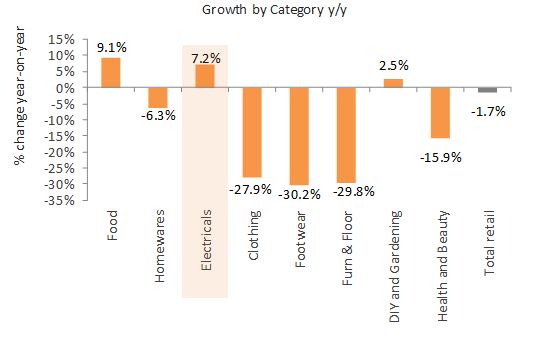 Source: Retail Economics