UK Clothing & Footwear Sector Report
| Trends & Forecasts
August 2021
What's included in this report?
Market Share - top 10 Clothing & Footwear retailers
Clothing & Footwear Market size estimates (£m)
Sales Growth by category
Total Spending by category (£m)
Online Clothing & Footwear Sales (year-on-year)
Footfall by channel and region
Regional Weather data and more…
Report Summary
Period covered: 02 May – 29 May 2021
Note: This report summary is one or two months behind the current month as standard reporting practice. The content is indicative only and incomplete with certain data undisclosed. Subscribe to access this data or take out a free 30 day subscription trial now.
Online Clothing & Footwear was the strongest performing category in May, recording annual sales growth of sales growth of 00% year-on-year.
According to Office for National Statistics, online sales accounted for 27.0% of total Clothing & Footwear retail sales in May, down from the 46.5% proportion a year ago.
Rising confidence and the continued easing of Covid restrictions saw Clothing sales more than 00 on last year when retailers and consumers grappled non-essential closures during the first national lockdown.
But the category remains 00% down on 2019 levels. While this may not seem like much, the release of pent up demand in May following the third national lockdown is being pulled down against a backdrop of more working from home impacting formalwear, less travel impacting seasonal wear, and fewer events disrupting occasion wear.
The first full month of non-essential shops being open alongside hospitality reopening should have brought renewed focus to apparel shopping. However, the wettest May since 1967 (Met Office) discouraged shoppers to venture out.
In the four weeks to 29 May, footfall across UK retail destinations was 27% below 2019 levels (Springboard).
A return to anything like pre-pandemic levels of high street footfall is likely to lag the lifting of restrictions as consumers remain wary of public interaction until fully vaccinated. Additionally, data from the Bank of England suggests consumers that have received both doses of a Covid-19 vaccine have a greater propensity to spend (00% of vaccinated consumers planned to increase spending in the three months from March versus 00% among non-vaccinated respondents).
Ted Baker reported losses before tax of £107.7m for the year to 30 January, falling by 38.8% on last year. Group revenue slumped by 44.2% to £352m. The fashion retailer blamed its poor performance on the pandemic's impact on global trade.
Take out a free 30 day trial subscription to read the full report >
Online Clothing and Footwear - spend vs growth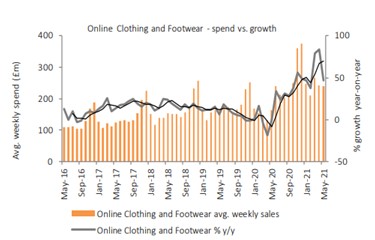 Source: ONS: Retail Sales Index – value, non-seasonally adjusted *Period aligned to ONS trading calendar 02 May – 29 May 2021