UK DIY & Gardening Sector Report
| Overview & Analysis
April 2021
What's included in this report?
Market Share - top 10 DIY & Gardening retailers
Market Size estimates (£m)
DIY & Gardening Sales Growth by category
Total Spending by category (£m)
Online DIY & Gardening Sales (y-o-y)
Forecasts for 2021-2025
Footfall by channel and region
Regional Weather data and more…
Report Summary
Period covered: 03 January – 30 January 2021
Note: Reporting periods are either one month or two months behind the current month as standard.
Stand out performance
DIY & Gardening sales growth slowed in January, rising by 2.5% year-on-year.

Resultantly, sale growth underperformed the three-month and 12-month averages.
Market composition
DIY & Gardening outperformed the overall sector, given its "essential" status and strong underlying consumer motivations to improve their home environments.

Retail sales fell by 1.7% in January, year-on-year, according to the Retail Economics Retail Sales Index (value, non-seasonally adjusted, exc. Fuel).
Online channel
Growth was supported by the online channel with online household goods sales growth accelerating by 112.9% in January year-on-year.

The data suggests that consumers are more effortlessly transitioning to lockdown shopping habits, switching to online channels which they discovered during previous lockdowns.
DIY and Gardening spend remains in positive territory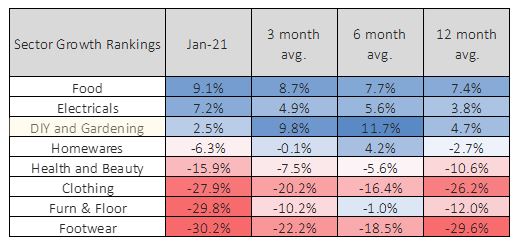 Source: Retail Economics