UK DIY & Gardening Sector Report
| Overview & Analysis
June 2021
Report Summary
Period covered: 28 February – 03 April 2021
Note: This report summary is one or two months behind the current month as standard reporting practice. The content is indicative only and incomplete with certain data undisclosed. Subscribe to access this data or take out a free 30 day subscription trial now.
DIY & Gardening sales growth rose to the record high rate of 00% in March, year-on-year, boosted by a 15.8% decline a year ago when the pandemic took hold.
Sales growth was undoubtably supported by the easing of lockdown restrictions during the month. One-on-one meetings outside were permitted from 8th March while the 'rule of six' was reintroduced outdoors and in private gardens in the week leading up to the Bank Holiday Easter weekend (29 March).
Google Trends data showed that in the last week of March, searches for 'BBQs' and 'garden furniture' both rose by 259% on the corresponding week a year ago.
With heightened anxiety amongst consumers and non-essential shops closed, sales shifted to the online channel at pace, with a third of consumers indicating they had purchased certain products online for the first time which were only previously purchased in-store (Retail Economics consumer panel, March 2020).
That aside, we remain optimistic that underlying sales growth within the sector will stay strong in the short term, at least as consumers continue to focus on their homes. Our own research shows that 00% of consumers claimed to delay spending on home related products in March until stores reopened.
We expect to see a shift in discretionary spending towards leisure-orientated sectors such as clothing and hospitality as restrictions are lifted over 2021. However, the outlook for DIY & Gardening remains strong, supported by continued momentum in the housing market and reunions with family and friends in spring/summer which will boost gardening segments.
Retail Economics forecasts Online DIY & Gardening sales to decline by 00% in 2021, reflecting unfavourable year-on-year comparisons with 2020. Overall online penetration will remain above 2019's pre-pandemic levels at 00% of total sales in 2021
Homebase entered a new partnership with bellwether retailer Next. The DIY chain has opened garden centres in six Next shops located in Bristol, Sheffield, Ipswich, Warrington, Camberley and Shoreham.
Retail Economics forecasts total DIY and Gardening sales will rise by 2.2% year-on-year in 2021.
Take out a free 30 day trial subscription to read the full report >
Online channel supports sector growth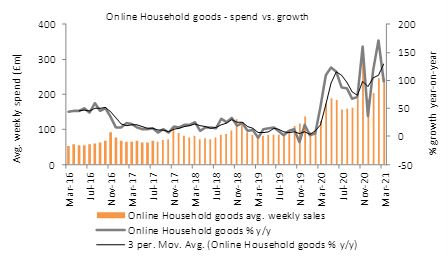 Source: ONS