UK Food & Grocery Sector Report
| Insight & Analysis
June 2021
What's included in this report?
Grocery Market Share - top 10 UK Food retailers
Food & Grocery Market Size estimates (£m)
Sales Growth by category
Total Food Spending by category (£m)
Online Grocery Sales (y-o-y)
Forecasts for 2021 - 2025
Footfall by channel and region
Regional Weather data and more…
Report Summary
Period covered: 04 April – 01 May 2021
Note: This report summary is one or two months behind the current month as standard reporting practice. The content is indicative only and incomplete with certain data undisclosed. Subscribe to access this data or take out a free 30 day subscription trial now.
Food sales growth rose by 00% in April, year-on-year. Resultantly, growth slipped below the 12-month averages.
The category continues to be supported by the online channel, with sales growth rising by 00% year-on-year against a 85.7% rise a year ago. Last April, retailers were increasing their online capacity at a staggering pace as sales shifted online. Tesco for instance were able to offer one million online delivery slots a week during April 2020, boosting their online capacity by 103% in a matter of weeks.
Kantar suggested that shopping trips rose by 4% in April on the previous month, with older shoppers accounting for nearly half of this rise in footfall.
Retail Economics research found that nearly 00 (00%) of British shoppers expect to do most of their grocery shopping in-store rather than online after the pandemic. For many households, online grocery adoption may be temporary in nature.
Sales growth was also impacted by the reopening of non-essential retail with sales of non-essential items moving away from supermarkets.
Analysis from the ONS suggested that all commodity types sold in supermarkets recorded a fall in their sales compared with March (clothing reporting the largest fall).
Retail Economics forecasts Online Food & Grocery sales to decline by 00% year-on-year in 2021. However, the online penetration rate is projected to remain much higher than pre-pandemic levels.
The Co-op is set to invest £1.7m to reduce prices of 29 fresh, chilled, and ambient vegan products, in a bid to give customers cheaper 'flexitarian' choices.
Take out a free 30 day trial subscription to read the full report >
Commodities sold in supermarkets in April fall on previous levels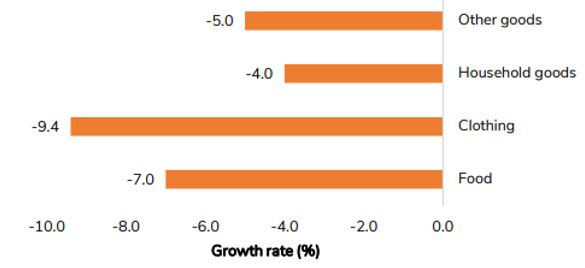 Source: ONS (value, non-seasonally adjusted, month-on-month)