UK Food & Grocery Sector Report
| Insight & Analysis
April 2021
What's included in this report?
Grocery Market Share - top 10 UK Food retailers
Food & Grocery Market Size estimates (£m)
Sales Growth by category
Total Food Spending by category (£m)
Online Grocery Sales (y-o-y)
Forecasts for 2021 - 2025
Footfall by channel and region
Regional Weather data and more…
Report Summary
Period covered: 03 Jan 2021 – 30 Jan 2021
Note: Reporting periods are either one month or two months behind the current month as standard.
Sales performance
Food sales growth accelerated in January, year-on-year, against a 2.8% rise a year ago, improving on the previous month.

The strong performance resulted in growth outperforming the three-month average.

Food was the standout performer during the month as consumers cooked more meals from home due to coronavirus restrictions in place with hospitality venues also closed during the month.
Online supports growth
Against the backdrop of a national lockdown with increased anxiety amongst consumers, sales continued to shift to the online channel.

Online sales growth rose sharply on the previous year, up by +144.5% as average online weekly sales reached £416 million per week, compared with £170 million in the previous year.

Resultantly, online accounted for 13.0% of total food sales in January, a record high, and more than double the 5.6% proportion recorded a year ago.
Shift to online
Data from Kantar showed January's rise was driven by older consumers which made up 28% of the c.6.4 million online food shoppers (despite making up 23% of the adult population).

Notably, online grocery spending from retired households rose by 229% compared with a year ago.

Having overcome initial barriers of setting up online accounts, entering payment details and overcoming issues of trust, the effort to transition to online shopping has become easier for consumers.
Food standout performer in January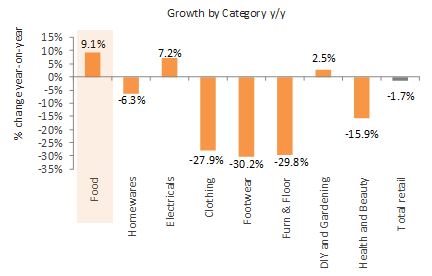 Source: Retail Economics