UK Online Retail Sales Report
| Insight & Analysis
June 2021
What's included in this report?
Online market size estimates (£m)
Online spending forecasts (£m)
Online spending forecasts (£m)
Online vs. Store analysis
Online sales growth by category (£m)
External data summaries: ONS, BRC, KPMG, BDO, IMRG-Capgemini
Online penetration rates by category and more...
Report Summary
Period covered: 31 January – 27 February 2021
Note: Reporting periods are either one or two months behind the current month as standard reporting practice. Certain data here is not shown. To access this data, take out a free 30 day subscription trial, call us or subscribe.
Online retail sales rose by 0.00% year-on-year (value and non-seasonally adjusted) in February, against an 6.5% rise on the same month a year ago.
The improvement in February resulted in sales growth outperforming the three-month and 12-month averages of 66.6% and 57.0% respectively.
The ongoing closure of hospitality venues, homeworking and the closure of schools throughout the period supported the 0.00% rise in online food spending in February.
Analysis of previous post-lockdown behaviour suggests there won't be a significant drop off in the proportion spent online.
In the pre-pandemic period, the penetration rate averaged 0.00% within the food category, rising to 11.4% during months of lockdown. During the mid-pandemic period (with no lockdown), the proportion of online food sales only dipped one percentage point, averaging 10.4%.
The shift towards online for non-food categories has also been significant, but to a lesser extent than food. Online accounted for 0.00% of total non-food spending in February, compared with 33% last year.
Across non-food categories, Household Goods has experienced one of the largest shifts towards online, with the proportion of online sales rising to 0.00% from 15% in the previous year
While we expect the reopening of stores on 12 April to rebalance the split between online and stores back to the physical channel, it is unlikely to return to pre-pandemic levels.
Retail Economics data shows that just under a third of consumers (29%) think the way they shop has changed on a permanent basis as a direct result of Covid-19.
Take out a free 30 day trial subscription to access the full report >
In which areas do you think there will be a permanent change as a direct impact of Covid-19?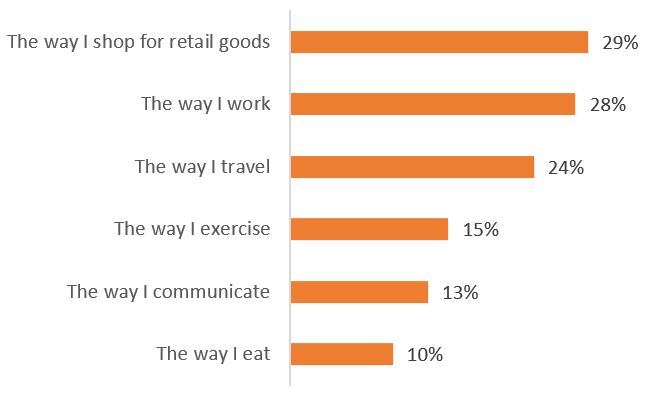 Source: Source: Retail Economics, sample = 2,000, conducted 10 March 2021