UK Retail Sales Report
| Insight & Analysis
June 2021
What's included in this report?
Overview of UK retail sales
Retail sales growth by category Y-o-Y
Online sales growth (Y-o-Y)
Retail sales by region (£m)
Total spend by sector
Weekly spend (£m)
Footfall stats by channel
External data source summaries
Regional weather data
Report Summary
Period covered: 28 February – 03 April 2021
Note: This report summary is one or two months behind the current month as standard reporting practice. The content is indicative only and incomplete with certain data undisclosed. Subscribe to access this data or take out a free 30 day subscription trial now.
Retail sales rose by 0.00% in March, year-on-year, according to the Retail Economics Retail Sales Index (value, non-seasonally adjusted, exc. Fuel).
Overall Food sales fell by 0.2% on the previous year against strong comparisons from 2020.
Non-food sales rose by 15.1% against weak comparisons in the previous year.
As shops reopened on 12 April, it's not entirely clear how confident consumers will be in returning to physical outlets. Our research shows that 0.00% of consumers will be comfortable, just over a quarter neutral, and 0.00% concerned in some way.
0.00% of consumers say that they don't intend to return to shops when they reopen.
In terms of which physical channels consumers are most comfortable with, 0.00 ranked first.
The seasonal distribution of retail sales has been significantly disrupted by the events of the last year. Despite the punchy growth figures for parts of non-food across March 2021, sales levels remain down significantly on 2019 levels.
Many households have improved their financial positions over the last 12 months as savings made by cancelled holidays, fewer evenings out and less commuting has paid down debt and boosted savings
The ONS retail sales index reported a rise in sales of 9.3% in March (value and non-seasonally adjusted – exc. Fuel).
The gap in the performance between large (-5.1%) and small (25.4%) retailers widened considerably driven by the softer comparisons of small retailers last year.
Sales volumes fell sharply in sectors such as Clothing, Footwear, Furniture & Carpets and Department Stores. Food stores reported a decline in sales volumes against strong comparisons a year ago while hardware and DIY stores were outperforming seasonal norms.
Many small independent retailers are 'hanging on by a thread' and as government support is withdrawn, and deferred costs such as of VAT and rents come become due, the number of administrations are expected to rise significantly.
Take out a free 30 day trial subscription to read the full report >
Non-food sales remain well below 2019 levels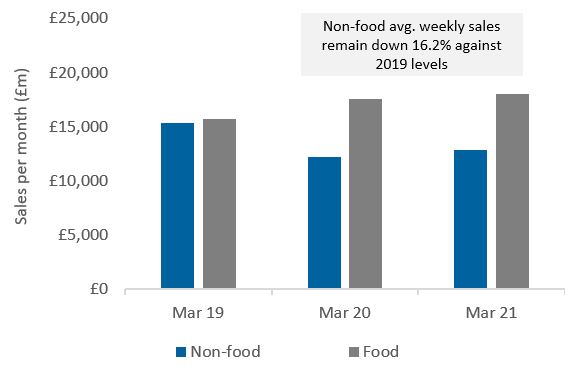 Source: Source: ONS - Retail Sales Index. Value, non-seasonally adjusted