Timeline - Coronavirus (COVID-19) response from UK retailers
As all non-essential stores close across the UK, Retail Economics takes a look beyond the closures and rounds-up how retailers have been responding to the coronavirus in the timeline below.
Click on the link to view our Covid-19 Retailers Trading Status table: List of UK retailers' trading status from Coronavirus (COVID-19)
Thursday 10 June
British brand Crew Clothing has opened a new store at Milton Keynes shopping destination Centre:MK.
Luxury brand Burberry has committed to become "climate positive" by 2040.
DIY giant Kingfisher plans to cut greenhouse gas emissions from property and transport by 37.8% by 2025 (compared to 2016 levels). It wants to slash emissions from the use of sold products and purchased goods and services by 40% for every £1m of sales by 2025 (compared to 2017).
The Competition and Markets Authority is set to investigate how Amazon uses data collected from its third-party sellers.
Card Factory reported an underlying pre-tax loss of £15.2m for the year to 31 January, compared to a £67.2m profit the year before. EBITDA dropped 62.7% to £47m. The group's total revenue plunged by 36.9% to £285.1m.
Wednesday 9 June
Inditex, parent to Zara, reported year-on-year net sales growth of 50% to €4.9bn (£4.2bn) in the first quarter to 30 April. Online sales in local currencies climbed by 67% over the quarter. Net profit was €421m (£370m) in the quarter, compared with a loss of €409m (£351m) in the comparable period last year.
Pets at Home revealed in their social value report 10 quantifiable targets that will drive the group to become "the most responsible" business.
Plus size brand Oola Lingerie has signed up John Lewis as a stockist, after seven months of trading.
Tesco announced a 2.7% pay rise to staff working on shop floors and warehouses. This takes hourly wages from £9.30 to £9.55.
Online toy retailer Bargain Max the secured a seven-figure funding package from HSBC to finance its product range growth and expansion plans over the next 12 months.
Tuesday 8 June
Clothing retailer Gap announced the closure of 19 stores across the UK and the Republic of Ireland when their leases expire on 31 July.
Luxury group LVMH has set up a global emergency and support programme for its 150,000 employees. The luxury goods retailer has committed £30m for the cause, which provides financial aid as well as social and psychological support.
Monday 7 June
Fast fashion retailer Shein is reportedly preparing for a $47bn Initial Public Offering (IPO) in what would be the largest IPO in history. The brand raised $500m to bring it to a $5bn valuation in 2019, and in August 2020 it raised an undisclosed amount from an investor at a $15bn valuation.
Klarna has launched a new shopping app that allows customers to pay in instalments at any retailer – even if it does not offer the service.
Grocery giants Tesco and Carrefour have decided to end their buying partnership, that was meant to lower prices and offer greater product choice for consumers, after just three years.
Ocado has lost a High Court battle against Islington council over the opening of a distribution and storage centre near a primary school in North London.
Sainsbury's has launched four new Neighbourhood Hub stores this year, bringing the total number of sites under the new fascia to seven.
Up to 70 shopping centres out of Britain's 700 across the UK could be forced to close permanently as a result of the pandemic and the shift online according to Local Data Company analysis.
Ted Baker forecast to post a full-year loss of £65.2m for the full year ending 30 January. The closure of non-essential shops, coupled with the retailer's focus on occasion-wear and formal clothing had a particular heavy toll on its trading last year.
Discount retailer MaxiSaver – which opened its first store last August in Hinckley, Leicestershire – has revealed plans to open 20 new shops this year as part of an ambitious expansion strategy. The retailer currently has an estate of 8 shops across the Midlands.
Friday 4 June
JD Sports-owned Focus Brands has opened a new headquarter in Huddersfield.
Yoox Net-a-Porter Group and The Prince's Foundation have opened applications for the second edition of The Modern Artisan project.
Online rental platform Rent the Runaway is allegedly eyeing an IPO.
Fast fashion etailer I Saw It First has been named as the official fashion and sunglasses partner of the seventh series of ITV's Love Island.
CP Company, the Italian menswear specialist which operates and distributes its products in the UK through the brand agency Four Marketing, announced that it is moving towards a direct-to-consumer model and will cease trading with smaller independent businesses.
Shoe brand Onitsuka Tiger has opened its biggest-ever store on London's Regent Street. The 9,300sq ft site is the first Onitsuka Tiger store globally to offer its entire line-up.
Thursday 3 June
Swedish brand Asket has launched a womenswear collection for the first time.
Global Fashion Group, owner of ecommerce platforms including The Iconic, Zalora and Dafiti, has announced it has become carbon neutral across its own operations and outbound deliveries.
JD Sports has become the official activewear brand and content partner for the seventh series of ITV's reality show Love Island.
Private equity firm CVC has completed an investment in Japanese streetwear label A Bathing Ape for an undisclosed sum.
Marks & Spencer launched its third collaboration with fashion label Ghost. There are 19 pieces in the June collection, including the return of its mini-me kids wear range, first launched in November 2020.
JD Sports is set to sell Sports Unlimited Retail to its partly owned Spanish subsidiary Iberian Sports Retail Group for €16.5m (£14m).
Zara has opened a new 36,500 sq ft flagship store in St David's shopping centre in Cardiff.
B&M reported a staggering 108% surge in pre-tax profit to £525.4m in the year to 27 March, with an underlying sales increase of 25.9% to £4.8bn.
Wednesday 2 June
Grosvenor, the owner of a large estate in London's Mayfair and Belgravia, has taken a minority stake in one of its tenants and luxury brand Roland Mouret.
Authentic Brands Group entered a joint venture with the Simon Property Group to acquire US outdoor label Eddie Bauer.
Etsy has confirmed the acquisition of Depop for $1.63bn (£1.15bn) in the third quarter of 2021, as it looks to target Gen Z shoppers.
Kingfisher has entered a £550m three-year revolving credit agreement conditioned to its ambitious sustainable and community-based targets.
Wickes has upgraded its full year profit target following booming kitchen and bathroom orders. The DIY retailer reported sales rose 45.7% year-on-year on a like-for-like basis in the 21 weeks to 22 May.
In addition to expanding across European countries including France and Spain, Victorian Plumbing announced its intentions to float on London's AIM market later this month. The company achieved sales of £208.7m and an adjusted EBITDA of £26.2m in the financial year to 30 September 2020.
Hotter Shoes has integrated Augmented Reality into its app, allowing shoppers to try on shoes virtually.
Holland & Barrett has announced it will be launching a flagship store on the Chinese ecommerce site Tmall as part of its global expansion plan.
Tuesday 1 June
H&M's online second-hand site Sellpy is set to launch across 20 European countries.
Andrew Waller, former TK Maxx and Tesco senior buying executive, is launching his own athleisure brand Validate online on 12 June. Retail prices range from £20 for T-Shirts to £35 for leggings.
Online fashion retailer P&Co revealed plans to launch shops in the UK, US, Paris, Netherlands, Berlin, Spain, and Madrid over the next few years. The brand will become known as "P&Co 2.0", by launching wholesale and introducing new product categories, including footwear and jewellery.
Luxury pureplay retailer Yoox has launched a dedicated section on its platform to target Gen Z customers called HI GUY_Z!.
Ocado is reportedly eyeing up retail opportunities outside its domestic market.
Friday 28 May
Danish department store Magasin du Nord, which was formerly owned by Debenhams, has been sold to a German omnichannel fashion retailer Peek & Cloppenburg.
Pets at Home is eyeing a £70m investment across stores, digital and supply chain, in order to grow its market share as the UK's pet population grew by an estimated 8% due to the pandemic.
Thursday 27 May
Pets at Home posted a 35.5% rise in pre-tax profit to £116.4m in the year to 25 March. The retailer's core retail business grew at 8.7% to tip £1bn for the first time.

Bed retailer Dreams is set to be acquired by mattress and bedding manufacturer Tempur Sealy for £340m, following an eight-year turnaround. Dreams chief executive Mike Logue will remain in place.

Poundland has extended its online trial to almost 2 million customers in Birmingham and Walsall.
Wednesday 26 May
Marks & Spencer reported a £201m loss in the year to 27 March, with revenue down 12% to £8.97bn, despite online sales growth of 54%. Food like-for-like sales edged up 1.3%, while clothing and home sales dropped 32%. It plans to close another 30 shops over the next decade as part of its turnaround plan.

British Land sees more than £2bn wiped off the value of its retail sites and office spaces. The firm posted its third straight year of annual losses, with pre-tax losses of £1.05bn for the year to 31 March against losses of £1.1bn in the previous year.

Tesco launched its Whoosh rapid delivery service in Wolverhampton to enable one-hour grocery deliveries to customers, with orders fulfilled from its Willenhall Express store.

Amazon has struck a deal to buy Hollywood's institution MGM studios for $8.45bn (£5.97bn) as the tech giant expands its entertainment streaming business.
Tuesday 25 May
Ted Baker has secured an extension to its revolving credit facility with its existing syndicate of lending banks. It is made up of a new £90m facility, which will reduce to £80m in January 2022 until maturity in November 2023.

Made.com has started procedures to float on London's main stock market. The move could see the online furniture retailer valued at £1bn.

Mothercare predicts it will make a small profit this year despite a 40% decline in sales. It recorded a "small" EBITDA profit growth in its pre-close trading update.

Sosandar is set to raise over £5m through a share issue to invest in stocks for the autumn and winter season onwards, as it extends partnerships with John Lewis and M&S.

The Fragrance Shop reported a 4.7% fall in sales for the year to 31 March. In-store sales were down by 47%, while online sales skyrocketed by 164%.

Wilko reported a 61.4% year-on-year decline in pre-tax profit to £4.4m in 2020. The retailer saw overall sales decline 7% to £1.36bn, with its shopping centre and high street stores hardest hit, while digital sales increased by 89%.

Shafttesbury, the owner of multiple retail sites in London's West End, reported a loss before tax of £338.5m in the six months to end-March, as the value of its portfolio dropped 10%.
Monday 24 May
Walgreens Boots Alliance, the parent company of Boots UK, paid a dividend of £488m to owners despite struggling during the Covid-19 pandemic.

Homebase opened a new store for the first time in six years. The 36,591sq ft shop is in Cheltenham, Gloucestershire.

Primark has launched a new sustainable loungewear collection using recycled cotton. The range includes hoodies, joggers, sweats, T-shirts and leggings, with prices ranging from £3.50 to £12.

Hotter Shoes is set to float on London Stock Exchange's AIM market after parent Electra Private Equity said it would float the footwear retailer along with TGI Fridays in the fourth quarter of 2021.

Debenhams Ireland staff have approved a compensation arrangement after calling for a fair redundancy package.
Friday 21 May
Maternitywear chain Seraphine's owner Mayfair Equity Partners is reportedly eying an IPO on the London Stock Exchange.

Card Factory completed a £225m refinancing with its current banking syndicate to support its growth strategy.

Pret a Manger has partnered with petrol-station operator Motor Fuel Group to trial its first-ever forecourt store in Southgate, London.
Thursday 20 May
Kingfisher upgrades its profit forecast after total sales made a 61.9% year-on-year increase to £3.44bn (constant currency) in the first quarter to 30 April. Kingfisher said total ecommerce sales for the quarter were up 63% in the period – or a huge 258% on a year-year basis compared to 2019.

Watches of Switzerland is considering opening new stores after revenue rose 13.3% (in constant currency) to £905.1m in the year to 2 May. Ecommerce sales were up 120.5% year-on-year, while UK sales were up 3.6% in the year.
Wednesday 19 May
Uniqlo's products have been blocked from entering the US over suspicions they were made from cotton produced by forced labour in China.

Dunelm affirmed its full year profit will beat analyst expectations after seeing its sales soar by 59% in the 7 weeks to 28 March, compared to the same period in 2019. Profit is expected to be over £148m compared with the £128m-£134m forecast by City analysts.

MyTheresa reported a sales rise of 36.2% year-on-year to €449.7m (£386.7m) in the nine months to 31 March. Gross profit grew by 35.5% to €209.6m (£180.3m).

Asos is among the potential bidders to buy Feelunique and Cult Beauty having been put up for sale by their current owners.
Tuesday 18 May
Landsec reported a full year loss of £1.4bn due to multiple lockdowns over the past year. The value of its combined portfolio across offices, retail and leisure has tumbled 13.7% to £10.8bn.

Topps Tiles swung back to profit, recording a £4m pre-tax profit in the 26 weeks to 27 March against last year's loss of £3.2m. Overall half-year revenue dipped 2.8% to £103.2m. A record like-for-like uplift of 19.9% in the first quarter failed to offset a 17.3% slump during lockdown in the second quarter. Like-for-likes were up 16.8% in the five weeks since 12 April compared to same period in 2019.

Shoe Zone reported a 41% revenue drop to £40.4m in the six months to 3 April, as it permanently closed 38 stores in the period. Online sales more than tripled to £17.6m in the period from £5.5m a year earlier. It reported a statutory loss before tax of £2.6m.

Westfield's parent company Unibail-Rodamco-Westfield successfully priced a €1.25bn two-tranche senior bond offering.
Monday 17 May
WHSmith partnered with both the National Literacy Trust and Macmillan Children's Books to "tackle literacy issues in communities at a local level across the UK".

Debenhams shut down its remaining stores, as part of the department store's liquidation process. The retailer is still present online after Boohoo bought it in a £55m deal.

Ikea is said to be in advanced talks to take over the former Topshop flagship store on London's Oxford Street, as part of its plan to open more smaller-format outlets in city centres.

Mamas & Papas revealed plans to open further concessions within Next after recording strong footfall and sales since non-essential retail reopened in April.
Friday 14 May
Dixons Carphone announced it will rebrand its four businesses (Currys PC World, Carphone Warehouse, Team Knowhow and Dixons Carphone) to Currys.

The Works announced a 19% decline in total sales to £206.2m in the year to 2 May, due to the closure of stores during the year. However, the retailer noted like-for-like store sales for the period were up 6% and online sales grew 120.9% compared with the previous year.

Farfetch reported a 46% year-on-year increase in sales to $485m (£344.1m), while adjusted EBITDA losses narrowed to $19m (£13.5m) from $22m (£15.6m) in its first quarter.

Amazon is set to increase its UK workforce with 10,000 workers this year as it opens four new warehouses across England. This would bring its UK workforce to more than 55,000 by the end of the year.
Thursday 13 May
Sainsbury's is to launch three Carluccio's store-in-store concepts, marking the dining brand's first move into supermarkets. The Caffè Carluccio's format will offer both eat-in and takeaway options, and available through Sainsbury's Deliveroo, Just Eat and Uber Eats partnerships.
Australia's largest fashion retailer Cotton On has launched online in the UK.
The Entertainer has opened an own-brand store in Valencia, Spain.
Wednesday 12 May
eBay launches new finance initiative that will provide 300,000 sellers on its UK platform with access to financing through a partnership with YouLend. The Capital for eBay Business Sellers (CEBS) initiative will offer loans ranging from as little as £500 to as much as £1m, which will be repaid directly from the sales the company makes through eBay's platform.
Second-hand platform Vinted has secured a €250m (£214.67m) of new investment in a series F funding round.
Global Fashion Group reported a rise in gross profit and revenue for the first quarter of 2021.
Selfridges announced that it will offer non-traditional ceremonies after obtaining a wedding licence at its Oxford Street store.
THG is set to acquire US-based manufacturer of skincare and haircare products Bentley Laboratories in a $255m (£180m) deal. The acquisition is expected to be completed within the next 30 days.
Tuesday 11 May
Joules has upgraded its full-year profit forecast following "positive performance" across all its sales channels since the reopening of non-essential stores on 12 April. It was previously expected that pre-tax profit before exceptional items to come in at £4.1m on sales of £187m.
Morrisons reported a 5.3% uplift in sales (including fuel) in the 14 weeks to 9 May. Group like-for-like sales excluding fuel rose by 2.7% and 4.7% when including fuel. Morrisons' online sales rocketed 113% year-on-year.
THG (formerly the Hut Group) has secured $2.3bn (£1.6bn) of funding from Japanese tech conglomerate Softbank. Softbank will get around a 9% share of THG, while taking a 19.9% stake in THG's Ingenuity platform valued at $6.3bn (£4.5bn).
Pret a Manger is set to trial four shop-in-shops in Tesco, as it looks to reach a wider customer base amid low city centre footfall. All shops will serve a menu of Pret's food and beverages. The move follows its partnership with Tesco to sell frozen croissants and granolas in supermarkets last year.
JD Sport Fashion has bought Manchester-based menswear independent Oi Polloi.

Poundland has opened its 350th Pep&Co shop-in-shop, as it accelerated expansion of its fashion brand in town centres and retail parks where fashion retailers have been in retreat.
Monday 10 May
New Look won a high court battle against a handful of landlords that challenged the retailer's Company Voluntary Arrangement, allowing it to continue its recovery strategy.

Greggs reported two-year like-for-like sales fell 13.5% to £352m in the 18 weeks to 8 May. However, in the 8 weeks to the same date, LFLs were down only 3.5% on a two year comparison as restrictions eased.

Hotel Chocolat reported surging sales during the key Mother's Day and Easter periods. Sales were up 19% over the 8-week period to 25 April compared to the same period two years ago. Revenue was up 60% up year-on-year for Mother's Day and Easter despite store closures.

Discount footwear retailer Shoeaholics is set to open a new store at Westfield White City.
Friday 7 May
Zara revealed the launch of its own beauty range both online and in-store from 12 May. The collection will include products for eyes, lips, face, and nails in more than 130 colours.

Dixons Carphone plans to invest £25m over the next two years to reward and upskill its 12,000 colleagues.
Thursday 6 May
Superdry reported group sales slumped 21% to £556.6m in the year to 24 April. Superdry stores lost some 40% of trading days and revenue plummeted 50.9% to £140.9m during the year. Wholesale revenue fell 19.9% to £212.8m. Meanwhile online sales were up 33.8% to £202.9m.
Zalando saw revenue soar 46.8% to €2.2bn (£1.9bn) in the first quarter, while profit jumped 4.2% to €93.3m (£80.7m). The pureplay giant said active customers hit 41.8 million at the end of the period. Zalando expects profit to come in between €400m (£346m) and €470m (£406m) for the 2021 financial year.
Bellwether Next upgraded its full-year profit guidance by £20m to £720m, following a better-than-expected performance in the first quarter. Full-price sales were down just 1.5% in the 13 weeks to 1 May compared with two years ago. The retailer had budgeted for sales to be down 10% on pre-pandemic levels, but has beaten that forecast by £75m. Its sales forecast for 2021/22 remains at 3% above full-year sales two years ago.
In its first quarter to 1 May, bellwether Next reported sales at its UK and ROI stores were down 75%. But it has seen "strong sales growth" in the three weeks since stores reopened on 12 April following pent-up demand, but cautioned it "is very unlikely to be indicative of demand for the rest of the year".
Wednesday 5 May
The Co-op is set to invest £1.7m to reduce prices of 29 fresh, chilled, and ambient vegan products, in a bid to give customers cheaper 'flexitarian' choices.
Ikea launched its long anticipated 'buy back' initiative, allowing customers to sell unwanted furniture back to the retailer in return for an Ikea voucher.
Boohoo reported a 35% growth in pre-tax profits to £125m in the year to February 28. Adjusted EBITDA jumped 37% to £174m during the same period. The group's revenue soared 41% to £1.75bn, buoyed by surging sales in its international markets, which now account for almost half of Boohoo's total revenues.
The Issa brothers and TDR Capital have agreed to sell 27 of its EG petrol forecourts in order to complete its purchase of Asda's petrol station portfolio without further investigation from the Competition and Markets Authority.
Pep&Co's owner Pepco Group has been valued between €4.8bn (£4.1bn) and €5.8bn (£5bn) as it launches an initial public offering.
Tuesday 4 May
Marks & Spencer is recruiting 85 tech specialists following a rise in M&S's online sales of 34% in the first half of its financial year.
Topshop's iconic Oxford Street store is for sale at £420m. The first £311.6m from any sale will go to private equity firm Apollo, which lent against the building in 2019, with further proceeds earmarked for Arcadia's pension scheme, which has a £510m deficit.
Frasers Group is in talks with EU tax authorities over a controversial VAT arrangement that has seen the retailer pay tax on overseas sales in the UK.
It has been mooted that WHSmith could take over Dixon Carphone's 35 airport shops.
Made.com has announced it will expand its UK warehouse logistics operations with the development of an additional 350,000sq ft warehouse at DP World's London Gateway Logistics Park in Tilbury. The new facility is expected to create up to 100 new jobs across warehouse operative and administrative roles.
Friday 30 April
Premium menswear brand Percival has secured a £3m investment from growth capital investor VGC Partners.
Singer Niall Horan has joined the athleisure brand Gym & Coffee as an investor and advisor.
A former Debenhams shop located in Ipswich's town square has been bought by property development company The Unex Group for around £3m.
Apple reported revenue was up 54% year-on-year to $89.6bn (£64.2bn) for the quarter to 27 March, with international sales making up 67% of total sales. Demand for its phones, apps and other devices grew as people spent more time online and working at home. Profit more than doubled in the period at $23.6bn (£16.9bn), up from $11.3bn (£8.1bn) a year earlier.
Amazon reported a 44% surge in net sales to $108.5bn (£77.9bn) in the first quarter to 31 March. The group's net income more than tripled to $8.1bn (£5.8bn), up from $2.5bn (£1.8bn) last year.
The Co-op announced it will replace plastic bags for life with compostable and renewable carriers, as it seeks to reduce the use of plastic. The retailer is rolling out compostable bags for 10p and sells its lowest-cost reusable bag for 50p.
Aldi is exploring a cashierless store format having trademarked 'Shop & Go' with the Intellectual Property Office. It is speculated that Aldi is exploring a format in the same vein as Amazon Fresh.
French Connection has partnered with Thrift+ to allow customers to add a free collection bag to orders, which can be used to donate unwanted clothing from any brand to Thrift+, which then sells these products and donates 33% of the sale proceeds to charity.
Harrods has opened its second beauty store at shopping and leisure destination Centre:MK in Milton Keynes.
Poundland announced earlier this week that it was poised to launch online home delivery as well as click & collect in-store, following a successful test of its new ecommerce operation.
Thursday 29 April
Frasers Group is building on its elevation strategy for Flannels with the introduction of 165 new women's and menswear brands for autumn/winter 21, with plans to open new flagship stores.

In a bid to reduce textile waste, Asda supermarket will start selling second-hand and vintage clothes following a successful test at its Leeds store.

In The Style announced group revenue is expected to be around £44.5m for the year to 31 March. During the full year, the number of new customers rose 19% to 420,000.

Waitrose has entered a partnership with Hotel Chocolat to sell a selection of the chocolatier's products in its supermarkets and online, including dedicated bays and gondola ends. It marks the first time that Waitrose has entered into such a deal with a third-party.
Wednesday 28 April
Debenhams announced the 25 stores that will close permanently on 8 May.

Mulberry announced that it expects to report a small underlying pre-tax profit for the year to 28 March. The group registered strong growth in its Asian markets, as well as strong sales across its digital platforms and an improvement in margins.

Dixons Carphone has announced the full closure of its Dixons Travel division, which historically made an annual profit contribution of £20m to the group. The retailer believes that travel industry will not recover for the foreseeable future, making its Travel stores unsustainable.

The White Company reported group operating profit of £14.1m in the year to 1 August, up 4% against a 70-week financial reporting period, while group turnover rose 4% to £226.3m against a comparable 52-week period as it shifted a large portion of the lost store sales to online.

Tommy Hilfiger opened a new store at Lakeside shopping centre in Thurrock.

Sainsbury's reported underlying pre-tax profit fell 39% to £356m in the year to 6 March, as strong sales failed to offset £485m of directly Covid-related costs. Grocery and general merchandise sales rose 7.8% and 8.3% respectively year-on-year. The grocer more than doubled its online grocery sales from 8% to 17% of the total, while its Argos fascia grew digital sales by 68%.

WHSmith plans to launch a £325m fundraise through the issue of convertible bonds to finance the opening of 100 new travel stores, 60 of which in North America. Boss Carl Cowling hailed: "We are now operationally stronger than prior to the pandemic."
Tuesday 27 April
Clothing group AK Retail Holdings announced it is to launch dual-branded Yours Clothing and BadRhino shop-in-shops in two Tesco stores.

Missguided founder Nitin Passi is reportedly preparing to sell a stake in the company for the first time.

Frasers Group's House of Fraser store in London's Victoria could permanently close next summer, after 150 years of trade on the site. This came after the Canadian-owned property investor BentallGreenOak asked Westminster City Council to grant planning permission to demolish the 390,000 sq ft site and replace it with a 16-storey, 630,000 sq ft scheme that will make up to 20 shop units and office space.

Footwear retailer Crocs has raised its full-year revenue guidance after reporting sales rose 64% to $460m (£331m) in the first quarter, while pre-tax profit grew to $122.5m from $18.7m a year earlier.

JD Sports entered into a partnership with Sole Responsibility to sell the sportswear giant's end of line or slightly damaged trainers through its eBay site.

Waitrose extended its partnership with Deliveroo to 110 new stores, as it plans to offer home delivery options across multiple locations and on a wide variety of products by the end of summer. Waitrose will create 400 new roles to fulfil orders ready to be collected and delivered by the app's riders.
Monday 26 April
Recipe box subscription retailer Gousto reported record sales in 2020 of £189m, up 129%, with a full-year EBITDA of £18.2m, compared with a £9.1m loss in 2019.

Pepco, the owner of Poundland, revealed its intentions to apply for listing and admission of shares to the Warsaw Stock Exchange. The group operates more than 3,200 stores across 16 countries and has ambitions to grow across the whole of Europe.
Friday 23 April
The Hut Group is set to acquire healthy snack bar manufacturer Brighter Foods for a cash amount of £43m. The deal, which has been conditionally agreed, is expected to complete next month.
Thursday 22 April
Hammerson has confirmed the sale of its retail park portfolio to Canadian investor Brookfield for £330m.

Online retail florist Bloom & Wild has acquired Dutch rival Bloomon for an undisclosed sum as it ramps up growth plans in Europe. The deal will be financed from existing cash resources.

John Lewis is due to start renovation of its iconic Peter Jones facade in London's Chelsea. It forms part of the retailer's

broader plans to rebalance its store portfolio,

which includes investing in flagship stores.

The Co-op is to remove team manager roles across its c-stores, but insisted there will be no redundancies as part of the process.
Wednesday 21 April
Kering's group revenue for the first quarter of 2021 increased by 21.4% on an as-reported basis, or 25.8% on a comparable basis to €3.89bn (£3.35bn).

Redrice Ventures has secured £50m funding, which it will use to invest in forward-looking, digital-first and premium consumer brands.
Tuesday 20 April
Feelunique posted its first annual profit following robust customer growth and strong sales growth for the 12 months to 29 March 2021., The retailer reported EBITDA of £2.5m – a £7.5m increase on the previous year – while total sales grew 26% to £103.5m.

Primark's revenue fell 41% in constant currency to £2.2m in the 24 weeks to 27 February, while its adjusted operating profit fell 90% to £43m. It estimates it has lost more than £3bn of sales and £1bn of profit over the past 12 months. Despite this, parent Associated British Foods has said it will repay money claimed on the government job retention scheme as its reopened stores rebounded last week.

Amazon is set to open its first-ever Amazon Salon in east London in the coming weeks. As well as offering hair services and products, it will offer customers the chance to experiment with different hair colours and styles using an augmented reality colour bar, and feature 'point-and-learn technology' allowing shoppers to point at products on a display shelf to see more information and purchase on Amazon's website.
Monday 19 April
Marks & Spencer has started building a new automated online warehouse within its Bradford-based distribution centre, which will create 300 new jobs.

The Italian luxury fashion brand Armani has opened its first-ever outlet in Essex at Braintree Village.

Studio Retail Group has reported sales rose 88% year-on-year in the 13 weeks to 26 March, the final quarter of its 2020/21 financial year. The retail group had previously put itself up for sale, but failed to find a buyer and instead sold its educational resources business Findel Education for £30m, which it will invest to target £1bn in annual sales.

As part of a campaign developed by Uncommon Creative Studio, H&M has launched a free 24-hour suit rental service pitched at young men interviewing for jobs.

Petrol forecourts business EG Group announced the acquisition of the healthy-eating fast-food chain Leon for £100m.
Friday 16 April
Ocado has entered a multi-year partnership with Oxbotica to develop a new autonomous vehicle fleet. As part of the deal, Ocado has invested £10m in the business and will supply Oxbotica with data from its existing delivery vans and warehouse vehicles to support development.

Hobbs reported a 46% fall in profit after tax to £4.3m for the year ending 28 March.
Thursday 15 April
The Hut Group reported an operating loss of £481.8m in the year to end-December 2020. Additional costs incurred were mainly "non-recurring, non-cash events", most notably linked to its recent IPO. During the period, The Hut Group saw revenue soar 41.5% to £1.6bn while adjusted EBITDA was £150.8m.

AO.com reported a strong performance for the year to 31 March 2021. The electrical retailer's sales were up 68% to £1.66bn, as it gained two million new customers. Adjusted EBITDA is expected to be between £63m and £72m, marking a step up from £19.6m in the previous year.

Pureplay Naked Wines posted a 68% increase in group sales across the UK, US, and Australia in the year to 29 March 2021.

Deliveroo's first quarter results showed that group orders were up by 114% year-on-year to 71 million and transactions on its platform were up 130% year-on-year to £1.65bn. The takeaway and grocery delivery app also reported it had grown the number of restaurants and grocers it worked with across its business to more than 117,000.
Wednesday 14 April
The luxury fashion group LVMH reported sales in its fashion and leather goods division were up by 45% year-on-year to €6.7bn (£5.8bn) in the three months to 31 March. Total group sales were up by 32% to €14bn (£12bn) in the quarter.

British Land collected 54% of rent owed from retail customers at the end of March. This compares to 96% across its office estate, taking its overall average to 76% of rent was collected for the quarter.

Tesco reported a 20% fall in pre-tax profit to £825m in the year to 27 February, despite a 7% rise in sales (excluding fuel) to £53.4bn. Tesco's online sales rose 77% to £6.3bn in the year, as the grocer doubled its online fulfilment capacity to 1.5 million slots per week. The grocer stated that Covid-related costs of £892m dampened profitability from surging sales, but said the majority of these costs incurred would not be repeated in its current financial year.
Tuesday 13 April
Hammerson has confirmed to be in talks to sell its UK retail parks portfolio to Canadian investor Brookfield.

JD Sports reported a marginal 1% increase in sales to £6.17bn in the year to 30 January. The group's pre-tax profit before exceptional items was £421m in the year, down from £439m the previous year.

Quiz reported a 66% drop in revenue to £39.7m for the financial year to 31 March. The group ended the period with a net cash balance of £1.5m.

Sosandar's revenue rose to £3.94m in its fourth quarter, marking a 63% year-on-year increase in sales. The retailer's gross profit margin reached 54% in the period. For the financial year to 31 March, the pureplay now expects to report revenue of £12.2m, up 35% year-on-year.

Sainsbury's has entered a two-year deal with Deliveroo to extend its delivery trials to 100 stores.

Boohoo has acquired a new office premise in Soho, London. The £72m site will provide a base for 600 people.

Landsec reported to have collected two-thirds of rent due for the quarter, with £33m of rent outstanding.

Monsoon launched new boutique store concept in London's Marylebone High Street. The fashion retailer's new concept store is the first in a series of 30 new boutiques planned in locations across the UK and Ireland.

McArthurGlen has opened the doors to its brand new £160m designer outlet centre in the West Midlands. The 285,000sq ft centre will create some 1,000 retail jobs.
Monday 12 April
North East fashion firm Jules B has secured a £250,000 investment. The fashion retailer said that the fund will be used to boost its online capabilities.

Investment firm Osmond Capital is preparing a £300m takeover bid for DIY retail chain Homebase.

Peacocks reportedly owes unsecured creditors around £70m, including £29m to landlords, £23m to suppliers and almost £9m to HMRC.

Homebase entered a new partnership with bellwether retailer Next. The DIY chain has opened garden centres in six Next shops located in Bristol, Sheffield, Ipswich, Warrington, Camberley and Shoreham.

Dessert and sweet treat retailer Cake Box told their shareholders that they are planning to open 52 new shops. The retailer saw like-for-like sales grow by 14.7% over the 40 weeks from June to March 2021 despite the lockdowns.
Friday 9 April
Asos announced its plan to raise £500m through convertible bonds to fuel global growth.

The Entertainer is to introduce a quiet hour during first week of reopening. The Entertainer said the quiet hour will be taking place throughout the first week of opening in over 150 stores across England and Wales.

Frasers Group is set to open its first Frasers-branded store next week when non-essential stores reopen in England. The 34,000sq ft store is located in Wolverhampton will offer beauty and fashion from a range of 120 brands, as well as feature an in-store restaurant.
Thursday 8 April
Asos recorded that

UK sales surged by 39% year-on-year to £800.4m in the six months to 28 February. This is ahead of international sales growth of: EU +18%, US +16%, ROW +16%. Adjusted pre-tax profit hit a record of £112.9m in the period, with over 1.5 million new active customers.

Dunelm reported a 17% decline in sales to £237m in its third quarter to 27 March, with digital sales accounting for 92% of its total sales – up 70 percentage points on a year earlier. However, in the year to date, Dunelm's total sales climbed 10% to £956m.
Wednesday 7 April
Manchester based streetwear brand Boda Skins has launched a buy-back scheme. The leather and outerwear brand allows customers to bring back their old items for up to £100 credit on new clothing.

Online fashion marketplace Atterley has closed a £3m funding round, led by private equity firm Maven Capital Partners.

Luxury goods label Anya Hindmarch announced it will open a new physical retail concept called The Village in London on 17 May.
Zara is opening a new 36,500 sq ft store in St David's Dewi Sant shopping centre in Cardiff, Wales this summer. The store integrates digital touch points, with an automated collection point, self-service system, and dedicated refund till.
Tuesday 6 April
Peacocks has been bought out of administration by an International investment Consortium, backed by Edinburgh Woollen Mill's chief operating officer Steve Simpson. The deal will save 200 stores and 2000 jobs.

Tommy Hilfiger is set to open two new stores in Scotland this Spring.

VF Corporation, the parent company of popular brands including: The North Face, Vans, and Timberland, has opened a new 600,000 sq ft fulfilment centre in Bardon, Leicestershire.

Mercer, the Dutch sneaker and clothing brand has opened a new flagship store on March 1, 2021.

Fenwick, the family-owned department store business has brought shop staff back from furlough, added new clothing and furniture brands and is preparing to launch a vegan restaurant by a Michelin-starred chef in one of its stores. The retailer's losses widened from £44m to £47m for the year to the end of January 2021.

Asda has opened its third in-store Covid vaccination centre and its first in the capital at its Old Kent Road Superstore in south east London.

Poundland has announced that it plans to open 30 new stores in the UK and Republic of Ireland over the next twelve months. This initiative will create 250 more jobs by September 30.
Thursday 1 April
Fashion Retailers are allowed to reopen fitting rooms provided shops introduce measures to minimise covid risk.

Bäulmer fell into administration and was forced to file for insolvency due to liquidity issues on October 8, 2020. Yesterday, 31 March, was Bäulmer's final day of business. All staff had their contracts terminated, and the company's goods are currently being liquidated by the administrators.

Little Mistress Group has launched a collection in collaboration with TV personality and Model Vogue Williams.

The British outwear brand Craghoppers is set to open a new store at Five Valleys Shopping centre in Stroud, Gloucestershire on April 12. This follows Sandersons' announcement earlier in February to open its third store in the same shopping centre on April 14.

New Look has added a boy's collection to its 915 kids wear and teen range. Retail prices starts from £4.99 for a slogan T-Shirt.
Next saw pre-tax profit drop 53% to £342m in the year to the end of January, as total sales across the group slipped 17% to £3.6bn. Store sales declined 48% to £954.5m, while online climbed 10% to £2.37bn in the year. Despite this, Next raised its profit guidance by £30m to £700m for its 2021/22 fiscal year.

Walgreens Boots Alliance reported UK sales dropped 17.9% in its second quarter to the end of February, due to lockdown restrictions and change in customers habits. This came despite a 105% online sales surge.
Wednesday 31 March
Asda has reinforced its commitment to George through a range of new brand partnerships within the Style, Lee, Wrangler, Missguided and Girls on Film.

US sportswear brand Lululemon saw net revenue surge 24% to $1.7bn (£1.2m) in its fourth quarter to 31 January 2021, as online sales surged 92% and direct-to-consumer sales nearly doubled to account for 52% of total sales.

All Saints opened a second store in Dubai, spanning 1800 sq ft.
Tuesday 30 March
Online retailer MySale Group is back to profitability after a successful restructuring program. Group EBITDA grew to A$2.5m (£1.39m) in the six months to 31 December, up from a loss of A$3.1m (£1.72m) during the same period the previous year.

Advisory firm Hilco has started to market the sale of womenswear brand Ralph & Russo, which fell into administration earlier this month.

Lloyds Pharmacy is set to launch the UK's first ever nasal spray called Viraleze specifically designed to fight Covid-19.
Monday 29 March
Ikea and Dixons Carphone are among those that have their goods stuck on the container ship Ever Given.

Nike has announced plans to cut ties with a further seven major retailers including Urban Outfitters and Macy's, as it continues to shift towards direct-to-consumer sales.
Friday 26 March
Asda lost a Supreme Court battle against shopworkers union GMB over an equal pay claim between store and warehouse workers by the employee union. The grocery chain could be forced to pay out as much as £500m to 40,000 shopfloor workforces.
Thursday 25 March
Boohoo has published a list of UK retailers and unveiled a sustainability strategy as it seeks to address controversy that has dogged the business.
B&M has poached The Range's chief digital and omnichannel officer Jens Sorensen as its new digital director, as the retailer considers a move online.
Wednesday 24 March
Carrefour has completed the acquisition of Brazil's third-largest food retailer Grupo Big from Walmart for €1.1bn (£950m). This brings the combined revenue of Grupo Big and Carrefour Brazilian unit to around €15.2bn (£13.1bn), subject to shareholders approval and Brazilian antitrust authorities.
Premium fashion retailer End was snapped up by private equity giant Carlyle Group in a deal valuing the business at more than £750m. The acquisition of the predominantly online business marks the latest in a string of ecommerce deals since the pandemic.
John Lewis announced that it will not reopen eight stores across the UK, which puts more than 1,400 jobs at risk. It follows research which shows there were not enough customers in the eight locations to "profitably sustain a large John Lewis store".
Beales owner New Start 2020 will reopen the department store in Peterborough in May.
Travis Perkins has submitted its demerger circular and prospectus to the Financial Conduct Authority for approval, and it expects Wickes shares to be admitted to trading on the Premium listing segment of the London Stock Exchange.
Tui said they are planning to close 48 more UK stores, with 273 staff likely to be affected. The news comes after Tui announced in July 2020 that 166 shops closed due to the pandemic would not reopen, which at the time was nearly a third of its total.
Tuesday 23 March
McColl's gross profit dipped by 4.7% to £301m in the 53 weeks to 29 November. The convenience chain attributed it to a change in product mix as customer demand changed during the coronavirus outbreak, leading to a 2% reduction in gross profit margin to 24%. Total like-for-like sales, however, rose by 12% for the same period, driven by strong sales of alcohol, fresh food and tobacco.
Monday 22 March
Kingfisher reported a 44.4% surge in adjusted pre-tax profits to £786m in the year to end January 2021, while sales rose by 7.2% to £12.3bn. UK and Ireland like-for-like sales at B&Q were 10.7% up, while Screwfix reported a 6.6% increase for the period, driven by a new generation of DIYers in the pandemic. Group online sales rose 158% to account for 18% of total sales.
Friday 19 March
Nike recorded a 71% surge in net income to $1.4bn (£1bn) in its third quarter, as the sales boom in China offset a slower recovery in the US and Europe amid the pandemic. The group's total revenue rose by 3% to $10.4bn (£7.5bn) in the three months to 28 February 2021.
The Co-op plans to double its franchise estate to 30 stores by the end of this year.
Thursday 18 March
Ocado reported its retail revenue rose by 40% to £599m in the 13 weeks to 28 February, with Marks & Spencer products typically accounting for at least 25% of the average basket and average orders per week advanced 2.5% to 329,000.
Eve Sleep has cut its annual losses by 83% to £2m in 2020, while sales rose by 6% to £25.2m and gross margin improved following a focus on profitable sales.
Wednesday 17 March
Ocado has launched its own-label range with the aim of reducing plastic usage. The retailer said it will strip 27 tonnes of plastic and remove 9 million non-essential packaging components from its own-label products.
New Look faces a High Court battle with four retail landlords over the terms of its CVA. Under the CVA approved last November, landlords would receive no rent on 68 of New Look's stores for three years and as little as 2% of turnover on 402 others. Landlords argue a "bare minimum market rent" should be paid, despite the CVA's terms.
Just Eat's profit soared 18% year-on-year in adjusted EBITDA to €256m (£219m) in 2020, while revenue increased by 54% to €2.4bn (£2.1bn) amid lockdowns.
Mango announced it will open a new flagship store on London's Oxford Street in the third quarter of this year.
Poundland saved 36% on costs after renegotiating 180 leases. It plans to renegotiate hundreds more as leases come up for renewal by September 2024.
Debenhams' Leicester store is to be converted into 300 rental flats.
Tuesday 16 March
Fashion brand Scotch & Soda plans to open 15 new stores and 12 shop-in-shops worldwide over the next six months. It currently operates 225 stores and 161 shop-in-shops across the globe.
Greggs reported a full year pre-tax loss of £14m compared to a £108m profit a year ago. This follows a 31% drop in sales to £811m during the period.
ScS registered a pre-tax profit of £18m in the 26 weeks to 23 January, compared to a £600,000 loss in the previous year. The release of pent-up demand following lockdown saw group revenue increase by 14% to a record £174m in its first half. Last year ScS launched its MyScSLive video virtual shopping consultations.
ScS said online orders more than doubled in the seven weeks to 13 March, up by 158% year-on-year.
Zalando has upgraded its expectations as the fashion etailer aims to take more than 10% share of the European fashion market and achieve a Gross Merchandise Value of more than €30bn by 2025. The company recorded a strong uplift in sales during 2020, with GMV up 30.4% to €10.7bn (£9.2bn), while revenue grew 23.1% to €8bn (£6.9bn).
John Lewis said it expects 40% of its profits to come from non-retail activities such as housing, financial services and outdoor living over the next 10 years. Last October, the retailer said it had earmarked 20 sites on which it plans to provide new housing, with planning applications for the first two scheduled this year.
Monday 15 March
LionRock Capital has completed its acquisition of a majority stake in Clarks.
Pret a Manger entered a deal with Tesco to sell a range of frozen croissants across the grocer's stores.
In The Style has successful launched its floatation on the AIM market after a significantly oversubscribed fundraising. The fashion etailer raised £11m for the company and £49m for selling shareholders. Market capitalisation was approximately £105m.
Screwfix announced plans to open 50 new stores across the UK and Ireland this year. This will create 600 jobs in areas such as retail management, service assistants and supervisors.
Net rental income at Hammerson almost halved in 2020 – falling by 49% on 2019 to £157.6m. The shopping centre owner reported pre-tax loss of £1.7bn in 2020, compared to a £781m loss in 2019.
Friday 12 March
JD Sports acquired a 60% controlling stake in Polish sportswear business Marketing Investment Group, which trades from 410 stores across nine countries in Central and Eastern Europe.
Thursday 11 March
Morrisons group like-for-like sales (excluding fuel and VAT) rose by 8.6% during the year, while total revenues edged-up up by 0.4% to £17.6bn in the 52 weeks to 31 January. This was supported by online sales tripling in the year, as ecommerce capacity increased fivefold.

John Lewis reported a pre-tax loss of £517m in the year to 30 January. This is down from a £146m realised a year ago. Online sales accounted for 75% of overall sales in the year, up from 40% pre-pandemic. Chair Sharon White cautioned the retailer "does not expect to reopen all John Lewis shops at the end of lockdown".

Waitrose experienced rapid growth in its online business in the year to 30 January, with the online penetration rate rising from 5% pre-pandemic to 14% during 2020/21.

Very Group has developed new office space for a hybrid working model for staff. The new offices feature gender-neutral facilities.

Adidas plans to cut ties with third party retailers to focus on direct-to-consumer sales, as it looks to grow its sales by a third by 2025.

Prada posted a 93% drop in profit, as Covid-19 hit sales with net revenue down by 24.9% to €2.4bn (£2bn) in 2020.
Wednesday 10 March
Next and Reiss have entered a long-term strategic partnership whereby Next will acquire a 25% equity stake in the fashion brand in return for £33m equity investment and £10m debt investment in Reiss.

Zara's parent Inditex posted a net profit of €1.1bn (£940m) in the year to 31 January, down from €3.6bn the previous year. The group's net sales declined 28% year-on-year to €20.4bn, amid mandated store closures across its network.

Evans Cycles announced it is cutting 300 jobs and moving all employees to a zero-hours contracts in a bid to cut costs.

Net-a-Porter launched a localised website in the Middle East for the first time. The offering has been fully customised to meet local shoppers' need.
Tuesday 09 March
Marks & Spencer unveiled plans to cut back retail space at their flagship store on Oxford Street, as it looks to redevelop the upper floors into offices. The store revamp would "be seamlessly integrated with M&S.com".

Kingfisher revealed plans to open B&Q franchised stores in the Middle East, starting with two in Saudi Arabia expected to open in autumn 2021.

DFS posted a half-year pre-tax profit surge of 56% to £72m during the 26 weeks to 27 December. Group revenue rose by 17% to £573m compared with the same period a year ago, as pent-up demand from the first national lockdown drove sales, as well as ecommerce sales soaring 66% year-on-year to account for over a quarter of revenue from 18% a year earlier.

WHSmith reported a better-than-expected performance during the first two months of 2021. Revenue in the retailer's high street division reached 74% of January 2019 levels and 84% of February 2019 levels.

Mango recorded a staggering online sales rise of 36% year-on-year to £656m during 2020. But turnover at physical stores fell by 43% following mandated closures during the year.

Pandora sales rose by 12% in February despite temporary store closures. The retailer said it will not change its financial guidance for the full year.

H&M halted placing orders in Myanmar after protesters were shot by local police. H&M has around 56 direct suppliers in Myanmar.
Monday 08 March
Marks & Spencer has launched 46 websites in new overseas markets. This brings the number of international countries in which it operates as a pureplay to over 100.

Tesco has put thousands of store manager roles into consultation as it launches a restructuring program at its larger superstores and Extra stores. Affected departments include checkout, fresh food and F&F, with department managers being replaced with team or lead manager positions – but Tesco confirmed there are to be no redundancies as a result.

Deliveroo has confirmed its intentions to float on the London Stock Exchange after weeks of speculation. The company said it will enable UK-based consumers with a Deliveroo account to apply for shares.

British lingerie brand Janet Reger has relaunched after it temporarily paused business operations last year following Debenhams' collapse.

Card Factory is in search for new financing arrangements with existing lenders, as Deloitte's negotiations with specialist lenders to raise £100m was unsuccessful.

Shoe Zone reported a loss after tax of £14.6m and a 24.3% fall in sales to £122.6m in the year to 3 October, amid forced store closures. It said digital sales grew 82% to £19.3m, while it had cut average lease lengths to two years and cut rents down 30.9%. Boss Anthony Smith said: "The financial pressure caused by Covid-19 has meant we now have debt on the balance sheet for the first time in over 15 years."
Friday 05 March
The Co-op Group is set to hold a board meeting next week to discuss whether the £80m government funding should be returned.

Dune announced it will focus on occasion wears when stores reopen in April.
Thursday 04 March
Global Fashion Group raised €375m (£324m) in unsecured bonds.

B&M reported its revenue rose 22.5% in January. The group expects its adjusted EBITDA for the year to 27 March to be in the range of £590m to £620m.
Wednesday 03 March
Aldi is expected to invest £22m on new and revamped stores in the Greater London area this year.

Sainsbury's is set to slash 500 roles at its London head office, including in the supermarket's Tu clothing division. The grocer will also close one of its London fulfilment centres in a bid to reinvest in its new 'food first' agenda.
Tuesday 02 March
French Connection remains in search for a new buyer, after two potential bidders pulled out of early stage talks to buy the struggling chain.

Morrisons acquires Cornish seafood supplier Falfish for an undisclosed amount. The acquisition sees Falfish's co-owner Mark Greet alongside 140 existing employees join Morrisons.

Virgin Wines made its stock market debut on the AIM market today. The business had a market capitalisation of approximately £110m. Liberum Capital acted as sole broker and advisor in the transaction.

Hotel Chocolat reported it's in a much stronger position heading into the Easter season compared to last year. The retailer's ecommerce operations are "match fit" according to the boss Angus Thirlwell, which is expected to bolster its trading compared to last year despite physical stores being closed for the second Easter in a row.

Investment firm Tiger Global Management and luxury group Kering have jointly invested €178m (£153.91m) for a 5% stake in the second-hand clothing giant Vestiaire Collective.

Stationery retailer Ryman has reportedly told landlords it will withhold rent until non-essential retailers are allowed to reopen.

Builder's merchant Travis Perkins has withheld dividend payments to shareholders again, after first suspending them a year ago. Its demerging of Wickes, which was put-on hold amid the pandemic, will resume and be completed by the end of June.
Monday 01 March
Morrisons extends its wholesale partnership with McColl's, meaning the grocery will now be McColl's sole wholesale supplier until 2027. McColl's stores will carry a full range of Morrisons convenience products.

Fashion etailer In The Style is eyeing an AIM floatation on or around 17 March, with Liberum Capital acting as book-runner and advisor. The retailer's sales rocketed by 159% year-on-year during the pandemic, hitting £35.4m in net sales and £3.6m adjusted EBITDA in the nine months to 31 December 2020.

Halfords announced it will repay £10.7m of furlough support following a stronger performance than anticipated. They expect full-year pre-tax profit to range between £90m and £100m after repayment.

Global Fashion Group – owner of ecommerce platforms The Iconic, Zalora and Dafiti – reported a profit rise of 44% year-on-year to €183m (£158.2m) in the three months to 31 December 2020.

Farfetch has launched its flagship digital store on Alibaba's ecommerce platform Tmall. The move aims at helping Farfetch plug into Alibaba's 779 million consumers.

JD Sports has allegedly entered into exclusive talks to buy Arcadia Group's distribution centre in Daventry, Northampton. This follows interest from Boohoo, Amazon and Ebay in buying the warehouse in recent weeks.

Amazon opened a contactless grocery store in London, marking its first 'just walk out' shop outside of the US. The 2,500 sq ft Amazon store uses its Just Walk Out technology to allow shoppers to pick items and leave the store without having to scan or queue for payment. In-store cameras and sensors track what shoppers take from the shelves and they are then charged via Amazon's mobile app when they leave.
Friday 26 February
Boots is to cut 300 jobs across its Nottingham head office as it fights "changing consumer behaviours".

US venture capital and private equity firm L Catterton is set to acquire a majority stake in Birkenstock for an undisclosed amount.

Marks & Spencer offers 360 work placements for the months of April and June 2021 in support of the government's kickstart scheme which helps young people get onto the career ladder.

The luxury fashion etailer Farfetch recorded a 64% rise in revenue year-on-year to $1.7bn (£1.2bn) in the year to 31 December 2020. The retailer registered its first-ever quarter of positive EBITDA, reaching $10m (£7m) in the fourth quarter.

Pets at Home upped its profit guidance for the second time in less than two months to £85m for the current financial year, ahead of the previous £77m guidance issued during its Christmas trading update on 8 January.
Luxury fashion pureplay Mytheresa has reported a sales increase of 30.4% year-on-year to €285m (£247.1m) for the six months to 31 December.
Thursday 25 February
eBay has launched a multi-million-pound 'eBay for Change' programme to offer training and financial support to small, community-based businesses in parts of the UK that have been hardest hit by the coronavirus pandemic. It has partnered with Social Enterprise UK and the World Fair Trade Organization to deliver the scheme.
Ikea's sales declined by 10% year-on-year to £1.9bn in the year to 31 August, as store visitor numbers plummeted 22% year on year to 44 million due to lockdowns. Online sales jumped 30% year on year and represented 27% of total sales during the period, from 19% in the previous year, as the homewares giant rolled out click and collect and DPD collection points.
Primark estimates that non-essential retail closures across its global estate cost it £1.1bn in lost sales in the first half to 27 February. The retailer expects to flog £150m worth of spring-summer clothing held over from the previous year when stores reopen, plus £260m worth of leftover autumn-winter stock later this year.
Asda has entered formal consultation with 5,000 staff as it unveiled its transformation plans to capitalise on the shift to online grocery shopping. The grocery has grown its capacity by 90% since the pandemic and looks to create 4,500 new roles in store-based online operations.
Wednesday 24 February
TK Maxx parent TJX Companies saw sales slump 10.7% year-on-year to $32.1bn (£22.8bn) in the year to 30 January, following lockdown store closures.
Tuesday 23 February
Asos has relaunched its newly acquired Topshop and Topman brands with a two-week social media campaign focused on denim. The campaign will run on Facebook, Instagram, Snapchat, TikTok and YouTube to drive awareness in the UK, US and Germany.
Clarks' chief executive officer Giorgio Presca, chief commercial officer Massimo Barzaghi and chief people officer Difna Blamey resigned as private equity firm LionRock Capital – which acquired a majority stake in Clarks late last year – looks to appoint a new leadership team.
Frasers Group has appointed Psyche's Steve Cochrane as a consultant to oversee the launch of kidswear expansion plans.
Frasers Group has warned closures across its store portfolio could be on the horizon following the government's roadmap out of lockdown.
Mango is launching a marketplace, which will see Italian lingerie brand Intimissimi become the first third party brand added to the retailer's offer from spring.
Monday 22 February
John Lewis is reportedly considering closing eight stores as it looks to cut further space and costs by moving into smaller properties. This follows plans to close eight of its shops last year.
Friday 19 February
Poundland owner Pepco Group reported group sales rose 3% year-on-year to €3.5bn (£3bn) in the year to 30 September, but suffered a 30.8% drop in underlying EBITDA to €229m (£198.2m), attributed to Covid-19-related closures across Central Europe.
Amazon workers who took jobs in the etailer's warehouses during the Christmas period have claimed they were put on zero-hour deal – which goes against Amazon's policy to not use such contracts.
Thursday 18 February
Asda reported sales rose 5.1% in the 12 weeks to 31 December, with, like-for-like sales up 6.9% in the key eight weeks to 24 December. The retailer said sales for premium lines in meat, fish and poultry categories were up 30% year-on-year.
Moonpig announced it expects its full-year revenue for the year to 30 April to be "approximately double" sales of £173m the previous year, after "the strongest ever trading week in the group's history ahead of Valentine's Day".
Wednesday 17 February
Homewares retailer Cox & Cox saw sales up by 85.4% year-on-year in its fourth quarter and sales growth of 74.5% for the full year to end-January, with demand for home office furniture remaining high, as businesses plan for a hybrid approach to working. Desks sales rose 831% and office chairs 2,036% year-on-year in Q4.
Tuesday 16 February
The Issa brothers and investment vehicle TDR Capital have confirmed the brothers' acquisition of Asda for £6.8bn, pending final approval from the Competition and Markets Authority which is expected in Q2 2021.
Dunelm's biggest shareholder and deputy chair Will Adderley is set to sell a 7.4% stake in the company, amounting to roughly £210m. He has appointed Barclays and Goldman Sachs to help sell his shares. The Adderley family still retain a 45% stake in the business.
Ocado has launched a dedicated B Corp-certified aisle, featuring over 1,100 products from more than 35 certified suppliers such as Ella's Kitchen, Innocent, Method, Charlie Bigham's, Pip & Nut, Teapigs, Proper, Alpro, Ben & Jerry's and Cheeky Panda.
Monday 15 February
Made.com is in discussions with banks about advising on strategic options, including mulling a stock market listing, the sale of a stake to a new investor or an outright sale. This follows online retailers thriving to new highs since the pandemic.
The Arcadia pension scheme may not need help from the Pension Protection Fund as first feared, after £173m has been realised through the sale of assets including the Topshop brand to online rival Asos and various property sales. The Arcadia pension scheme has security over £210m of assets, although the pension deficit is thought to be in the region of £300m.
Fashion giant Burberry is to voluntarily return some £6m of savings made through the business rates relief during the Covid-19 pandemic to the Treasury, becoming the first non-essential retailer to do so. Burberry also repaid a £300m taxpayer-funded loan a month early.
Friday 12 February
The Issas brothers and investment vehicle TDR Capital successfully raised a record £2.75bn sterling junk bond to fund its Asda acquisition.
Thursday 11 February
Ted Baker's group revenue was slashed by 47% year-on-year in the fourth quarter to 30 January, impacted by the closure of its UK stores as well as low demand for outerwear and occasion wear over the festive period.
Fashion group LVMH and RnB singer Rihanna have agreed to suspend the Fenty Fashion brand less than two years after it was launched, as the pandemic weighs on demand for luxury clothing.
Wednesday 10 February
Dunelm reported its pre-tax profit rose by 34% to £112m for the 26 weeks to 26 December. Despite store closures, total sales rose by 23% to £719m.
Fashion brand Fred Perry has bought the British shoemaker George Cox for an undisclosed amount.
Sainsbury's has launched its own Aldi price match on 250 own-label and branded products. This follows similar campaigns introduced by other big four grocers.
Tuesday 09 February
Notonthehighstreet was fully acquired by US private equity firm Green Hill Partners for an undisclosed amount.
Ocado reported a pre-tax loss of £44m in the 52 weeks running to 29 November, compared with a £215m loss in the previous year. The group's revenue grew by 33% year-on-year to £2.3bn while EBITDA surged by 69% to £73m.
John Lewis extended its fashion and beauty propositions by adding 50 new brands as shoppers favour casualwear, including Mango, Banana Republic, Honey & Toast, Kemi Telford and Ro&Zo..
Frasers Group sold its 24.93% stake in French Connection following rising interest to buy the fashion retailer.
Superdry and Robert Goddard fashion will open stores in Lincoln's Cornhill quarter in the later part of the year.
Fashion label Desigual is planning to expand its digital presence with the launch of its website in 108 additional countries by the end of 2021, which would see it operate in 150 international markets in total.
Dune Group has launched a company voluntary arrangement as part of a restructuring given the "likelihood of future trading continuing to be adversely affected by ongoing restrictions". Approval would see several sites move to a turnover-based rent.
Joules has acquired the garden and outdoor products digital retailer Garden Trading for a deal valued at £9m. Garden Trading reported a 40% increase in revenue to £16.8m and a pre-tax profit of £2m for the year to 30 November.
Monday 08 February
Boohoo finalised the acquisition of the digital assets and intellectual property rights of Arcadia brands Wallis, Burton and Dorothy Perkins for a cash amount of £25.2m.
Friday 05 February
French Connection's board is said to be considering the sale of the fashion retailer after being approached by two potential buyers. The brand is valued at £15.2m.
Thursday 04 February
JD Sport has concluded its £464.2m equity raise to finance its expansion plans through acquisitions in existing and new markets.
Watches of Switzerland has reported a strong sales performance over the disrupted Christmas season.
The European DIY e-tailer, ManoMano reported a 100% surge in overall sales year-on-year to £1.2bn in 2020.
Wednesday 03 February
Alibaba posted a 37% surge in revenues to 221bn Yuan (£25bn) in the last three months of 2020 compared to the same period a year ago, following the Chinese economy recovering strongly from the covid-19 pandemic.
EG Group is set to buy Asda's petrol forecourt business in a £750m deal pending approval from the Competition and Markets Authority.
Jeff Bezos announced he is to step down as CEO of Amazon in the third quarter of 2021. Andy Jassy (current head of Amazon Web Services) will replace him as new chief executive.
Amazon announced that net sales rose by 44% to $125bn (£92bn) in the fourth quarter.
Jigsaw confirmed the completion of its CVA and restructuring process. The fashion retailer also reported a £31m loss in sales revenue as COVID-19 lockdowns saw its 77 stores and 42 concessions in the UK and Ireland being shut at various points in the last 11 months.
Tuesday 02 February
Moonpig has begun trading on the London Stock Exchange with offer price at 350p/share, bringing its market valuation to £1.2bn.
Young Soles is increasingly expanding its US operations as part of its global growth strategy. The British brand already sells to 38 independent retailers in the US such as luxury kids wear retailer Shan and Toad.
Monday 01 February
ASOS paid £265m for the acquisition of Topshop, Topman, Miss Selfridge, and athleisure brand HIIT. Asos said that the purchase of the brands represented a "strategically compelling opportunity".
JD Sports Fashion entered a $496m (£360m) conditional agreement to buy US sportwear and footwear retailer DTLR.
Friday 29 January
Arket plans to open a new flagship store in Beijing, China in autumn 2021.
Boohoo completed a £25m purchase deal for three of Arcadia's high street brands, Burton, Dorothy Parkins and Wallis.
H&M profits plunged by 82.2% to SEK 2BN (£174.4m), while net sales fell by 18% to SEK 187bn (£16.3bn) during the year to November 30, 2020.
Card Factory was offered an additional month by lenders to negotiate banking covenants on the £200 loan breach.
Thursday 28 January
Lidl announced UK sales to have exceeded £6.9bn in the calendar year 2020, but a £654m investment in new stores, supply chain and logistics drove the discount retailer to a £13.6m loss. The grocers market share however, has increased from 5.8% to 6.1% during the financial year.
Screwfix reported a £2bn sales performance in the year to January 2021. The DIY retailer also opened 30 new stores across the UK and Ireland in 2020, bringing its total store estate to 725.
Wednesday 27 January
Paperchase is set to be sold to Permira Debt Managers. The deal will see approximately 90 of the 125 stores remain open and 1000 jobs saved.
SCS reported sales rise of 13.6% to £182.3m in the 26 weeks to January 23, 2021. Similarly, orders went up by 12.4% on a like-to-like basis in the 21 weeks to December 19, 2020.
LVMH, the luxury conglomerate reported a 17% revenue decline to €44.7bn (£39.5bn) in 2020 on an annual basis.
Tuesday 26 January
Frasers group announce its intentions to close Jenners in May after failing to reach an agreement with the Landlord. The closure will cause 200 job losses.
JD Sports is considering raising £400m of equity fund to finance more acquisition deals.
LVMH's fashion and leather goods division saw their revenue fall by 5% during 2020, resulting from store closures and travel suspensions.
Hawes and Curtis released its first loungewear collection.
Quiz's revenue dropped by 73% to £17.2m in the six months to 30 September 2020. The retailer reported an EBITDA loss of £3.4m in the first half of its financial year compared to the £6.3m realised a year ago.
Monday 25 January
The online retailer – ASOS which is in exclusive talks to buy Arcadia brands, is also interested in retaining Topshop's flagship store on Oxford Street.
Boohoo has acquired Debenhams' website and brand for £55m. None of Debenhams' 118 high street shops are included in the acquisition.
Feelunique reported a 39% sales growth to £28m for the 12-week period to January 3, 2021. Active customers jumped by 41% to 1.3m over the same period.
Charles Tyrwhitt, the suit specialist made 250 redundancies last year and shut four of its 42 stores due to the coronavirus pandemic.
Friday 22 January
Next pulled-out from the acquisition process of part or all of Arcadia's group as they fell short to meet the price expectation of the vendor.
John Lewis raised its profit expectation for the financial year as 'Black Friday' and 'Christmas' sales performed better than expected.
The Work reported a pre-tax loss of £4.1m in the 26 weeks to October 25. Revenue also declined by 7.8% to £88.9m in the same period.
Wolf & Badger sales revenue increased by 79.1% to £21.3m in the year to December 2020. Online sales soared by 92% in the same period, with 14.7 million website visitors and 253,902 items sold.
Hotter Shoes reported a 27% increase in online sales YoY on the six weeks to 31 December 2020. Full-year revenue for both store-based and online channel stood at £45m.
Thursday 21 January
Pets at Home sales rose 18% year-on-year to £302m in the 12 weeks to 31 December, with like-for-like sales up 17.6%. The essential retailer said customer numbers to its VIP Puppy and Kitten club were up 12% to year-on-year during the quarter to 6.2 million, as more people bought pets amid the pandemic. The retailer has added virtual consultations and contactless click and collect since the pandemic.
Eve Sleep posted that sales increased 6% to £25.2m for the year to 31 December, on the back of 18% growth in the second half. Eve Sleep expects its full-year EBITDA losses to be £2m, marking an 81% reduction on the previous year. It experienced record sales over the festive season, following a TV campaign and expanded ranges including bed frames, sleep gifts and bedding.
Wednesday 20 January
Marks & Spencer has struck deals with a number of fashion brands, adding Joules and Hobbs online and in its stores when they reopen from lockdown.
Dixons Carphone reported a boost in sales over the Christmas trading period. Group like-for-like sales of electricals rose by 11% during the 10 weeks to 9 January. Online sales across its UK and Ireland business surged by 121%.
WHSmith announced a better-than-expected performance during the Christmas period. Group revenue recovered up to 67% of pre-Covid levels during December.
Burberry reported that their digital full-price sales jumped by more than 50% in the 13 weeks to 26 December, as it progresses with its transformation strategy.
White Stuff has appointed advisors PHD Property to review options for its 115-strong store portfolio.
Frasers Group has increased its stake in the luxury brand Hugo Boss to own 15.2% of shares. Frasers Group now owns 3.6 million of common stock, representing 5.1% of Hugo Boss' total share capital.
Tuesday 19 January
Superdry reported a pre-tax loss of £10.6m in its first half – up from £2.3m – as sales fell by 23.4% to £282.7m. In its second half so far up to 9 January, sales have fallen by 27.2%.
Moonpig is expected to float on the London Stock Exchange next month. The retailer could be valued at as much as £1bn.
AO.com registered a revenue surge of 67.2% to £457.3m in the UK during the three months to end-December. Elsewhere, sales rose by 77.4% to €73.6m in its German market. AO boss John Roberts said: "I believe we've seen 10 years of change in 10 months and experienced our strongest ever peak trading period".
Hotel Chocolat posted group sales rose 11% over the 26 weeks to 27 December. Over the 13 weeks to 27 December, revenue grew by 19%.
Arcadia confirmed the closure of 31 stores by the end of the month, resulting in 714 job losses.
Clothing retailer Apricot has received approval of its Company Voluntary Arrangement, which will see most of its UK stores move to turnover-based rents.
Monday 18 January
Retailer Next has emerged as a leading bidder to rescue Topshop from administration. If the deal is successful, the retailer plans to partner with hedge fund Davidson Kempner and appoint an external manager to form a new joint venture to run Arcadia.
Dr Martens has confirmed its intentions to float on the London Stock Exchange in early February, at a valuation said to be more than £3bn.
Matalan reported a sales drop of 11.2% year-on-year to £119.2m in the five weeks to 2 January. The fashion retailer said that its online offering rose by 85% in the five-week period.
Seasalt reported sales growth of 17% over the five weeks to 2 January. Although in-store sales dived 44% due to restrictions, a 95% surge in online sales bolstered its overall performance. The retailer predicts that in-store sales will be down 57% for its full year to 30 January 30, with online sales expected to be up 72%.
Friday 15 January
N Brown reported an 8.8% drop in group revenue over the 18 weeks to 2 January. Product sales were down by 8.9%, compared with a 28.8% plunge in its first quarter.
Jaeger has axed more than 200 jobs following its acquisition by Marks & Spencer, as the deal saw M&S acquire the Jaeger brand as well as its stock and supporting marketing assets, but none of the retailer's 63 stores or staff.
Brand Machine Group has bought US outdoor brand Penfield.
Clothing retailer Mango announced it will launch its first homewares collection in April.
Thursday 14 January
Debenhams, which is winding down in a stock liquidation process, is permanently closing its Oxford Street flagship and five other stores after it failed to agree to new lease terms, with the loss of 320 jobs. Administrator FRP Advisory plans to "reopen as many stores as possible" after lockdown measures ease to complete the stock liquidation.
Primark reported sales fell 30% in the 16 weeks to 2 January in constant currency (-28% in actual exchange rates) as stores were forced to close. When stores could open, the retailer said like-for-like sales were on average 14% down on last year, with sales higher in its retail park locations compared with cities.
Primark estimated a loss of sales worth £540m during the 16 weeks to 2 January amid closures, and expects its half-year losses to 27 February to be £1.05bn assuming lockdown continues.
Boohoo exceeded expectations recording 40% sales growth in the four months to end-December. The online group expects full sales growth for the full financial year to end-February to be 36% to 38%, up from previous guidance of 28% to 32%.
Tesco saw total sales rise by 8.4% and like-for-likes rise 6.3% across the UK and Ireland in the 6 weeks to 9 January. Online sales were up over 80% during its third quarter and Christmas trading period in the 19 weeks to 9 January, but sales grew across all formats, categories and
Tesco warned that increased Covid-19 related costs including staff absences mean it anticipates £810m in additional costs during its current financial year, up £85m from its previous October forecast. But Tesco's full-year forecast remains unchanged, and expects to be at least flat on last year.
Card Factory store sales plunged 38.1% year-on-year in the 11 months to 31 December, as its stores closed on 37% of available trading days. Between 1 October and 3 November, Card Factory recorded like-for-like growth of 17.7%. The retailer expects a pre-tax loss of £10m for the full year to end -January, with sales down 33% year-on-year.
Halfords saw group sales rise 11.5% in the 13 weeks to 1 January, supported by a 7.7% and 30.5% rise across its retail and autocentre divisions respectively. Retail sales were up 9.8% on a like-for-like basis, driven by a 35.4% jump in cycling sales, while motoring sales declined 8.4%.
Dunelm's total sales rose 11.8% to £360.4m in the 13 weeks to 26 December. Online accounted for 40% of overall sales, almost double the 21% it accounted for a year earlier. Click and collect was a strong driver of sales, accounting for some 30% of comparable sales during periods of store closures in the quarter.
Wednesday 13 January
Morrisons announced a pay rise of approximately 9% for 96,000 of their staff. This will see a minimum hourly rate of £10 when the deal comes into effect in April.
Asos reported a 23% surge in group sales to £1.33bn in the four months to 31 December, with UK retail sales up by 36% to £554.1m. Returns were said to be low, which should contribute to a net benefit to profits of at least £40m in its first half.
Lidl reported record Christmas sales growth that saw a 17.9% year-on-year increase in the four weeks to 27 December. Basket sizes increased 24.8% year-on-year.
Sosandar recorded a revenue increase of 6% year-on-year to £3.98m in the three months to 31 December.
Tuesday 12 January
Kingfisher upped its expectations for its full-year pre-tax profit to £742m. This comes after a strong fourth quarter performance that saw the group like-for-like sales grow by 16.9%, while ecommerce skyrocketed by 150%.
Gift card specialist Moonpig revealed its intention to go public, with a valuation of two times EBITDA. Citigroup and JP Morgan are acting as advisors.
The Hut Group recorded a stellar 51% growth in sales in the fourth quarter to 31 December, ahead of previous sales growth guidance of 40-45%. The group expects full-year sales growth to be 30%-35% as sales momentum remains strong coupled with good performance from recent acquisition Dermstore.
Supermarket Booths reported like-for-like sales growth of 15.7% in the three weeks to Christmas. Covid restrictions saw Booths report an uptick in the sale of smaller turkeys (23%), turkey crowns (38%) and frozen turkey sales (50%), while liqueur and rum sales rose 39% and 69% respectively.
John Lewis announced the temporary suspension of its click-and-collect offer across its 42 branches.
Administrators have reached an agreement with Purepay Retail Limited on the sale of Edinburgh Woollen Mill and Ponden Home. Purepay has purchased all remaining stock as well as the head office and distribution centre in Carlisle, and plans to continue to operate 246 stores across both brands' estates.
Very.co.uk reported record Christmas sales, posting a 25.5% uplift in sales in the seven weeks up to and including 25 December, as sales from their electrical and home categories soared by 44.8% and 46.2% respectively.
Monday 11 January
Ocado warned customers of potential product shortages as the pandemic impacts supply chains, and may see "an increase of missing items and substitutions over the next few weeks".
US clothing firm G-III Apparel has allegedly made a bid to acquire Arcadia's brands including Topshop and Miss Selfridge.
JD Sports reported a 5% rise in like-for-like sales in the 22 weeks to 2 January, as shoppers "readily" switched between physical and digital shopping. The retailer raised its profit expectation for the full year to end-January, from £295m to £400m.
Studio Retail reported a 32% surge in sales for its third quarter which covered both Black Friday and Christmas, as shoppers turned to value.
Dr Martens owner Permira has engaged Goldman Sachs and Merrill Lynch as joint coordinators for a prospective float of the footwear brand later this year.
Marks & Spencer confirmed the acquisition of Jaeger's brand for an undisclosed amount.
Fashion outlet chain Leading Labels was bought by the turnaround specialist Baaj Capital.
Friday 8 January
Marks & Spencer posted a 7.6% drop in like-for-like sales for the 13 weeks to 26 December. Total sales contracted by 8.4% to £2.77bn, despite online clothing and home sales jumping 47.5% to £353m. Revenue rose 4.4% in its food division in the key December month, but declined 19.4% across clothing and home.
Asos unveiled plans to open a £90m warehouse in Lichfield, Staffordshire. The site is expected to be operational within 12 months and employ 2,000 people over the next three years.
Pets at Home uplifted its profit guidance as group like-for-like sales grew in the "high teens" during December. The group expects pre-tax profit of at least £77m for its full- year to end-March.
Thursday 7 January
B&M group revenue surged 22.5% in the 13 weeks to 26 December. On a like-for-like basis UK sales rocketed 21.1%. The retailer narrowed its full year profit guidance to be between £540m and £570m, following the repayment of £80m in business rates relief. B&M plans to open 18 stores during its fourth quarter, bringing the net total of 45 store openings for the full year.
Sainsbury's posted like-for-like sales grew 8.6% (excluding fuel) in its third quarter to 2 January, with total retail sales up 6.8%. Argos sales increased 8.4% as it beat expectations for Black Friday and Christmas. The grocer has upped its full year guidance from £270m to at least £330m in the year to March 2021.
Sainsbury's shoppers treated themselves to premium lines, with sales of its Taste the Difference range up 11% in the 9 weeks to 2 January, while champagne sales increased by 52%.
Walgreen Boots Alliance has agreed a $6.5bn (£4.8bn) deal to sell its Alliance Healthcare wholesale business in order to focus on retail. Alliance Healthcare UK – responsible for distributing medicines from sites in Beeston and Weybridge – will continue to act as distribution partner until 2031.
Joules reported total online sales (including its Friends of Joules marketplace) jumped 66% year-on-year in the seven weeks to 3 January, while in-store sales dived by 58%. The fashion retailer said it expects losses of between £14m and £18m if stores remain closed in lockdown until April.
Wednesday 6 January
Topps Tiles' retail like-for-like sales jumped 19.9% in its first quarter to 26 December. But it cautioned: "We expect to see an impact on sales during the period of tighter restrictions and trading margins will come under some pressure due to the additional delivery costs associated with higher levels of online sales."
Food-to-go giant Greggs warned that profits will not return to pre-pandemic levels until 2022 "at the earliest". Annual sales came in at £811m in 2020, compared to £1.17bn in 2019, and the retailer expects to report a loss of up to £15m this year. The retailer has made 820 redundancies since the pandemic broke out.
Tuesday 5 January
Paperchase has issued a notice to appoint administrators imminently, with PwC set to handle the process, as the impact of the pandemic batters sales.
Following a stronger than expected golden quarter, bellwether Next updated its full-year pre-tax profit to £370m, up from its £365m forecast in October. This came as the retailer posted a 1.1% year-on-year decline in full-price sales in the nine weeks to 26 December.
Morrisons posted a strong 9.3% rise in like-for-like sales (excluding fuel) for the three weeks to 3 January. This came after a "renewed focus on traditional Christmas fare", such as whole salmon and champagne delivering 40% and 63% sales increases respectively.
Monday 4 January
Primark cautions on an additional £220m loss in sales as Tier 4 restrictions are enforced. ABF, the fashion retailer's owner said that it expects sales losses for the year to reach £650m.
Ebay is facing an investigation from the Competition and Markets Authority on a proposed £7bn sale of its advertising arm to Adevinta.
Frasers Group has bought the fashion retailer Psyche for an undisclosed amount. The deal will see Fraser group acquire both the retailer's stores as well as its online operations.
Arcadia's administrators appoint estate agents to advise on the sale of Topshop's flagship store on Oxford Street, London.
Aldi reported a sales growth of 10.6% year-on-year in the fours to 24 December. Online wine and special-buy sales surged by 75% in the period.
Wednesday 31 December
Seraphine, the maternity wear brand was bought in a management buyout led by Mayfair Equity Partners in a deal that values the business at £50m.
Tuesday 30 December
The luxury brand e-tailer, Mytheresa has unveiled plans for a Wall Street IPO. This could see the company being valued to £1bn.
Marks & Spencer extends its 'goodmove assortment' to kids wear and men's lines as the covid-19 prompts a category shift.
Monday 29 December
The Hut Group has acquired the US-based skincare retailer Dermstore.com. The group also invested in nutrition suppliers, Claremont ingredients and David Berryman.
Silk Industries was bought out of administration by businessman Roger Gawn.
Wednesday 23 December
LK Bennett's store in Westfield London shopping centre will permanently close next year.
Clarks' shareholders have approved a £100m deal from LionRock Capital, a Hong Kong based private equity firm.
Ann Summer's creditors have approved the company's CVA, which moves 25 UK stores to turnover-based rent.
The Entertainer has confirmed that all its shops will be operating on a click and collect basis with its customers until Christmas Eve.
Tuesday 22 December
Fraser withdrew its anticipated 20%-30% growth in underlying EBITDA for the full financial year as non-essential retail are forced to close.
LK Bennett CVA proposal was approved by its creditors which comprises of five store closures and moving its remaining shops to turnover-based rent.
N Brown Group completed a £100m equity raise and moved from the main market to the Aim market.
DFS reported a sales surge of 19% for the 24 weeks to 13 December. Online orders also rose by 76% in the same period.
John Lewis' CEO announced that online sales accounts for up to 70% of its total sales this year. Compared to pre-pandemic, online sales were only 40%.
Friday 18 December
Frasers Group luxury store Flannels revealed plans to open 15 new stores in the next five years.
Thursday 17 December
Boohoo's founder and chair Mahmud Kamani expressed the retailer's commitment to source materials from Leicester based suppliers and ultimately improve working conditions in the city.
Wales announced a compulsory closure for all non-essential retail shops by the end of the trading period on Christmas Eve.
Wednesday 16 December
Dixons Carphone posted a pre-tax profit of £45m for the half year period, against losses of £86m a year earlier. Like-for-like sales in the UK & Ireland went up by 16%, while online sales skyrocketed by 145%.
Travis Perkins reported an 8.6% increase in like-for-like sales in October and November after it bounced back from store closures as part of a restructuring exercise.
Tuesday 15 December
Inditex reported an improvement in its Q3 sales drop to 14% compared to the fall of 31% in Q2 and 44% in Q1. The apparel group realised a net profit of €866m (£789m) for Q3, down from €1.17bn (£1.07bn) a year ago.
Shaftesbury reported a £699m loss for the 12 months to September compared to a £26m profit realised last year, as the Covid-19 pandemic hammered rental income and caused property values to plunge. The real estate investor said that 18.3% of its estate value was wiped off taking it down to £3.1bn by September.
JD Sports fashion has announced the acquisition of Shoe Palace, a California based shoe firm for a cash consideration of $325m (£244m). The retailer aims to increase its exposure on the US west coast.
H&M has reported 10% sales drop in the three months to November 30 compared with last year as store closures and falling footfall had an adverse effect on the retailer. For the full year, net sales have declined by 18% YoY to SEK 187bn (£16bn).
Monday 14 December
Fortnum & Mason Hampers may sell out of stock before Christmas after an unprecedented demand for Christmas presents. The CEO of the luxury retailer said, "demand this year has been unlike any other".
Made.com offered share options to staff after an extremely strong sales performance in 2020. The online furniture retailer gave share options worth more than £10,000 to all 650 staff members as an acknowledgement that it would not have been possible without them.
Authentic Brands Group is allegedly in talks to acquire both Arcadia and Debenhams.
Friday 11 December
French connection announced that its US business has secured a USD 6.5 million (£4.9 million) loan. The fund will support its US based operations and employees.
Pure Electric, the UK based e-bikes specialist has unveiled its expansion plan. It aims to open at least 10 branches in France and Spain as demand soared in the wake of the pandemic.
Topshop's administrators hope to receive offers of up to £200m for the flagship shops in Arcadia's fashion empire.
Thursday 10 December
Ocado announced it expects its operating profit to surpass £70m for the full year following a quarter of "exceptional demand" and strong sales. Its joint venture with Marks & Spencer reported a 35% rise in retail revenue to £579.6m in the 13 weeks to 29 November.
Frasers Group reported an increase in pre-tax profit by 17.6% to £106m in the 26 weeks to 25 October. Reported profit after tax increased by 29.1% to £84.4m from £65.4m last year. Frasers Group's premium lifestyle division, which includes House of Fraser and Flannels, saw a 4.8% rise in revenue to £320m, while its UK sports retail division reported a 9.8% decline in to £1.1bn.
Wednesday 9 December
Tesco is set to complete an £8bn sale of its Thai and Malaysian business after buyer CP Retail Development Company and Thai authorities announced it is "satisfied with the formal notice of approval".
Luxury Italian fashion brand Versace has opened a new 300 sq ft flagship in London.
Tuesday 8 December
Joules reported a 15% year-on-year decline in revenue to £95m for the 26 weeks to 29 November, impacted by store closures and low footfall. The retailer said its trading hours during the period were at approximately 60% of their typical trading time. Total ecommerce sales up by 35% in the first half.
Studio Retail reported a 52% rise in adjusted pre-tax profit to £18m in the 26 weeks to 25 September. Sales revenue surged by 17% year-on-year to £268m during the same period, reflecting an increase in Studio's active customer base by 15% to 2.1 million.
Monday 7 December
Frasers Group confirmed a last-minute rescue bid for department store chain Debenhams and said it "hopes that a rescue package can be put in place and jobs saved".
Ted Baker reported increasing pre-tax losses to £39m for the 28 weeks to 8 August, as group revenue declined by 45.9% to £169.5m despite a 41.8% surge in online sales.
Ted Baker said it expects to deliver rent savings of £7m and a further £20m in savings from rents being moved to turnover-based agreements.
Kingfisher agrees to return more than £130m in business rate relief to the government. Consequently, expected profit for the year would now include around £85m of non-recurring cost savings – down from £175m in previous guidance.
The Hut Group upgraded its sales forecast for the second time since its flotation in September. The retailer said sales are expected to reach between £1.57bn and £1.6bn by its year-end, up from the October forecast of £1.48bn to £1.52bn.
Men's sportwear brand Ron Dorff has secured a £3.6m investment from Puma Private Equity to finance its growth strategy and expansion into the US market.
Friday 4 December
Ann Summers launched a CVA for 25 of its 91-strong store portfolio in a bid to secure turnover-based leases. FRP Advisory are overseeing the process.
Value retailer B&M and specialist Pets at Home said that they will wave government business rate relief. The pair will return almost £110m.
Lidl joins the list of retailers set to waive business rates relief. The grocer said it would return the £100m received from the government.
Primark parent Associated British Foods announced a "very strong" surge in sales following stores reopening in Belgium, France, England, and the Republic of Ireland. Primark's operating costs at closed stores during the latest lockdowns fell by 25%, while orders placed with suppliers were honoured.
Lyold Shoe company, a footwear supplier to Arcadia, appointed administrators following the collapse of Sir Philip Green's retail empire.
Thursday 3 December
Sir Philip Green's family is set to pay £50m into Arcadia's pension pot within the next 10 days. following the business secretary calling on the watchdog to investigate.
Tesco, Morrisons, Sainsbury's, Asda and Aldi have committed to return in excess of £1.7bn in business tax breaks back to the government.
Wednesday 2 December
Bonmarché fell into administration for the second time in a year. This leaves 1,500 jobs and 225 stores at risk if a rescue deal is not secured.
Manchester based cosmetics etailer Beauty Bay appointed investment bank GCA Altium to review its strategic options, amid considering a stock market listing next year.
Reiss has opened its latest store in the Western Arcade of London Bridge Station, and offers click-and-collect. Reiss now operates 61 stores and 45 concessions.
Footwear retailer Dune opened a new London Liverpool Street retail store.
Womenswear brand Forever Unique opened its first standalone store.
John Lewis is offering pre-booked in-store shopping slots and virtual queuing in shops from today. Slots will be bookable up to two weeks in advance. In addition to more than 900 click-and-collect locations, John Lewis customers can collect orders from 15 Waitrose shops and 16 John Lewis car parks.
Tuesday 1 December
Sosandar reduced its EBITDA losses to £1m during the six months ending 30 September, in comparison to a £2.7m loss incurred a year ago. Gross profit and sales surged by 48% and 52% which amounts to £1.5m and £4.3m respectively.
Caffé Nero's company voluntary arrangement (CVA) has been approved by creditors, allowing it to seek rent cuts, changes to leases to turnover-based rents and store closures. It follows the company rejecting a bid from the Issa's brothers EG Group.
Debenhams collapsed into liquidation and is set to close its 127 stores, putting 12,000 jobs at risk. The company's stores will continue trading until it elapses its current and contracted stocks, and continues to seek offers for all or parts of the business.
Pets at Home announced the sale of its five specialist veterinary businesses for £100m to rival Linnaeus Group.
Monday 30 November
JD Sports backed out of acquiring Debenhams, following the announcement that Arcadia - Debenhams' biggest concession holder – was in administration.
Pets at Home completed the acquisition of veterinary telehealth provider The Vet Connection in a £15m deal as it seeks to increase its digital propositions.
Arcadia group tumbled into administration, putting 13,000 employees at risk. The group's 444 UK stores will continue trading while the administrators seek buyers.
Friday 27 November
Holland & Barrett announced the opening of a new store in London's Islington, relocating its previous Angel Islington store to a larger location "at time when health and wellness is more important to our customers than ever" according to the retailer.
Moss Bros launched a CVA to restructure its cost base and mitigate the impacts of the pandemic. The retailer's sales have been battered amid Covid restrictions and event cancelations.
Thursday 26 November
Mulberry's group revenue plummeted by 29% to £48.8m in the 26 weeks to 26 September, down from £68m a year earlier. Digital sales however surged by 68% during the first half to £24.3m compared to £13.9m in 2019.
Wednesday 25 November
The Co-op has announced the expansion of its robot home-delivery service. The retailer plans to launch click and collect from 1000 stores by 2021.
The American casual wear retailer Abercrombie & Fitch announced the permanent closure of its London flagship Savile Row store by the end of January 2021, before its lease expires.
Patisserie Valerie is set to launch a range of cakes and pastries in 250 Sainsbury's stores as part of a new tie-up with the grocer.
Kingfisher acquired an 80% stake in the French digital marketplace NeedHelp for €10m (£8.9m) as it seeks to maximise on the lockdown boom in home improvements.
In a trading update, ScS revealed that like-for-like orders rose by 15% in the 17 weeks to 21 November. But orders slumped 65% in the first three weeks of November as the second national lockdown in England forced its stores to close. This is likely to lead to pent up demand in December.
Tuesday 24 November
Pets at Home reported a 5.1% decline in pre-tax profit to £40m in the 28 weeks to 8 October. However, like-for-like sales rose by 5.1% to £574m in the period. The retailer said that the biggest driver of future revenue is the growing number of people getting pets since lockdown.
AO.com reported a 53% surge in total revenue to £717m in the six months to 30 September.The group's pre-tax profit increased to £18m compared to a £5.9m loss a year earlier.
JD Sports has reportedly shown interest to acquire Debenhams as it seeks cheap retail space and is interested in its website. Should talks fail, the most likely outcome for Debenhams is liquidation.
The luxury Scottish cashmere scarf brand Begg x Co has acquired family-run knitwear manufacturer Scott & Charters.
Monday 23 November
Next has partnered with Morrisons on a trial of collect and return 'pods' in supermarket car parks in Leominster, Herefordshire and Canvey Island, Essex. The pilot has been aimed in locations where there is not a nearby Next store.
Online fashion retailer In The Style is considering a flotation on the AIM market that could see it being valued at £100m.
N Brown shareholders approved the company's £100m capital raising and its move from the London main market to AIM.
Friday 20 November
Aldi expanded its grocery home delivery trial with Deliveroo to nearly 130 stores as the discounter strengthens its online capacity ahead of Christmas.
More than 90% of Clarks' creditors agreed to the company's CVA proposal launched earlier this month, allowing it to move most of its stores to turnover-based rent. As a result, private equity firm LionRock Capital should now be able to complete its £100m acquisition of a majority stake in the retailer.
Thursday 19 November
Peacocks and Jaeger have fallen into administration with 4,700 jobs and 500 shops at risk as its owner failed to find a buyer for the businesses.
Kingfisher posted a surge in their third quarter sales, driven by increasing online demand. The group's like-for-likes sales rose by 17.6% to £3.5bn. Ecommerce revenues skyrocketed by 153% during the period, accounting for 17% of the group's total sales.
Wednesday 18 November
Halford's profit surged by 116% to £56m in the first half period. Similarly, like-for-like sales climbed by 6.7% to £639m.
British Land reported a drop in value of their retail real estate portfolio by 15% in the first half of its financial year.
HMV posted a marginal loss before tax of £198,000 in the sixteen months to May 30. Encouragingly, the group made sales of £187m during the same period.
Global Fashion Group (GFG) completed a €120m (£107m) funding through new share placement. The fashion e-tailer will invest the new round of financing to accelerate growth and expand its market share and fashion services business.
Dr Martens is considering launching an Initial Public Offering (IPO) on the London stock market as of next year.
Tuesday 17 November
ASDA posted a sales increase of 2.7% during the three months to September 30, while combined online revenue from ASDA.com and George.com soared by 72% year on year.
Vanners, the silk weaver goes into administration. As a result, 32 employees were made redundant.
Monday 16 November
JD Sports rose as a potential bidder for Debenhams with the sports retailer said to be conducting due diligence on the target company.
The Arcadia group is seeking to raise a £30m loan from lenders to enable them to sustain the business, as a second lockdown has hammered their recovery plans.
Greggs has announced that they have made 820 employees redundant as they continue to combat the impact of coronavirus following a second lockdown.
Walmart sold its majority stake in Seiyu, a Japanese grocery chain. The US retail giant sold 85% of its stake to private equity firm KKR and Japanese ecommerce giant Rakuten.
Friday 13 November
Farfetch reported a loss after tax of $537m (£408m) during the three months to September 30. This compares to a $90.5m (£68.9m) loss incurred the same quarter a year ago. Revenue however surged by 71% to $438m (£333m) in the same period.
The competition Appeal Tribunal (CAT) overruled the Competition and Markets Authority's (CMA) decision to block JD Sports' acquisition of Footasylum.
Thursday 12 November
WHSmith reported pre-tax loss of £69m in the year to end-August, compared to a pre-tax profit of £155m a year ago. Sales declined 27% year-on-year to £1bn in the period, as revenue from travel fell by 32%.
B&M reported a surge in its interim profits, recording a 95% surge in EBITDA to £296m in the 26 weeks to 26 September. Revenue rose by 5% to £2.2bn during the period.
Burberry recorded a 75% fall in operating profit to £51m in the 26 weeks to 26 September, as its stores closed across the world. Sales declined by 31% to £878m in the first half, as travel restrictions limit tourist spend.
Wednesday 11 November
Homebase owner Hilco are looking for new owners for the home and DIY retailer to drive its next phase of growth, as it plans to invest £20m next year.
Waitrose is set to increase its food service counters in-stores, following news that Sainsbury's is shuttering food counters. Waitrose will also relaunch its fish and meat counter online next year.
LK Bennett is proposing a CVA, which would result in five stores closing and see the remaining shops move to turnover-based rents.
Tuesday 10 November
Tesco is to pay 10% bonus for hours worked over Christmas and New Year, while Lidl is investing £8m to increase pay for 20,000 workers ahead of the busy Christmas period.
Aldi has announced it will extend its click-and-collect trial to 200 additional stores before Christmas as it prepares to expand online.
VF corporation, which owns brands such as Timberland, Vans and North Face, acquired streetwear brand Supreme in a deal valued at $2.1bn (£1.6bn).
New Look announced the completion of a major recapitalisation and restructuring of its finances. It has deleveraged its balance sheet through a debt-for-equity swap – reducing its current senior debt from £550m to £100m – and extended its working capital to drive investment.
Monday 9 November
Harrods completed a £200m syndicated loan renegotiation following closures during the current lockdown.
Fenwick unveils its Newcastle Christmas window via a live stream to more than 250,000 viewers.
Friday 6 November
Edinburgh Wooden Mill and stablemate Ponden Home has fallen into administration, appointing FRP to handle the process, with 750 and 116 roles respectively made redundant with immediate effect.
Thursday 5 November
N Brown launched a £100m equity raise campaign as the retailer reported a 29% drop in adjusted pre-tax profit to £23m and a 18% fall in group revenue to £357m in its half year. Funds raised will be used to strengthen the balance sheet and accelerate growth on targeted investments.
Mike Ashley withdrew from the race to acquire Debenhams after he failed to match the £300m price tag set by the department store's advisers.
Sainsbury's announced plans to close 420 Argos stores by 2024 – leaving 100 standalone stores – alongside closing its food counters in store, putting 3,500 jobs at risk. The grocer will add a further 150 Argos shop-in-shops to its supermarkets, as well as up to 200 more collection points.
Sainsbury's posted a pre-tax loss of £137m in the 28 weeks to 19 September, following £438m of one-off costs associated with Argos store closures and market changes. Retail sales (excluding fuel) rose by 7.1% in the period and were up 6.9% on a like-for-like basis, with grocery and general merchandise sales up by 8.2% and 7.4% respectively. Online sales surged 117% to £5.8bn, accounting for nearly 40% of total sales.
Superdry's revenue fell by 22.8% year-on-year in the 13 weeks to 24 October. The retailer blamed "continued disruption from Covid-19" for its disappointing results. This was however partly offset by its ecommerce performance which rose by 49.8% in the period.
Joules reported a 35% year-on-year increase in its ecommerce performance for the first 22 weeks in its financial year. Store sales were down 18% since the 15 June reopening.
Wednesday 4 November
Footwear retailer Clarks has told 3,969 of its shopfloor workers that their roles are at risk of redundancy as the retailer is trying to revive the struggling business.
John Lewis has announced intentions to axe a further 1,500 jobs at its head office between now and April.
Zalando reported "exceptionally strong" sales growth in its third quarter, raising expectations for the full year to 20-22% growth in revenues and an adjusted EBIT of €375m-€425m (£338m-£382m). The fashion retailer recorded an adjusted EBIT of €118.2m (£106.4m) in the three months to 30 September.
Iceland reported a profitable six months to September as consumers shopped locally and stocked up frozen food. Profits jumped to £13.4m in the 24 weeks to 11 September, compared with a loss of £21m a year earlier. The retailer reported a surge in sales at 22% to £1.7bn.
Marks & Spencer registered a pre-tax loss of £88m during the 26 weeks to 26 September. compared to a £159m profit a year ago. Overall revenue dropped 16% to £4bn, as clothing and home revenue declined 41% during, despite a 34% uptick in online sales.
Tuesday 3 November
Primark has been hammered by coronavirus store closures, with parent Associated British Foods reporting operating profits slumped 60% to £362m in the year to 12 September. Revenue fell by 24% to just over £5.8bn.
Marks & Spencer unveiled a 'book and shop' reservation service, available in 566 food stores, which allows customers to book a shopping slot to save the need to potentially queue outside stores.
Chinese giant Alibaba is reportedly in talks to invest $300m (£231m) in the luxury fashion platform Farfetch.
Monday 2 November
Ocado has upgraded its profit guidance for the year for the group EBITDA to be over £60m as its joint venture with M&S proved fruitful with continued high demand in its fourth quarter.
Currys PC World and The Entertainer extended opening hours in the run-up to lockdown closures.
Friday 30 October
Amazon posted record sales figures for its third quarter as profit tripled during the pandemic. Net sales increased by 37% to $96.1bn (£74.4bn) in the three months to 30 September, while net profit soared from $2.1bn (£1.6bn) last year to $6.3bn (£4.9bn).
Sainsbury's has announced partnerships with Uber Eats and Deliveroo to bolster home deliveries, giving customers access to more than 1,000 products. Both services are set to roll out in London before being expanded across the UK.
Thursday 29 October
Waitrose announced it will recruit an extra 1,850 order pickers and delivery drivers – both temporary and permanent – in response to surging online demand as we enter the Christmas season.
Laura Ashley has partnered with Next to sell its home products through the department stores' online and in-store channels. It follows investment firm Gordon Brothers buying Laura Ashley's intellectual property earlier this year.
Ebay posted a strong 25% year-on-year increase in sales revenue to $2.6bn (£2bn) in the three months to 30 September. The company also reported an increase in the number of active buyers on its platform by 5%. Net income rose by 196% to $621m (£478m) in the period.
Wednesday 28 October
Bellwether retailer Next announced a better than expected third-quarter sales. The home and fashion retailer said pre-tax profit for its current fiscal year is just shy of £370m. This is a £65m higher than its central guidance published in their previous month interim results.
John Lewis has received authorisation from Westminster City Council's planning sub-committee to turn as much as 302,000 sq ft of its 678,700 sq ft Oxford Street flagship store into flexible retail or office space – retaining the basement, majority of the ground, first and second levels for its retail offer.
Shoe Zone has seen sales slide 20% year-on-year since stores reopened in June, despite online sales doubling in the period. In the year to 5 October, revenue dropped 24% to £122.6m. The footwear retailer has warned it may close 90 stores if business rates are reintroduced in April.
Tuesday 27 October
Cath Kidston revealed plans for a 'digital first' future as they intend to predominantly trade online but retain a flagship store in London's Piccadilly. This follows its buyout by Baring private equity in a pre-pack deal earlier this year.
Quiz Plc reported that total sales in the six months to 30 September dived 73% to £17.2m. The fashion retailer commented: "We continue to rebalance our product offering towards more casual clothing to meet the changing lifestyles of our customers."
Clarks has entered talks with landlords on a restructuring plan to turnover-based rent. The footwear retailer is also considering closing 50 UK stores.
Monday 26 October
Pureplay giant The Hut Group posted a 38.6% rise in group revenue to £378m in the three months to 30 September, taking the group's year-to-date turnover to over £1bn. Its beauty brands drove retail sales, seeing a 45% jump in revenue to £157.5m.
Marks & Spencer will hire 500 additional seasonal staff for its online distribution channel as it expects high Christmas demand. This means the retailer has increased staff numbers by 30% year-on-year to approximately 4,000.
In a matter of weeks, Boots is set to offer Covid-19 tests to non-symptomatic people that produce results within 12-minutes. The £120 nasal swab test, developed by life sciences company LumiraDx, is being made available to shoppers in 50 of Boots' UK stores, with the potential to roll out to up to 200 stores before the end of the year.
Friday 23 October
Fashion chain Gap is considering closing all of its European stores and instead operate in the region through store partnerships. The retailer currently has 129 stores across Europe, including 70 in the UK and 4 in Ireland.
Thursday 22 October
Travis Perkins reported sales declined 3.4% in its third quarter to 30 September. Like-for-like sales however increased by 3.9%. The group's retail division registered a sales surge of 17% through its DIY subsidiaries Wickes and Toolstation.
Marks & Spencer reported that Christmas-related searches were up 80% year-on-year.
Dobbies is opening a new small-format store in Edinburgh next month, as it looks to drive convenience in urban stores.
Broadcasting giant Sky is set to open high street stores for the first time – around five shops a year – which will offer interactive in-store experiences and a Customer Hub to speak to advisors.
Wednesday 21 October
Co-op announced a partnership with Gophr to provide same day delivery in Scotland.
Waitrose lowers prices on more than 200 of its basic own-label products by an average of more than 15%.
Elsewhere, the Co-op is investing £50m in lowering prices across 300 essential products.
Tuesday 20 October
Asda has unveiled a 'sustainability store' in Middleton, Leeds which includes product refill options. This is expected to remove 3 billion pieces of plastic from own-brand products by 2025.
Monday 19 October
Fashion pureplay Zalando announced the acquisition of Swiss computer vision technology company Fision, in a bid to develop their virtual dressing room capabilities.
Home and apparel retailer Muji has introduced mobile self-checkout across its UK stores. Customers can purchase goods without queuing or interacting with staff using MishiPay's Scan, Pay, Go technology.
Friday 16 October
Pret a Manger announced it will axe an additional 400 jobs and close six more stores as it continues to adjust to the coronavirus crisis.
Petrol forecourt specialist
Edinburgh Woollen Mill announced the closure of around 50 eponymous fascias and Peacocks branches, with the loss of about 600 jobs.
Thursday 15 October
AO.com saw UK sales climb by 54% in the six months to 30 September, while sales in Germany surged 83%. AO believes its strong momentum in the second quarter despite the reopening of UK stores indicates "a lasting step change in online penetration".
Dunelm registered a 37% uplift in sales to £359m in the first quarter to 26 September. Online sales rose by 12% on last year to account for 30% of overall sales. The retailer's margin increased 100 basis points year-on-year as it relied less on discounts and made sourcing improvements.
Boots registered a 29.2% decline in like-for-like sales in its fourth quarter to 31 August, despite online sales jumping 155%, as footfall plummeted across major high street, train station and airport locations. It noted a drop in its market share across health, as buyers shifted to one-stop grocery shopping.
Wednesday 14 October
Asda has launched a concession partnership with The Entertainer, which sees the toy specialist take over toy aisles in five Asda stores from February, as the grocer looks to make better use of excess space.
Just Eat reported that UK orders grew by 43% to 46 million in its third quarter as it struck striking more partnerships.
Asos reported pre-tax profit soared 329% to £142m in the year to 31 August, as group revenue rose by 19% to £3.26bn, on the back of operational improvements and strong trading in its second half to "match customer demand in lockdown categories".
Despite a "solid start" to its new financial year, Asos said it was "retaining caution on outlook for consumer demand whilst economic prospects and lifestyles of 20-somethings remain disrupted".
AO.com has partnered with Tesco to launch its first ever stores, trialling five shop-in-shops for six months.
Wren Kitchen launched a new transport hub in Avonmouth, Bristol, to support the growing demand, creating more than 30 jobs for drivers, porters, supervisors and office staff.
Tuesday 13 October
Ikea announces a scheme to buy back consumers' unwanted or old Ikea furniture, providing a voucher for up to 50% of its original retail price.
French Connection's losses deepened to £12.2m in the six months to 31 July, compared to a loss of £3.6m a year earlier. The fashion retailer's sales plummeted 53% year-on-year to £23.9m "predominantly caused by impact of the Covid-19 pandemic".
Boohoo terminated its links with Rose Fashion Leicester Ltd as the company was allegedly involved in fraudulent activities.
Monday 12 October
Indian retail giant Reliance Retail has withdrawn its bid to rescue the battered department store Debenhams.
Waitrose has launched its first website for overseas shoppers in the United Arab Emirates.
Boris Johnson announced that retailers "will remain open" even under the firmest "three-tiered system" introduced from Wednesday to fight the spread of Covid-19.
Friday 9 October
Poundland acquired frozen food retailer Fultons Foods for an undisclosed amount. Poundland said they plan to invest £25m into its grocery proposition over the next two years.
Thursday 8 October
Pureplay The Very Group saw sales climb 2.9% to £2.05bn in the year to 30 June, which saw the group return back in the black with a pre-tax profit of £48m. By category, electricals were up 18% in the year, while home rose 13%, fashion 0.9% and other categories including toys and beauty jumped 10.5%.
Very Group said it had made a strong start to its new financial year "with group retail sales in double-digit growth" as chief executive Henry Birch says "our flexible and resilient business model will help us thrive as customers continue to rely on online shopping."
Electrical retailers are sizing up to Amazon's Prime Day this month with a host of sales to pull Christmas spending forward. Dixons Carphone's autumn Sale is running until 9 November, while AO.com is launching a Sale to rival Prime Day.
Wednesday 7 October
Tesco saw a 29% uplift in pre-tax profit to £551m in its half year to 29 August, as group sales rose by 6.8% to £26.7bn. This comes despite it racking up £533m in Covid-related costs. Its UK and ROI sales rose 8.5% to £24.3bn in the period, supported by a 69% surge in online sales. Growth at convenience stores outperformed, increasing by 7.6% compared to 1.4% at larger stores.
Fashion etailer Sosandar reported a 52% spike in sales to £4.3m in the six months to 30 September. Sales in September rose a staggering 54% month on month compared and were up 36% year on year. This comes despite slashing marketing costs by 49%, as repeat orders rocketed 88% year on year and new customer numbers were up by 26%.
Tuesday 6 October
Watches of Switzerland raised its full-year profit guidance and now expects EBITDA margins to edge up between 1% and 1.5% compared with last year, while full-year sales are now forecast to come in between £880m and £910m, compared with its previous guidance of £840m to £860m. This follows UK sales rising by 12.6% to £145m over the first 10 weeks of its second quarter.
The Restaurant Group, which owns Wagamama and Frankie & Benny's, swung to an adjusted pre-tax loss of £63m in the 26 weeks to 28 June from a £28m profit last year, as revenue dived 56% to £227m.
However, since lockdown measures eased in July, The Restaurant Group saw like-for-like sales at Wagamama jump 11% year on year in the 11 weeks to 20 September, while Frankie & Benny's saw LFL sales rise 4% and pubs 14%.
Sporting goods chain Decathlon is set to open a new branch in Aberdeen this year and four more stores next year.
Footwear retailer Clarks has launched a CVA in a bid to close 50 stores and move the remainder of its portfolio onto turnover-based rents. This will enable a cash injection, as a proposed £100m rescue deal from private equity firm LionRock Capital is contingent on creditors approving the CVA, seeing the business move out of private ownership.
Ikea posted a 4% decline in sales to €35.2bn (£32bn) in the year to end-August, following the mandated closure of 75% of the group's stores due to Covid measures. It saw online sales surge 60% in the period to account for 18% of total sales.
Ikea believes its performance will continue to be resilient in its new financial year as shoppers adjust to home living including home offices and gyms. The retailer and its franchisees are set to open 30 store worldwide next year, including the brand's first UK city-centre store in London. Chief digital officer Barbara Martin Coppola said: "80% of our customers start their shopping online, but very few who are channel-specific."
Monday 5 October
In a preliminary update, Mulberry saw group revenue slide 10% to £149.3m in the year to 28 March, reporting an underlying loss of £14.2m on an underlying basis.
Mulberry said results were "ahead of expectations" in its new financial year, with group revenues down 29% in the 26 weeks to 26 September while digital sales surged 69%.
Ann Summers has engaged with the British Property Federation to mull the launch of a CVA. This comes despite more than half of the landlords across its 90-strong store portfolio agreeing to change to turnover-based rents, as the retailer looks to pursue the arrangement at stores where negotiations failed.
Friday 2 October
Walmart completed the sale of Asda to global convenience and forecourts retail business co-founders the Issa brothers for £6.8bn. Walmart retains an equity investment. As part of the deal more than £1bn will be invested by the Issa brother in Asda's supply chain over the next three years, with a commitment to increase its proportion of UK-based suppliers.
Thursday 1 October
H&M recorded a SEK2bn (£174bn) pre-tax profit in its third quarter to 31 August, despite a 16% drop in sales in local currencies as it drove cost cutting including rental cuts. The retailer has said that it will look to close a net 250 of its least profitable stores in the coming year.
B&Q and Screwfix parent company Kingfisher sold its Russian Castorama division in Russia to Maxidom in a £73m deal, to focus on UK, France and Poland markets.
Halfords posted a 22% uptick in group like-for-like sales growth in the five weeks to 25 September, as cycling like-for-like sales were up 46% and autocentres were up 18%, which has seen it launch a recruitment drive for technicians.It has now upped its profit expectations for the half-year.
Morrisons has extended its commitment to pay farmers, local food makers and small businesses immediately to January 2021. Farmers and foodmakers will also continue to receive a 5% discount off their grocery shop at Morrisons until January.
Wednesday 30 September
The Hut Group has acquired US luxury skincare brand Perricone MD for $60m, adding to the group's a growing stable of beauty brands at a time when "the online beauty and skincare sector is growing rapidly" according to The Hut Group boss Matthew Moulding.
Morrisons is creating 1,000 new picking jobs across 50 stores to help it fulfil orders on its services with Amazon and Prime.
N Brown sales were down 18% in its first half to 29 August, easing from a 22% slump in its first quarter, as demand for apparel stabilised, while demand got home and gift was up on last year. It said 92% of its product revenue came from online.
Topps Tiles reported that like-for-like sales were up 16.5% in its fourth quarter to 26 September, driven by a "robust home improvement market". It stated it's been recording double-digit year-on-year growth since July, with shoppers doing more research online before visiting a store. It expects a modest level of adjusted profit before tax for the full year.
Boohoo posted that sales increased by 45% to £817m in its first half to 31 August, with gross profit up by 47% to £449m. UK revenue was up 37%. It expects adjusted EBITDA would be "at around" 10% for the full year.
Tuesday 29 September
ScS reported a 20% drop in sales to £268m in the year to 25 July on the back of lost store sales during lockdown, which saw profit slide 20% to £120m. Order intake was down just 5.9% as orders spiked following reopenings in May. It has since launched a new website to drive future growth and seen order intake surge 46% on a like-for-like basis in the nine weeks since 25 July.
ScS chief financial officer Chris Muir noted that: "Average order value didn't particularly move in April and May – those customers still wanted to go into a store, which was one of the reasons we saw that pent-up demand in June and July.
Card Factory suffered a £22.2m statutory pre-tax loss in its half year to 31 July, down from a £24.3m profit a year earlier, as sales dived 49% to £100.5m despite online growing by 64% in the period.
B&M group revenue rocketed 25% in its half year to 26 September, with UK like-for-likes up 23%. It now expects to post an adjusted EBITDA of approximately £285m for the period. It now expects to open between 40 and 45 new UK stores, most of which during its fourth quarter.
Greggs has reinstated store opening plans, following like-for-like sales in company-managed shops recovering to 76% of 2019 levels during the four weeks to 26 September. New stores would be "predominantly in locations accessed by car", shifting focus from travel sites.
However, Greggs is looking to reduce staff hours, and has launched a consultation with staff ahead of the furlough scheme ending next month. Itneeds to
Hotel Chocolat swing to a loss in its year to 28 June, with a statutory pre-tax loss of £6.5m compared to a £10.9m profit last year. Sales were up by 3% to £136.3m in the year, but was heavily impacted by store closures during the critical Easter period.
Hotel Chocolat has struck a five-year deal with THG Ingenuity, The Hut Group's global technology platform, to grow its reach in the US. THG will provide chilled storage distribution, offering next-day delivery to shoppers on the east and west coasts of the US.
EG Group and TDR Capital consortium have reportedly been selected by Walmart as the preferred bidders for Asda.
Monday 28 September
Following a delay, Amazon has confirmed that its annual sales event Prime Day will launch next month on October 13 and 14 in the UK, US, Canada, Australia, Spain, Italy and Germany. It is still on course to launch its Black Friday event in November.
Aldi has committed to invest £1.3bn into upgrading stores and distribution centres over the next two years. The grocer is expected to open 100 new UK stores in 2020 and 2021, creating 4,000 new jobs next year following the 3,000 permanent roles created this year.
Friday 25 September
John Lewis has launched a virtual Christmas shop on its website, allowing customers to virtually walk through its Oxford Street store. The department store group said that shoppers have been buying Christmas products earlier this year, with festive sales up 112% year-on-year.
Following Morrisons, Tesco has reinstated a purchase limit on essentials such as rice, flour, dried pasta, toilet paper, baby wipes, and anti-bacterial wipes.
Thursday 24 September
Morrisons has launched a home delivery subscription box, with customers able to sign up for weekly, fortnightly or monthly deliveries of food boxes without needing to book delivery slots.
Shoppers at Morrisons face restrictions of three items per customer on items including toilet paper, kitchen roll, Calpol, soap and disinfectant products to prevent shortages from panic buying.
Tesco's departing chief executive Dave Lewis has called for more food companies to set food waste target and publish their progress. This comes as Tesco revealed that it had reduced food waste across its combined operations by 200,000 tonnes since 2013.
Ted Baker has entered a three-year licensing agreement to sell its lingerie and nightwear collections through Next's online channels.
DFS has swung to a loss, posting an underlying pre-tax loss (pre-IFRS 16) of £56.8m in the year to 28 June, as revenue dropped 19.6% to £724.5m.
24: DFS reassured that sales since stores reopened have improved both in store and online, with sales 'significantly ahead of expectations' in the six weeks to end-August.
Pets at Home released a statement to say it expects full-year underlying pre-tax profit to be ahead of current market expectations, as it delivered double digit like-for-like growth in the eight weeks to 10 September.
Wednesday 23 September
Following a pilot among staff at one of its stores in the Midlands, Aldi is trialling the click-and-collect service among customers at a cost of £3.99, with its full range of products available online, at the same prices as in-store.
It has been reported that US private equity firm Lone Star has dropped out of the bidding war to purchase Asda, leaving asset manager Apollo as the leading suitor.
Nike posted an 82% surge in online sales in the three months to 31 August, offsetting losses in store sales. Nike chief executive John Donhoe claimed: "We know that digital is the new normal. The consumer today is digitally grounded and simply will not revert back."
Joules saw group sales fall 18% year-on-year to £39.6m in its quarter to 31 August, as store closures hit revenue. Joules' revenues through its own online channels jumped 63% in the period. But since its phased reopening of stores from mid-June, Joules said sales were down just 10% year-on-year.
Tuesday 22 September
Philip Day, owner of Edinburgh Woollen Mill, has reportedly asked for a valuation of the Peacocks business, having appointed FRP to find potential buyers.
B&Q parent Kingfisher has seen ecommerce sales soar 164% in its first half to 31 July statutory pre-tax profit up by 62% to £398m despite sales slipping 1.3% to £5.9bn.
Monday 21 September
Superdry's group sales plummeted by 19.2% to £704.4m in the year to 25 April, while statutory pre-tax profits fell 87% to £167m. The retailer says it has had to discount more over the past few months to shift excess stock, with store sales down 48% in the 20 weeks to 12 September while online sales surged 112%.
Friday 18 September
Asda is piloting a new On The Move c-store format on three petrol station forecourts in the Midlands, as well opening four B&Q shop-in-shops as the grocer seeks to make better use of space while shoppers "look to complete multiple shopping missions on a single trip".
Czech billionaire Daniel Kretinsky investment vehicle VESA upped its stake in Sainsbury's to 3.05% to become the fourth largest shareholder.
Aspinal of London has launched a company voluntary arrangement in a bid to close all of its UK stores and move the brand online. It currently operates 10 stores across the UK, as well as concessions in Selfridges and Harrods.
Thursday 17 September
John Lewis Partnership posted a £635m pre-tax loss for the six months to 25 July – or £55m excluding exceptionals such as a £470m write-down in store values – while telling staff that they will not receive a bonus for the first time since 1953. Lockdown closures and shoppers buying less profitable items, such as toilet paper or laptops, hit its bottom line.
John Lewis' online sales rose 73% in the first half, accounting for more than 60% of total sales, but shops saw around a £200m drop in sales.
At Waitrose, supermarkets had seen "a return to the weekly shop" with trading sales climbing 7.6% to £3.7bn in its first half to 25 July, with like for likes up 9.6%.
The Co-op reported a sales rise of 7.6% in its first half to 24 July, with group underlying operating profit doubling to £121m. Food sales rose 5.2% to £3.9bn "as customers shopped closer to home and ate out less frequently during lockdown".
Following rivals, the Co-op is set to invest in pricing and customer-facing technology as its customer base shifts online.
Next reported a 97% plunge in pre-tax profits to £9m in its first half to 25 July, but upped guidance for the full year from £195m expected in July to £300m as its "sales performance through the pandemic has been more resilient than we expected". Online sales dipped 14% to £863m in the period, while store sales were down 61% to £345m.
Wednesday 16 September
Waitrose is set to close three stores and sell another to Tesco by the end of the year, putting 124 staff at risk of redundancy.
Fashion group Inditex swing to a loss of €195m (£179m) in its first half to 31 July, despite recording a €214m (£197m) profit in the second quarter as it suffered a €409m (£376m) loss in the first quarter. Sales for the second quarter were down 31% year-on-year, compared with a 44% decline in the first quarter, as stores reopened.
The Hut Group began trading on the London Stock Exchange, after its successful float raised £1.88bn.
Tuesday 15 September
New Look has had its company voluntary arrangement approved by creditors, moving 402 stores to turnover-based rent agreements of up to 12%.
H&M reported that sales were down 19% in SEK year-on-year in its third quarter to 31 August, with its pre-tax profit down 93.7% to SEK £2bn (£177m).
Next reportedly acquired a 51% stake in Victoria's Secret's UK business.
Eve Sleep narrowed its pre-tax losses to £1.3m in the six months to 30 June, compared with £6.7m a year ago, despite sales dropping 5% to £12.2m.
Eve Sleep has partnered with Boots to launch a Well Slept range of Christmas gifting products.
Ocado saw retail revenues rise 52% to £587.3m in the 13 weeks to 30 August, as average weekly order numbers were up by 9.6% to 345,000. It expects full-year EBITDA to be at least £40m.
Tesco upped the supermarket price war by announcing it would roll out "hundreds of exclusive deals on familiar branded and own-brand products" for its Clubcard members, and extend its Aldi Price Match on a further 500 or so items across its range.
Monday 14 September
Aldi is trialling click-and-collect among staff at one of its stores in the Midlands, where online orders are brought to cars in time slots and contact-free. It plans to test the service out for customers in the "coming weeks".
Burberry partnered with streaming service Twitch to livestream its spring/summer 2021 fashion show on 17 September, as restrictions put a limit on large gatherings.
Friday 11 September
& Other Stories has introduced a vending machine in its Galeries Lafayette Paris concession to drive contactless cosmetics sales, allowing shoppers to shop bed and bath products across four of its fragrance ranges.
Thursday 10 September
Dixons Carphone reported a 12% year-on-year rise in sales in the 17 weeks to 29 August, with online sales up 164% having tripled last year's levels during lockdown and more than doubled since stores reopened. However, Dixons Travel facias suffered a 90% slump in sales.
Dunelm sales slipped by 3.9% year-on-year to £1bn in the year to 27 June, with its pre-tax profit tumbling 13.3% to £109m. The retailer noted that online sales more than doubled year-on-year after its stores were forced to close in its fourth quarter.
Dunelm hailed "strong trading" in the first two months of its new financial year, with sales jumping 59% in July and 24% in August on the back of its summer sale and pent-up demand.
Morrisons recorded a 28.2% decline in pre-tax profit to £145m in the half year to 2 August, suffering around £155m of pandemic related costs. Total turnover dipped by 1.1% to £8.7bn following a significant drop in demand for fuel. Excluding fuel and VAT, like-for-like sales jumped 8.7% year on year.
Morrisons expects further costs associated with Covid-19 in 2020/21 will be "broadly offset" by business rates savings.
Tesco is to start testing home grocery deliveries by drone from a store in Ireland with start-up Manna.
Wednesday 9 September
In Boden's 2019 full year update, the clothing retailer noted a "material reduction in sales" since the pandemic, with sales in March and April particularly affected although it had some improvement since May. Boden is now reducing its reliance on holiday, smart and occasion clothing sales, and focusing on more casual offerings for the foreseeable future.
Iceland is hiring 3,000 new staff, made up of new delivery drivers and in-store pickers to deal with the surge in online sales.
Iceland also launched a trial with Uber Eats for grocery delivery in London – which could be rolled out nationally.
Quiz has negotiated more flexible leases after putting its stores business into administration. Rents at 48 reopened stores are now predominantly payable based on turnover, with the average lease length at 24 months. It expects to trade from 60 eventually.
Quiz reported a 77% drop in sales to £12.8m between the start of April and end of August slid, with sales from stores and concessions down by 89%, while online dived 54%. Gross margins were down 6% year-on-year on the back of discounting.
Home shopping retailer Freemans – traditionally a catalogue business – has relaunched as a 'digital department store' with a new website, app and TV marketing campaign.
Edinburgh Woolen Mill boss Philip Day has appointed advisers FRP Advisory having reportedly received interest in at least three of his brands – Jaeger, Austin Reed and Jacques Vert.
Tuesday 8 September
Travis Perkins reported an 81% year-on-year decline in adjusted operating profit to £42m in its first half to end-June, as turnover dropped 20% to £2.79bn and 19% on a like-for-like basis. The retailer noted a slower return to activity in new housebuilding and major commercial projects.
JD Sports posted a 61% drop in pre-tax profit in its half year to 1 August, with sales down by 6.5% to £2.5bn, as a result of additional costs associated with the jump in online sales. It has invested over £2m into its Kingsway warehouse in Rochdale to enable it to "handle the volumes that we saw on Black Friday last year, every day whilst maintaining strict social distancing". The retailer reinstated its full-year profit guidance in the range of at least £265m.
Halfords reported a 5% increase in like-for-like (LFL) sales in the 20 weeks to 21 August, supported by a 160% surge online. Cycling LFL sales were up 59.1% on the back of shoppers holidaying in the UK and commuting by bike, while Halfords autocentres division saw a 30.2% uplift in revenue.
Monday 7 September
Morrisons has become the latest of the big four to announce investment into prices as by lowering prices on over 400 grocery essentials by an average of 23%.
In a pre-close update for the 52 weeks to 3 November, Primark owner Associated British Foods said the fashion retailer's profits are expected to come in at the top of its £300-£350m range, although UK sales are expected to be down 12% on a like-for-like basis.
Friday 4 September
Dixons Carphone is expanding ShopLive, which launched in April to connect online shoppers to store staff, to include bookable appointments, livestream shopping across all online items and extended operating hours.
Pret a Manger is seeking new revenue streams and launched coffee subscription service YourPret Barista, which offers up to five hot drinks, smoothies or frappes a day, for a fixed cost of £20 a month.
The Co-op unveiled a £130m investment programme to create 1,000 new jobs and open around 50 new shops, as its online sales through Deliveroo step up and convenience stores benefit from more local shopping following lockdown.
Thursday 3 September
Costa announced plans to make 1,650 employees redundant as a result of the ongoing impact from the coronavirus.
Eve Sleep expects revenue to total £22m for the year, ahead of its expectations.
Amazon are set to increase their UK workforce by a third, meeting its target of hiring an additional 10,000 UK fulfilment roles by the end of the year, with almost a third of the positions already been filled.
Wednesday 2 September
Lego reported that sales in their first half year rose by 7% while operating profit accelerated 11% on a year ago with strong investment in their online store and new product development a key driver of sales growth.
Growing demand for flowers has seen Morrisons hiring 180 florists, seeing new stalls installed in stores.
'Asda Price' has returned after a £100m investment to reduce prices of both branded and own brand products.
Tuesday 1 September
The partnership between Ocado and Waitrose ended today (1 September) as Ocado's joint venture with Marks and Spencer began.
Ted Baker entered a "relationship agreement" with founder and former chief executive Ray Kelvin to glean his company brand experience and insight.
B&M is set to enter the FTSE 100 index as its sales growth has propelled since the pandemic having been classified as an essential store and being allowed to remain open. Its share price has risen some 17% since the start of the year.
Dunelm announced annual sales rose by 59% in July and 24% in August, driven by pend-up demand and timing of their summer sale.
Whole Foods Market opened its first online only store in New York to solely fulfil online orders within the Brooklyn area, creating hundreds of jobs.
Ann Summers is looking to launch a CVA as the disruption from the coronavirus pandemic hampers sales growth.
KPMG have been called in by Moss Bros to look as options to reduce store numbers and head count as it grapples with the impact of falling demand because of the coronavirus.
Friday 28 August
Waitrose is trialling a new service with Deliveroo at five of its stores, offering consumers a limited range of grocery products for delivery in just 30 minutes.
Thursday 27 August
Screwfix plans to open 40 new UK and Ireland stores by the end of the year, creating 460 new jobs across retail management, service assistance and supervisor roles.
DFS announced it is to sell Sofa Workshop to luxury rival Halo for £300,000.
In its full year update, The Works said total sales were down 26% in the 17 weeks to 23 August. But across the most recent 10-week period since its stores reopened, like-for-like sales improved 0.7% year-on-year, supported by online sales "more than double" last year's levels.
Online health & beauty business The Hut Group has revealed its intention to float on the London Stock Exchange, with a target valuation of £4.5bn, following sales surging 35.8% year-on-year to £676m in the six months to end-June.
Wednesday 26 August
New Look unveiled CVA plans, after conducting a £440m debt-for-equity swap with lender backing.
Debenhams has appealed to a tribunal against the 12% hike in its business rates bill to £1.1m on one of its stores in Swansea, Wales. The department store claims: "Unless more realistic assessments are agreed, Debenhams is likely to have to close more stores, with the result that thousands more workers will lose their jobs."
Tuesday 25 August
John Lewis Partnership have partnered with tech firm Qudin to pilot virtual queuing technology at three John Lewis stores and six Waitrose supermarkets. Shoppers will be able to scan a QR code or text a number displayed outside a store to join a virtual queue or book a time slot for getting into the shop.
DFS posted in late August that year-on-year order intake growth over the six weeks from mid-July is equivalent to around £70m of sales. This is in addition to its previously reported strong opening order book that will generate a further revenue benefit of £100m.
Arcadia has been accused of offering some furloughed employees being made redundant less favourable notice terms, with payments reportedly based on reduced furlough rates.
Next is to open beauty stores in three former Intu Debenhams branches.
Monday 24 August
Frasers Group has bought DW Sports from administration in a £37m deal that sees it acquire its assets and stock, but does not include the DW name or intellectual property.
Debenhams' parent company Celine has drafted FRP Advisory as it prepares to enter administration. The potential administration reportedly would not impact Debenhams sales, staff, customers or suppliers.
Online value retailer Studio has seen sales jump by 42% year-on-year in the 20 weeks since 27 March.
Tesco is to create 16,000 jobs following "exceptional" growth in its online business during the pandemic, including 10,000 new picker jobs and 3,000 new delivery drivers.
Marks & Spencer is piloting drive-thru order collection at its store in Camberley, Surrey, as well as contactless in-store collection at three shops in partnership with Doddle. M&S now has 239 stores fulfilling online orders –153 more than before the pandemic.
Friday 21 August
Cosmetics giant Estée Lauder is cutting 2,000 jobs – around 3% of its workforce – amid plans to shutter between 10% and 15% of its standalone store estate, while reducing its presence in department stores.
US-based fitness brand Peloton is to launch concessions in nine of John Lewis's stores.
AO.com is creating 650 new roles across its retail, mobile, IT, financial services and logistics divisions as it looks "to manage the sustained demand" it has experienced since the outbreak of Covid-19.
Wednesday 19 August
Fenwick reported a pre-tax loss of £47.3m in the year to 31st January 2020. Sales revenue and gross margin declined by roughly 9% year-on-year. Last year, the department store incurred a 44.2m loss.
Amazon provided Morrisons a platform to sell their groceries on its website.
Tuesday 18 August
Marks & Spencer announced that it will be axing 7000 jobs across its business over the next three months at both management and store levels. This follows the implementation of its digital strategy triggered by the coronavirus pandemic.
Laura Ashley's administrators have appointed property advisor Avison Young to market the retailer's manufacturing and distribution facilities.
Sosandar reported a loss before tax of £7.66m in the full year to March 31 despite sales growth of 103% to £9.03m. The online fashion retailer attributed the losses to its investment in its team, supply chain and marketing spend, which has positively impacted its first quarter sales during the coronavirus pandemic.
Monday 17 August
Mike Ashley has reportedly launched a bid of over 30 million for the sport chain DW Sports which fell into administration earlier this month and put 1700 jobs at risk.
Tesco plans to add free delivery to its Clubcard plus membership scheme in retaliation to Amazon's free home deliveries.
Debenhams has appointed Hilco in the event that it does need to liquidate stock but has stressed that this move is not imminent and would be a last resort.
Selfridges has launched a sustainability initiative described as "transformational" which will "change the way we shop" over the next five years. They intend to put repair and resale on their agenda.
Friday 14 August
The Department for International Development (DFID) has launched the £6.85m vulnerable supply chains facility in partnership with a host of high street retailers to protect supply chains and support international workers.
River Island is set to slash 350 jobs across its store estate as it battles to survive the ongoing coronavirus crisis. This is the second job cut wave after the retailer announced it axed 250 office workers earlier in July.
Greencore, Northamptonshire-based sandwich supplier for Marks & Spencer announced that almost 300 staff have been forced into self-isolation after testing positive for the coronavirus.
Thursday 13 August
The Very group announced that it expects annual revenue for the 12 months to 30 June to exceed £2 billion for the first time. Fourth quarter sales grew by 36% year-on-year.
Watches of Switzerland's Group reported a full year revenue increase of 4.8% to £811 million. EBITDA rose 14% to £78m during the 52 weeks to April 26. Operating profit climbed 6.2% to £48m over the same period.
Topps Tiles reported robust retail performance in the last six weeks. On a like-for-like basis, retail revenues were up 16% compared with the same period last year amid "strong" demand for home improvement.
Wednesday 12 August
ASOS announced that their revenue and profit will be higher than expected. Revenue growth is now expected to be between 17% and 19% year-on-year with profit before tax set to be in the region of £130-£150 million.
Marks & Spencer have invested in a new food distribution centre in Milton Keynes which will see its ambient product capacity increase up to 60%. Full operations are expected to begin next month with 360 jobs created.
Dr Martens reported revenue up 48% to £672m in the year to March 31, when operating profit soared 110% to £143m. The footwear specialist is planning to double its current 122 store count over the next five years around the globe.
A surge in demand due to the coronavirus pandemic saw Just Eat's group sales rise 44% to €1bn (£900m) in the first six months of the year. In the UK, the company received 77 million orders in the period, an increase of 18% on the same period a year ago.
Tuesday 11 August
Debenhams is axing 2,500 staff across its stores and warehouses as the business grapples to reduce its cost base.
The Co-op has extended its delivery partnership with Deliveroo to cover 400 of its stores in the UK.
Domino's Pizza pre-tax profits fell by 4.6% to £48m in the 26 weeks to June 28, as it dealt with "unprecedented times". That said, UK and Ireland sales increased 5.5% to £629m, with like-for-like sales increasing by 4.8%.
Zalando reported a surge in sales and new customers in the first half of 2020. Revenue grew 19.6% year-on-year during the first six months of 2020. The online retailer also achieved a 20.4% increase in its customer base in H1, and now serves over 34 million active customers in Europe.
Monday 10 August
Superdry has agreed a £70m new lending facility with its existing banks and extended the repayment terms until January 2023.
WHSmith is reportedly threatening landlords with a company voluntary arrangement (CVA) to push cuts to rents through if they don't agree to ad hoc changes and rent holidays. Property adviser Gerald Eve has been drafted in to help thrash out deals with landlords across its portfolio.
Italian footwear retailer Geox reported a 39% year-on-year decline in sales to €243.6m (£219.61m) for the six months to 30 June, due to temporary store closures caused by the Covid-19 coronavirus.
Friday 7 August
Online-retail giant Asos published four new supply chain commitments required of third-party brands in the wake of the Leicester sweatshop scandal that engulfed the UK fashion industry.
Jigsaw is reportedly planning to launch a CVA next week in a bid to close stores and slash rents in order to stay in business. The retailer operates 75 stores across the UK and employs 900 people.
Thursday 6 August
Joules recorded a loss before tax of £2.0 million in the full year ending May 31st. Revenue also declined by 12.5% to £190.8m due to the impacts of coronavirus, as well as a stock availability issue reported over the Christmas period.
Hammerson plans to raise £552m through a proposed rights issue and sell off £274m of assets, to counteract "the extraordinary disruption caused by Covid-19 on the retail property sector". The property giant's adjusted profit 84% year-on-year to £17.7m, while the value of its overall portfolio value fell 8% to £7.7bn.
Lakeland has restructured its operating board as its owners the Rayner family step down from day-to-day running of the business.
McColl's reported a pre-tax loss of £1.3m in the 26 weeks to May 24th, down from a £200,000 profit last year. Total revenue fell 1% to £604.8m, from £611.1m 12 months earlier.
The Perfume Shop has recorded a 45% growth in month-on-month sales from new perfume launches during lockdown. The retailer has put this growth down to its live virtual perfume consultations which help customers choose the right scent without visiting a store or smelling samples.
Naked Wines announced it continues to trade strongly, with sales in July expected to be up by 73% compared to the same month last year. This would bring sales growth in the first four months of the financial year to 76%, and the retailer said its success is being driven by new customers and repeat sales alike.
Wednesday 5 August
WHSmith's unveiled restructuring plans that could see as many as 1,500 redundancies, mostly in travel locations where sales dived 73% year-on-year in July as just 53% of its travel locations have reopened so far. It plans to close 14 small stores in travel locations.
WHSmith said it has seen a gradual recovery, with group sales down by 57% year-on-year in July, driven by high street stores where sales were down by 25%. It expects a full-year loss between £70m and £75m for the year ending 31 August.
River Island is mulling a CVA in a bid to close some stores and cut rents.
M&Co is to close 42 of its 260 UK stores and axe around 380 jobs in a pre-pack administration deal that has seen the firm sold back to its original Scottish owners the McGeoch family.
Frasers Group unveiled plans to open a 90,000 sq ft flagship store in Leicester's Fosse Park, to combine its Flannels, Sports Direct, Evans Cycles and Game fascias and create 200 jobs.
Marks & Spencer has put its full food range on Ocado's website as the pair formally launch their partnership on 1 September, when Ocado will stop selling Waitrose lines.
Tuesday 4 August
Dixons Carphone is to axe 800 jobs as it consults with 1,800 staff, as it overhauls store roles.
Monday 3 August
Fashion retailer PrettyLittleThing announced it is to make its first foray into homewares, although a launch date wasn't given.
Sportswear retailer and gym firm DW Sports collapsed into administration, putting some 1,700 jobs at risk as it closes its 50 remaining retail stores.
AO.com is to recruit 250 new employees at its Crewe logistics hub, as well as add 225,000 sq feet of warehouse space, including a new 115,000 sq ft warehouse in Stafford opening this month.
Apple is looking to slash its store rents across its 38 UK stores, by as much as 50% and a rent-free period in exchange for extended leases.
Marks & Spencer cafes have signed up to the government's 'eat out to help out' scheme, passing the hospitality VAT cut onto customers.
Friday 31 July
Amazon reported a net income of $5.6bn (£4.3bn) in its second quarter to 30 June, more than doubling on the $2.6bn last year. Net sales jumped 40% to $88.9bn (£67.7bn) in the period, driven by third-party sellers and grocery sales, which tripled year-on-year.
In the quarter, Amazon ramped up its grocery delivery capacity 160% and tripled its number of grocery pick up locations.
Primark has committed to pay its suppliers in full for outstanding finished garments and fabric costs since March, expanding on its pledge to pay in full for any items that were in production, finished or planned for handover by 17 April.
Tesco has extended its improved payment terms for smaller suppliers until the end-January 2021, paying immediately rather than the usual 14-day term.
Pets at Home reported a relatively resilient 1% decline in its first quarter to 16 July, as demand for pet ownership jumped in lockdown and stores have remained open throughout the pandemic. The retailer has agreed a lease on the development of a new 607,000 sq ft distribution facility in Stafford, Staffordshire, as part of a £48m capital investment over the next five years.
Thursday 30 July
Argos has announced plans to stop printing its infamous catalogue after 47 years, signalling its firm commitment online.
ScS saw a sharp 92.5% year-on-year decline in order numbers from 22 March to 23 May, but then experienced a drastic bounce back from 24 May 24 to 25 July, reporting a 92.2% increase in orders as stores reopened.
The raft of orders post-lockdown sets ScS up in a strong position going forward, as many of the order will be delivered in the first quarter of its new financial year.
Aldi is set to create more than 1,200 new jobs by Christmas as it aims to open one store per week on average this year.
In a strategy update to staff, John Lewis Partnership outlined that it expects: "John Lewis to be a 60% online retailer, from 40% pre-Covid-19, and Waitrose to rise above 20%, from 5%".
Marks Spencer has tripled the number of food stores offering a checkout-free experience from 100 to 310.
Wednesday 29 July
Primark has rolled out an in-store recycling scheme, allowing customers to donate clothes, textiles, footwear and bags from any brand as it drives sustainability.
The number of new businesses joining eBay tripled in its second quarter, up by 256% year-on-year. eBay's global revenue rose by 21% to $2.9bn (£2.2bn) on a foreign exchange neutral basis in the quarter to end-June.
Next reported that stores sales slumped 72% year-on-year in its third quarter to 25 July, while online sales increased 9%. It hailed that the 28% overall drop in full-price sales in the period was "an improvement on the best case scenario given in our April trading statement".
Majestic Wine posted that ecommerce sales quadrupled in lockdown, as it served more than 150,000 new customers online. It said additional online sales were offset by heightened costs and a reduction in sales through its commercial division. Nonetheless, the retailer plans to open two new stores by the end of 2020.
Hotter Shoes' company voluntary arrangement has been given the green light by creditors, paving the way for the British footwear firm to cut its store portfolio from 61 shops to just 15.
Tuesday 28 July
Selfridges is axing 14% of its headcount – or around 450 jobs – as it warned sales across the chain would be "significantly less than they were in 2019".
Card Factory revealed that like-for-like sales since reopening were down 22% year-on-year, ahead of its forecast drop of 50% during the first month of reopening. It noted average spend had jumped 25%, although the number of transactions had fallen on 2019.
Card Factory has seen like for likes sales online rise by 69% across Cardfactory.co.uk and Gettingpersonal.co.uk since the end of January. However, it expects overall revenue to be around half the level of last year's in its half year to 31 July.
Greggs has slipped into the red, recording a pre-tax loss of £65m in the six months to 27 June, as sales dropped 45% to £301m. However, it said it was "encouraged" by sales reaching 72% of 2019 levels in the week to 25 July. Greggs expects sales "to remain below normal for as long as social distancing is required".
Amazon has launched free two-hour window grocery deliveries for its Prime members, on all Amazon Fresh orders over £40.
Monday 27 July
Recipe box provider Gousto is creating 1,000 new jobs as it saw a 115% jump in sales during the first half of the year. It now expects to make its first-ever profit in 2020.
Sainsbury's is testing a virtual queuing app, saving the need to physically queue outside stores, in a bid to help it "respond quickly" if increased restrictions were brought back during local lockdowns. Shoppers would receive a notification when they are at the front of the queue.
Fashion house Arcadia, which includes Topshop, Dorothy Perkins and Burton, has reportedly proposed additional cost-cutting to The Pensions Regulator.
Debenhams is reportedly raising a 'for sale' sign, with City bank Lazard poised to be appointed to oversee the sale process.
Luxury group LVMH reported a 24% year-on-year drop in revenues in its fashion and leather goods division to €7.9bn (£7.2bn) during the first half of 2020.
Friday 24 July
French Connection has secured a £15m working capital facility with turnaround firm Hilco as it battles coronavirus disruptions. The retailer says sales have been low in reopened store, although conversion is up and sales volumes are said to be growing week-on-week.
Hotel Chocolat expects to hit its full-year profit guidance as sales rose 3% to £136m in the year to 28 June, bolstered by a 14% rise in its first half and digital sales surging more than 200% year-on-year in the fourth quarter. The retailer said reopened high street stores were performing better than city-centre and commuter locations.
The relative robustness of childrenswear during the pandemic is seeing Jack Wills offer kidswear for the first time this year via a licensing partnership with Brands Machine Group.
Thursday 23 July
Unilever posted that its under underlying profit increased 3.8% year-on-year during the first half of the year, despite turnover slipping back 1.6% to €25.7bn (£23.4bn). Its free cash flow increased by €1.3bn to €2.9bn as it has shored up its balance sheet during the Covid-19 outbreak.
PrettyLittleThing plans to build a 10,000 sq ft extension to its Wellington Mill headquarters in Ancoats, Manchester, enabling it to accommodate around 200 additional staff.
Asos put around 500 day shift roles at its customer care centre in Leavesden into consultation.
Nike announced an undisclosed number of job cuts and leadership changes, as it accelerates its move towards a direct to consumer.
Wednesday 22 July
B&Q and Screwfix parent Kingfisher said group like-for-like sales climbed 22% in its second quarter to 18 July, as digital sales trebled and stores reopened from mid-April across the UK and France. Group ecommerce sales surged 202% and 225% respectively in May and June. Kingfisher expects interim profits to come in ahead of last year.
Eve Sleep cut its underlying EBITDA losses sales by 80% to £1.2m in the six months to 30 June, as sales were ahead of expectations in May and June. This came despite sales dipping by 5.1% year-on-year to £12.2m. The mattress specialist said momentum had continued into July as it benefits from a "strong" homewares market.
Tuesday 21 July
Matalan slipped into the red in its first quarter, recording a restated EBITDA loss of £35.8m in the 13 weeks to 30 May, as revenue tumbled 72.3% to £75.3m in the quarter.
AO.com has launched a share incentive scheme that could see staff rewarded up to £240m in bonuses.
Ted Baker posted a 50% year-on-year retail sales drop to £51m in the 11 weeks to 18 July, as store sales plummeted by 79% to £15.8m while online jumped 35% to £35.2m. In the last four weeks of the period, like-for-like store sales were down 50% on last year as 95% of stores were operational by last weekend.
Ted Baker said its results were ahead of its base case scenario set out in June, indicating "a more dynamic trading stance since the beginning of the year, reflecting more sophisticated cross-category merchandising, refreshed social media activity and increased marketing spend".
Walmart has put Asda up for sale again, restarting discussions with potential buyers that were put on hold because of the coronavirus outbreak.
Gatemore Capital has acquired a 3.37% stake in Superdry, as the hedge fund is "confident the business is poised to benefit from the trend towards casualwear which has been accelerated by Covid-19".
Monday 20 July
Marks & Spencer is axing 950 management jobs across central operations and stores, as it looks to accelerate the 'Never the Same Again' restructuring programme unveiled during the coronavirus crisis.
Ted Baker is cutting 25% of its overall workforce, or 500 jobs, axing 200 roles from its head office, with the remainder across stores and concessions.
Harvey Nichols has written to staff to warn that "there may be staff redundancies at all locations" as it looks to restructure amid the pandemic.
Chinese smartphone giant Huawei is investing £10m to launch three UK stores and create 100 new jobs over the next year.
Friday 17 July
John Lewis is extending it click-and-collect delivery and returns partnership with the Co-op to 505 stores, doubling the total number of click-and-collect locations to nearly 900.
In Iceland's 2019/20 full year results, it noted that the pandemic has seen it boost its market share, as its stores are typically on neighbourhood high streets and retail parks, as well as operating an established online operation.
Thursday 16 July
Turnaround firm Alteri is closing a quarter of Bensons for Beds's store estate over the next two years, from 242 stores down to approximately 180. The retailer closed 24 stores immediately after being bought out of administration last month by Alteri, and will launch a replatformed website later in the month.
Poundland is set to trial its first-ever online delivery service early next year and is set to launch a shop-in-shop concept later this summer. Three stores are set to close with one being converted into an online fulfilment centre.
John Lewis has launched a virtual personal shopping service from its Southampton and London's Peter Jones store using Zoom, enabling customers to be shown around departments on a 30-minute free video appointment by an in-store adviser.
Wednesday 15 July
Burberry announced that 150 UK office jobs were at risk as it sought to cut costs, and a further 350 overseas, as its first quarter sales declined 41%, which eased to -20% in June as lockdown measures around the world eased. Burberry expects sales in the second quarter to be down between 15% and 20%.
Dunelm sales declined 29% in its fourth quarter to 27 June, despite online sales up by 85% as store like-for-likes plunged 50%. Its suppliers' direct-to-consumer capabilities are running at four times pre-Covid levels in order to meet increased online demand.
Asos reported a 10% increase in group sales to £1bn in the four months to 30 June, driven by a 22% rise in sales across the EU while UK sales dipped 1%. Asos saw a 16% rise in its active customer base on the back of lockdown.
Asos vowed to repay all money previously claimed via the furlough scheme to the UK government as its employees return to work.
Dixons Carphone saw a 51% drop in adjusted pre-tax profit to £166m in the year to 2 May. Online sales jumped 166% during April as the UK entered lockdown, but profitability came under pressure from store closures and coronavirus-related costs.
Dixons warned that Covid-19 has made a "significant impact" with "wide-ranging repercussions of the crisis will be felt for many years" likely to hinder consumer spending.
Tuesday 14 July
AO.com recorded a 54% increase in profit to £19.6m in the year to end-March, with sales up by 16% to £1.04bn, as customers bought fridges, freezers and home working equipment in preparation for lockdown.
Halfords is set to accelerate its store closures with 60 earmarked to close across its retail and autocentre divisions. It is renegotiating leases elsewhere.
DFS sales dropped dropped 27% year-on-year to £725m in the year to 28 June, despite online orders surging 77% year-on-year between 23 March and 12 July.
DFS said that sales following the reopening of stores were up 69% year-on-year in the period from 1 June to 12 July.
Ocado's revenue jumped 27% to £1.02bn in its half year to 31 May, but group EBITDA was down 36% to £19.8m as it invested into infrastructure.
Monday 13 July
OpCapita and buyout firm Sycamore Partners are reportedly in talks with Clarks to inject cash into the retailer.
Quiz committed to a full review of its supply chain auditing process, following allegations of factory workers making its products in Leicester being paid under the national living wage.
Thursday 9 July
Frasers Group has told landlords it will not pay rents until trade reaches a level that the retailer and landlord would have expected when agreeing rental terms.
John Lewis & Partners confirms it will permanently close eight of its stores, with 1,300 jobs at risk, as "the pandemic has accelerated the switch from shopping in-store to online".
John Lewis said its nine remaining closed branches will reopen on 30 July, leaving it with a 42-strong store estate.
Boots is slashing 4,000 jobs and closing 48 Boots Opticians stores as it accelerates its restructure amid the pandemic. It followed a 48% year-on-year drop in like-for-like sales in its third quarter, with sales at Boots Opticians down by 72%. Boots' online sales jumped 78% during lockdown.
Wednesday 8 July
In a City update, Boohoo announced an independent review into its UK supply chain and pledges £10m to "eradicate supply chain malpractice". It will update the market on the review at its half-year results in September.
Asda has partnered with Uber Easts to trial a 30 minute home delivery service from two stores in Leeds and Birmingham.
Tuesday 7 July
All Saints gained creditor backing for its CVA, with the majority of its store estate moving to turnover-based rents and a small number of closures.
River Island is axing 250 head office roles as it looks to cut costs, as "the pandemic will change our marketplace for years to come".
Fashion etailer Sosandar saw total sales jump by 54% year-on-year in its first quarter to 30 June, while losses were reduced by 70%. It saw a strong gross margin as it drove full-price sales, following discounting in early April.
In it 2019/20 full year update, JD Sports said it is investing further in its Rochdale warehouse as it anticipates "there will be some level of permanent transfer from physical retail to online as a consequence of Covid-19".
JD Sports said its "future store investments highly dependent on rental realism and lease flexibility" as it pushes "for greater correlation between levels of footfall and rents payable".
Halfords announced its like-for-like sales dropped by 6.5% in its first quarter to 3 July, with online sales up 200% year-on-year. Like-for-like cycling sales surged 57%, boosted by the avoidance of public transport, favourable weather and adoption of cycling as a health and leisure activity.
Monday 6 July
Tesco is reportedly demanding discounts from suppliers as it looks to offer everyday low prices rather than promotional activity to better compete with rivals such as Aldi.
Pret A Manger is permanently closing 30 of its sites, with around 1,000 jobs in consultation, as it suffered a 74% slump in sales at its UK stores during lockdown. Pret said that the recovery has been "much slower" in the UK compared to other countries it trades in.
Boohoo faces modern slavery allegations, with claims of workers in Leicester being paid as little as £3.50 per hour.
Friday 3 July
Amazon is reportedly delaying its Prime Day discount event until October, due to pressure on its supply chain amid coronavirus disruption.
Thursday 2 July
Parent ABF said Primark's sales were down 75% year-on-year at £582m in its third quarter, with 367 stores worldwide now open out of 375. It said trading in reopened stores has been "encouraging" with strong demand for childrenswear and retail park stores performing strongly.
ABF said Primark's adjusted operating profit is expected to come in between £300m and 350m this year, compared with £913m last year.
Wednesday 1 July
Harrods plans to cut 680 jobs due to "the challenge of lockdown", including social distancing and lack of tourists.
John Lewis chair Dame Sharon White warned of store closures and job cuts due to the pandemic, and that the retailer's famed annual bonus would likely be axed next year for the first time since 1953.
Arcadia is set to axe around 500 head office jobs as it looks to cut costs during the pandemic. Buying and design teams at Topshop, Miss Selfridge and Dorothy Perkins are reportedly impacted.
Sainsbury's posted an 8.5% year-on-year rise in overall sales (excluding fuel) in its first quarter to 27 June, supported by an 87% uplift in online sales. Nearly half of new online grocery customers were first-time Sainsbury's shoppers.
Sainsbury's total grocery sales increased by 10.5%, while general merchandise increased 7.2%, supported by a 10.7% uplift in Argos sales. Clothing sales dived 26.7% in the period.
The grocer said Covid-19 had impacted profits by approximately £500m, but would be broadly offset by business rates relief and strong grocery sales.
Topps Tiles' online sales surged 139% year-on-year in its third quarter to 27 June, helping it perform ahead of revised expectations set at the start of lockdown, although average weekly sales faced a 53% decline in the period.
The tile specialist said sales are improving – with like-for-likes down 5.4% year-on-year in the final week of June, from an average of -20% throughout the month, and -80% in April.
Tuesday 30 June
TM Lewin is to close all of its UK stores, having collapsed into administration but been bought back by owner Torque Brands in a pre-pack deal that did not include its shops. Over 600 jobs are now at risk.
Walgreens Boots Alliance has stepped up its technology tie-up with Microsoft and Adobe as it looks to drive personalisation. Advantage Card holders will be served online offers on products bought in-store when they are due to run out it, as well as sent push notifications on the loyalty card app when they are near a store that has the item in stock.
Bensons for Beds and stablemate Harveys collapsed into administration. Bensons for Beds has been bought by turnaround specialist Alteri, with plans to close one factory and negotiate store rents. PWC are acting as administrators for Harveys.
Monday 29 June
New Look is mulling a pre-pack administration as it works with consultancy CBRE to move to turnover-based rents.
Microsoft is to close all 83 shops globally as it focuses online, a year after it launched UK flagship at London's Oxford Circus.

Friday 26 June
Tesco's UK sales were up 9% in its first quarter to 30 May, driven by a 49% jump in online sales and up by 90% at the peak in May. Tesco has doubled its online delivery slots to 1.3 million, having invested £4m into the initiative, which it said has been partially offset by the business rates relief.
Tesco said the frequency of UK shopping during its first quarter was down by 32%, but the average basket size leapt 64% as shoppers stocked up. Convenience store sales rose by 10%, suggesting local shopping.
The Co-op has warned that it has seen an increase in violence against shopworkers since the coronavirus outbreak, with incidents up 140% in the year to May, and called on the government to introduce legislation to protect store staff.
Nike reported a 38% drop in revenue to $6.3bn (£5.1bn) in its fourth quarter to 31 May, impacted by 90% of its store network facing mandated closure across America, Europe and Asia for approximately eight weeks because of coronavirus. This comes despite a 75% jump in online sales to account for 30% of total revenue.
Nike has now reopened about nine in 10 stores, with "higher conversation rates" year-on-year.
H&M's group sales decreased 23% to SEK 83.6m during its first half to 31 May, while profits dropped by over SEK 3m. It now plans for further net store closures, anticipating around 170 closures and 130 openings during its full year.
H&M chief executive Helena Helmersson said: "During the pandemic it became clear how important it is that the digital and physical channels interact to meet customers' needs."
Marks & Spencer and Next are reportedly mulling bids for Victoria's Secret's UK division, which fell into administration earlier in June.
Thursday 25 June
John Lewis continues to open stores in phases, with nine more stores opening today.
N Brown reported that group revenue has fallen by 22% in the quarter since March. The group said product sales were down 29%, but had improved slightly to be down 21% over the last three weeks. It has looked to shore up its balance sheet and said "operating costs are significantly lower than last year and net debt has decreased".
In its full year update, Matalan said: "We are accelerating the changes in our working practices and drivers of cost efficiency, and have already delivered rapid enhancements to our model during the crisis". It is, for instance, now fulfilling online orders from 75 stores, alongside distribution centres.
Wednesday 24 June
JD Sports bought its subsidiary Go Outdoors back for £56.5m, following its collapse into administration two days earlier. The group said the main reason for the administration was to secure better rents with landlords, as leases were "extremely inflexible" with upward-only rent reviews.
Naked Wines reported its pre-tax losses shrunk by 46% to £5.4m in the year to 30 March, as sales rose 14% to £203m. The online retailer said sales were supported by "Covid acceleration in final weeks of the year", with revenue up by 81% in the first two months of its current financial year.
Very Group is axing 141 roles across head office and customer care, while creating 100 new roles in its technology division as it looks to reshape its business.
Jewellery specialist Beaverbrooks reported sales were up 30% year-on-year in the week to 22 June, as its stores reopened. It posted a 23% increase in the average transaction value of jewellery and watches.
Amazon has launched an accelerator programme and bootcamp for small businesses in response to Covid-19. The accelerator course comprises free online training, discounts on business supplies and PPE, as well as training for Amazon Web Services. The bootcamp provides businesses without online operations a week programme on how to operate online.
The Competition and Markets Authority has cleared Amazon's 16% stake in Deliveroo.
Swedish bed brand Carpe Diem has made its UK debut with a flagship store opening in London, alongside the launch of a UK website.
Tuesday 23 June
Poundland owner Pepco reported that its pre-tax profit fell 16% to €89m (£80m) in the six months to March as Covid-19 hit Europe. The group said revenue is now "returning to pre-Covid levels".
Shoe Zone unveiled plans to close 20 stores to cut costs in its half year results, reporting a pre-tax loss of £2.5m in the six months to 4 April. The retailer cautioned that coronavirus shockwaves will "be felt for several years".
Monday 22 June
The Hut Group's technology arm THG Ingenuity has signed more than £100m of new deals with beauty brands Elemis, PZ Cussons Beauty, Burt's Bees and Revolution Beauty. The partnerships are set to accelerate the brand's transition to a direct-to-consumer model.
Mothercare is looking to secure new funding as it look to refinance the business.
Friday 19 June
Online value group Studio Retail reported a 55% year-on-year uplift in sales in the 11 weeks since 23 April. It saw demand rise across electricals, toys, games, fitness and garden.
Thursday 18 June
All Saints launches a CVA as it looks to move the majority of its stores to turnover-based rent
Greggs reopened 800 shops for takeaway only. It has temporarily suspended new store openings, but accelerated the rollout of its delivery and click-and-collect services. It is also in discussion with landlords over rent reductions and moving to monthly rental payments.
Wednesday 17 June
Boohoo reported revenue jumped 45% to £368m in its first quarter to end-May. The fashion pureplay expects full-year revenue to be up by 25% and adjusted EBITDA margin of between 9.5% and 10%.
Boohoo has acquired the intellectual property of Oasis and Warehouse in a £5.2m deal from Hilco, as part of its plan to capitalise M&A opportunities. Boohoo bought its former stablemates Karen Millen and Coast last year.
B&Q's parent Kingfisher reported like-for-like sales dipped 24.8% year-on-year in Q1 due to coronavirus disruption across its store estate – but Q2 like-for-likes rose by 21.8%, driven by online. The group said it has "significant liquidity headroom" including £2bn of cash.
The group launched a new 'Powered by Kingfisher' strategy to "become a more digital and service orientated company, using our strong store assets as a platform".
Tuesday 16 June
Pret A Manger has launched a trial click-and-collect service in London, available through the Deliveroo app. It is testing pick up points, including a hatch system that means customers do not need to enter a shop to collect their order.
Poundstretcher has launched a CVA to restructure its store portfolio. It has appointed KPMG to help drive a turnaround. The CVA proposes that 94 stores would continue to pay the same rent, while 84 stores see reductions of between 30% and 40% over three years, and its remaining 253 stores adopt rents based on their performance.
Wickes, Toolstation and Tile Giant parent Travis Perkins is set to cut 2,500 UK jobs and close 165 stores – 8% of its portfolio – as it suffers weak demand for building materials due to the pandemic. Closures would focus on smaller branches where social distancing is difficult to implement.
Travis Perkins chief executive Nick Roberts said it did not anticipate pre-coronavirus trading levels to return for building materials during 2020 and 2021.
In a City update, Joules said the impact of lockdown "resulted in a material reduction in revenue and lower group gross margin" despite 40% growth in online during the period. It now expects a pre-tax loss of between £2m and £3m for its 2019/20 financial year.
Holland & Barrett has partnered with Deliveroo, to offer 200 products for home delivery in under 30 minutes from 50 UK stores.
Booths has also joined forces with Deliveroo, offering 300 products from its Salford Media City store for home delivery in 30 minutes or less. Hot food including pizzas, pies and burgers will be available from 23 June, with plans to roll out the service to five more stores in early July.
Monday 15 June
H&M sales halved year-on-year to SEK28.7bn (£2.45bn) in its quarter to end-May, as it faced having to close 80% of its global stores during the coronavirus outbreak. However, H&M said online sales grew by 32% in local currencies during the period.
H&M also reported that declines had softened during the first two weeks of June as international stores begin to open, with sales down 30% year-on-year.
Friday 12 June
Aldi extended its trial with Deliveroo into London, less than a month after its pilot in the Midlands, as it aims to offer the service across the UK by the end of the year. Shoppers can order from a range of 200 products through the delivery provider's app for home delivery in as little as 30 minutes.
Thursday 11 June
In its full year update, value retailer B&M said that trading since its March year-end has been "strong". Although the pandemic has slowed its rate of store openings, the retailer's ambition to operate 950 UK stores remains unchanged.
Wednesday 10 June
Ocado has raised £650m through new shares and plans to raise a further £350m through unsecured convertible bonds to help it capitalise on the "significant acceleration" in online shopping across the globe since the coronavirus outbreak.
Zara parent Inditex reported its first-ever quarterly loss, at €409m (£363m) in the red during the three months to 30 April, as a result of mandated store closures. Online sales surged 95% in April, but this could not offset revenue lost from 88% of the group's portfolio being closed at one stage.
However, Inditex sales are said to have "gradually" recovered since the start of its second quarter. Where stores have reopened, the fashion group said last week's sales were down 16% year-on-year.
Inditex announced a strategic shift for stores to act as "fashion distribution hubs [in] the world's leading cities". Group chair and chief executive Pablo Isla announced plans to invest €900m a year over the next three years to grow online and focus on large stores. By the end of next year, Inditex plans to open 450 new stores and shut up to 1,200 smaller stores.
Monsoon and Accessorize founder Peter Simon has bought the business out of administration through a new holding company Adena for up to £15m. This has secured the head office, distribution centre and ecommerce arm. It is now in talks with landlords to reach terms to save "as many as 100 stores". Simon said: ""Monsoon and Accessorize will both emerge smaller and stronger after this".
Fashion retailer Quiz's property arm Kast Retail Limited has collapsed into administration, appointing KPMG to handle the process. Quiz's online, UK concession and international channels are unaffected by the administration. Zandra Retail Limited, another wholly owned subsidiary of Quiz, is set to acquire some of Kast's assets to ensure Quiz has number of stores to continue it omnichannel strategy.
Tuesday 9 June
Debenhams is to close a further three stores, after failing to agree terms with landlord Intu.
Mulberry is axing a quarter of its global workforce to ensure it is "the correct size and structure" post-coronavirus. It said: "Even once stores reopen, social distancing measures and reduced tourist and footfall levels will continue to impact our revenue. As a result of this, we must manage our operations and cost base accordingly to reflect market conditions."
Pureplay fashion retailer Sosander, which has seen sales jump 62% year-on-year between 1 April and 31 May, is to start selling through the John Lewis and Next websites in the autumn. The etailer has benefited from a 98% uplift in online traffic during lockdown, as shoppers seek comfort from casual clothing.
Monday 8 June
Dunelm has reopened its UK store estate and launched a new Edit fascia in Crawley, West Sussex, which features products that are most popular in the local area. The store features an augmented reality display to allow shoppers to see the full Dunelm catalogue and visualise products in homes.
Morrisons has extended its commitment to make immediate payments to small suppliers by a further three months during the coronavirus crisis.
Tapi has secured £16m of investment as it eyes profitability within 18 months. It is taking a gradual approach to store openings through appointment only using its 'Queue Buster' program, which enables consumers to join a virtual store queue by texting or scanning a QR, allowing shoppers go elsewhere until they are allowed in.
Primark has reportedly asked landlords who are set to receive payment for the next quarterly rent day of 24 June to sign NDAs.
Friday 5 June
Fashion and fragrance group Puig has snapped up makeup and skincare brand Charlotte Tilbury, continuing a trend of large giants swooping up independent health and beauty brands.
Debenhams confirms it will reopen 50 stores across England on 15 June, with the rest of its portfolio opening later in the week (excluding Scotland and Wales). Stores in Northern Ireland will open earlier on 8 June.
Iceland founder Sir Malcolm Walker and chief executive Tarsem Dhaliwal have bought the remaining stake in the frozen food specialist from Brait SE's 63% stake, in a deal worth £115m to form a new company Iceland Foods.
Victoria Secret's UK arm, which operates its 25 shops across the country, has tumbled into administration, appointing Deloitte to handle the process. The administration does not apply to the ecommerce division.
Thursday 4 June
New Look has drafted in advisors CBRE and CWM to negotiate a switch to turnover-based rents, as it seeks to slash its property costs at the majority of its 500 stores in UK and Ireland.
Wednesday 3 June
In Marks & Spencer's annual report, the retailer said it is accelerating aspects of its transformation to thrive in the new consumer landscape, hailing increased "multitasking in stores", quicker decisions and having "action orientation irrespective of hierarchy". As a result of the pandemic, the retailer expects to emerge with more debt than planned and suffer losses for a large part of 2020/21.
The Co-op has expanded its robot delivery service with Sharship Technologies, as the number of customers using the service in Milton Keynes and Buckinghamshire has "more than doubled" since lockdown, with transaction values up four-fold. The retailer expects same-day delivery from more than 650 UK stores to be available by the end of the year.
Oddbins has been bought out of administration by an undisclosed bidder.
Tuesday 2 June
Card Factory is set to reopen 10% of its stores on 15 June as a test under "Covid-secure" conditions. The retailer plans to reopen further stores "subject to early learnings". The first wave of reopenings will be predominantly in retail parks and high streets in the north east and north west that had good footfall ahead of lockdown. Safety measures include sneeze screens, a customer host at the door, hand sanitiser and a one-way system around store.
Card Factory's online sales were up 153% year-on-year at the start of June and have more than trebled since lockdown began. However, it is unable to give financial guidance for the year.
Monday 1 June
Aldo's UK division has collapsed into administration. It has closed five stores and appointed services firm RSM to explore options for the remaining eight. The retailer said: "The move was necessary based on the impact of the Covid-19 pandemic, as well as historic profitability challenges and the unprecedented collapse in retail spending."
Primark is reopening all of its 153 branches in England on 15 June, and has pulled forward the opening of a new store in Manchester's Trafford Centre to that day. Primark's 37 shops across Northern Ireland, Scotland and Wales are expected to reopen in late June if guidance allows.
JD Sports plans to reopen the majority of its 300 or so UK stores on 15 June.
Pret a Manger has drafted advisors Alvarez & Marsal and CWM to explore options to reduce its rent, to reflect the "new retail environment" of lower footfall as commuters are likely to continue to work from home.
Ted Baker plans to raise £95m in a cash call – more than its entire listed equity – to see it through the coronavirus crisis and focus on a digital first strategy. It has extended its bank debt by £11.5m. Overall like-for-like sales were down 34% between the start of January and May, while online sales jumped 78%. Without the additional fundraising announced, the retailer would have become insolvent by August.
Friday 29 May
Virgin Media is permanently closing all 53 UK stores, and shifting operations online. All 341 affected employees have been offered new roles in customer care, following the success of store staff supporting call centres from home during the lockdown.
The Entertainer is set to reopen all 173 of its stores on 15 June with a new 'ready in 10' service. The fast-track service allows shoppers queuing for the store to make an order from their smartphone, which can be collected in-store within 10 minutes, and enables customers to tell a store colleague at the door what they want and be fast-tracked to the checkout.
Pizza Express is considering a CVA to allow the closure of some of its 627 restaurants. Other options for the debt-ridden restaurant include a debt-for-equity swap or splitting the group's UK and Chinese arms.
Pizza Express is planning to launch a new pasta brand for home delivery through Deliveroo.
Thursday 28 May
Boohoo has acquired the remaining stake in PrettyLittleThing, made for an initial consideration of £269.8m. Boohoo reiterated the acquisition enables growth "whilst retaining a strong balance sheet in order to take advantage of numerous M&A opportunities that are likely to emerge in the global fashion industry over the coming months".
Boots is using digital innovation to reopen its in-store beauty counters on 15 June and launch its latest No.7 product. Shoppers buying the new No.7 product via the Boots app will have their loyalty points doubled for their purchase. It will offer shoppers 15-20 minutes video consultations with No. 7 advisers. Boots will also have social distancing wardens to patrol stores, a queuing system, floor markings and PPE for staff.
Boots' online sales have reportedly nearly doubled since the pandemic, with searches for skincare up by 140% year-on-year.
Harrods is to open a two-storey outlet store at Westfield London to shift excess seasonal stock unsold due to the pandemic
Debenhams is cutting an undisclosed number of head office jobs amid its turnaround. It plans to reopen 90 stores in the week of 15 June and has re-secured two key locations – Birmingham's Bullring and Glasgow's Silverburn – that it previously faced losing to Next, which Debenhams had not agreed to.
Monsoon Accessorize is set to file a notice of intention to appoint administrators, having lined up FRP Advisory to handle the process.
Wednesday 27 May
John Lewis will gradually reopen stores, starting with two shop from 15 June and a further 11 on 18 June, chosen because of their accessibility by car. New safety measures include a 'customer service host' to manage footfall in store, reducing entrances, installing screens at checkout, and limiting the number of shoppers on escalators and in lifts.
Costcutter chief executive Darcy Willson-Rymer said: "Consumer's needs and demands [since lockdown] are: much less food to go, much less single impulse purchases and we're seeing significant increases in fresh food; edible grocery and frozen. We've been emphasising less range in one area and more in another, and constantly updating our advice for our partners".
Tuesday 26 May
In an update to the City, ScS said as of May 23 it had reopened 80 stores and begun deliveries, having previously closed both its store and online arms on 23 March. The retailer said it holds £48.3m in cash and has "continued to review and reduce cash expenditure to protect our liquidity short term".
Investment firm Brigadier Acquisition found that it has been unable to abandon its £22m bid for Moss Bros. The deal will now be completed.
Ikea is reopening 19 of its stores in England and Northern Ireland on 1 June, with a phased approach. New safety measures include a one-way system, social distancing wardens, and one adult and one child from the same household being allowed in at a time. It is reopening its Food Market and Bistro with a takeaway service only.
Morrisons is set to open its first standalone clothing and homewares store to drive its Nutmeg clothing range as well as its own-brand homewares.
Around 30 suppliers have written to Edinburgh Woollen Mill threatening to stop production and deliveries because of £27m in unpaid bills, claiming the group has taken "undue advantage of the Covid-19 situation", including demands for discounts, cancelled orders and withholding payment.
Friday 22 May
Burberry has not been able to provide financial guidance for the current year and warned: "As government restrictions ease across the globe, consumers in different markets are likely to respond in distinct ways, with the travelling consumer likely to take longer to return. As a result, it could take some time for the luxury industry to recover to pre-crisis levels."
Fashion app Mallzee has launched a clothing box service, dubbed Lost Stock, to help suppliers shift cancelled stock. Each box contains spring-summer 2020 items at half price that were rumoured to be for the likes of Gap and Topshop.
Thursday 21 May
Both Furniture Village and DFS are planning to reopen stores in time for the bank holiday weekend, after the government included homewares retailers in its guidance of what an 'essential' retailer – an update from its previous definition of essential 'home and hardware' stores.
Fortnum & Mason opened its main food halls today. The retailer is planning to open the first floor of its Piccadilly flagship on 28 May, and the second and third floors from the start of June.
Pets at Home said that trading in its current 2020/21 financial year is down year-on-year. A strong uplift in online sales has been "unable to mitigate the reduced level of in-store sales, and their weighting towards food". It cautioned that "an additional £5m of costs relating to our initial response to Covid-19, has had an adverse effect on profits, margins and cashflow in the financial year to date" and expects its pre-tax profit the current financial year to be below last year.
Clarks is to cut 900 jobs globally over the next 18 months, but create 200 new roles, as it sets out a new strategy to focus on its heritage and sustainability. This follows the retailer consulting with financial advisers to address liquidity issues amid the coronavirus outbreak.
Wednesday 20 May
Majestic Wine is expanding its partnership with Deliveroo, adding 50 sites to the Deliveroo app to bring the total to 80 stores that offer delivery. The retailer is also extending the range available for delivery to more than 50 wines, champagnes and spirits.
Facebook has accelerated the launch of its shopping platform, which will allow firms to set up online stores and sell products across Facebook and Instagram for no-fee. Initially, shoppers will be able to message sellers directly through Whatsapp, Facebook Messenger and Instagram to arrange a purchase or get more information.
In Marks & Spencer's full year update, which reported that pre-tax profit fell by 21.2% to £403.1m in the year to 28 March, the retailer said the coronavirus negatively impacted profits by £52m in March and added £212.8m in costs and write downs. The retailer said: "Clothing sales at the low point dropped to 16% of their level a year ago."
However, M&S posted that like-for-like sales in its food arm were up 1.9% in the year to 28 March, with an estimated 0.3% benefit from the effects of Covid-19 in March.
M&S has scenario planned for clothing and home sales to dive 70% in the four months to July, with a gradual return to budget by February 2021. It has also stress tested for Food to face a 20% decline in revenue for the four months to July, with revenue level thereafter.
Like many other clothing retailers, M&S is facing a mountain of stock. It has cancelled late-summer stock, while around £400m of current and forward orders are basic products that will be carried forward. Around £200m of unsold seasonal stock is being stored to merchandise in spring 2021.
Tuesday 19 May
In a first quarter update, parent Walmart said that although the number of transactions in Asda fell by 3.4% in the three months to 31 March, Asda's average basket value grew by 6.9% year-on-year.
In a half year update, Topps Tiles said online revenues have surged to three times pre-pandemic levels, but warned that overall sales were "down significantly" because of store closures. The retailer plans to have 250 stores "fully opened" by the end of May, with the remaining 100 opened by the end of June.
French Connection warned that without urgent funding, its "cash resources will eventually be eroded in the coming months" if current trading levels continue. The retailer has been unable to access government loan schemes.
Monday 18 May
Aldi has partnered with Deliveroo to pilot a grocery home delivery service, offering 150 products including bread, milk, fruit and vegetables, which will be picked by the grocer's staff in stores.
Apple has laid out a plan for when stores reopen. As well as giving shoppers "lots of room", its Genius Bar-style service will be offered throughout the store, while face masks will be worn by staff and given to shoppers who don't have their own.
Friday 15 May
Boohoo raised £198m through a share pricing, as it looks at more mergers and acquisitions.
Lidl has partnered with InPost to launch collection lockers in 24 of its grocery shops.
Sainsbury's is partnering with Stuart, part of courier firm DPD Group, to expand its Chop Chop bike delivery service to 20 UK cities outside of London by mid-June. The expansion is set to increase online delivery capacity by a further 400% and supports the grocer's bid to increase the number of delivery slots to 600,000 per week.
Thursday 14 May
Marks & Spencer is reopening 49 of its in-store cafes today, serving takeaway hot drinks only following a pilot in five branches. The cafes now include Perspex screens at checkouts and floor markings to prompt social distancing. One employee will staff the café at a time – washing their hands every 30 minutes and straightaway after handling cash.
Pureplay Global Fashion Group reported revenues grew 8.1% in the first quarter of 2020, as it noted active customers increased 15.5% on its platform to 13.3 million. It saw increased demand for sportswear, wellness and loungewear, while dresses and formalwear faced "significant declines".
Nonetheless, the online retailer is slashing its marketing, technology and administrative budget by €40m, and is cutting its inventory intake in the second quarter by €90m. It is limiting its capex investment to a maximum of €45m for 2020.
WHSmith reported that revenue plunged 85% year-on-year in April, as sales through its growing portfolio of shops in transport locations nosedived 91% amid temporary closures, while revenue through high street stores was down 74%. Online sales jumped 400% in the month, driven by book purchases.
WHSmith is aiming to "significantly reduce or remove rent payments" and move to turnover-based rent.
Marks & Spencer is launching a half-price sale across its entire clothing range, with 10% of the purchase price (excluding VAT) being donated to the NHS as part of its 'Rainbow Sale' campaign.
Wednesday 13 May
Under new government guidance, garden centres can reopen stores from today, including Dobbies which is reopening its 54 UK stores.
TM Lewin has been acquired by private equity Torque Brands.
Morrisons has introduced a 'speedy shopping' system for those looking to make smaller basket purchases. Three speedy customers are being invited into stores for every one customer looking to make a larger trolley shop.
Tuesday 12 May
Morrisons posted like-for-like sales growth (excluding fuel) of 5.7% in the quarter to 10 May, with retail sales up 5.1% and wholesale 0.6%. Weeks five to seven reportedly marked a "considerable stocking up" period for customers, which pulled sales forward, while Easter sales were "significantly down year on year". The grocer is aiming to have rolled out click-and-collect to 280 stores by mid-June.
AO said it expects sales and profits for the financial year to be in line with analyst expectations, as "shopping online has become an unavoidable way of life" with customers "relying on electrical and electronic products like never before".
B&Q and Screwfix parent Kingfisher said group sales fell 24% in the three months to 30 April, impacted by store closures in the UK and France. B&Q sales declined by 22.1% to £663m in the period, while. Screwfix reported 0.1% sales dip to £432m. Kingfisher said more than 95% of stores "are currently either open and/or offering a contactless click-and-collect service".
Moss Bros is set to reopen online from tomorrow (13 May), having closed its ecommerce and store operations on 26 March. In line with government expectations, the retailer is "developing plans to reopen stores in an orderly manner" from 1 June.
Monday 11 May
Morrisons and Pret a Manger are using partnerships with Amazon to offer new online services. Morrisons said 40 of its stores are fulfilling same-day deliveries through Prime Now.
Meanwhile, Pret a Manger has partnered with Amazon to launch its first retail coffee range.
Thursday 7 May
Debenhams is to shut five stores in Hammerson centres, after failing to agree on terms with the landlord. The closures are likely to result in around 1,400 job losses.
However, Next has snapped up these sites to launch a new beauty store concept.
Asda launched an electric vehicle fleet from 48 stores to increase its online delivery capacity during the pandemic, while also playing a role in the grocer's target to halve carbon emissions across its estate by 2025.
Hotel Chocolat is trialling the reopening of up to six stores as takeaway locations from next week. The retailer is looking at a phased reopening and has identified high street and independent self-standing stores as the first to open, with stores in transport hubs and shopping centres likely to be the last.
In a full year update, The Works said sales rocketed 81% in the week to 22 March ahead of lockdown, bolstered by demand for "products to support children's ongoing education, mindfulness materials to support mental health and products to beat the boredom during this period of social distancing".
H&M reported total global sales decreased by 57% between 1 March and 6 May, as 80% of its 5,061-strong global store estate closed by mid-March. The retailer said that 3,050 of its stores – around 60% of its total estate – currently remained closed, with trading at reopened stores said to be "muted".
Zalando expects total sales to grow between 10% and 20% this year, having added 50 new partners to its luxury fashion marketplace in the past three weeks, including Vaude, American Eagle Outfitters and Lipsy London.
White Stuff is preparing to make a "significant" number of redundancies as demand plummets.
Matalan has reportedly asked existing lenders Barclays and Lloyds to inject a combined £50m of government-backed funding into the business to prevent it running out of cash.
Superdry reported a 57% fall in store sales in its fourth quarter following mandated store closures, which contributed to a 19.1% decline in full-year group revenue to £705.5m in 2019/20.
Wednesday 6 May
Ocado said its retail revenue from its second quarter to date was up by 40.4% year-on-year, compared to a 10.3% rise in Q1. Demand has remained "unprecedented", although Ocado said basket sizes have passed the peak seen between mid-March and early April.
Ocado said its established consumer fulfilment centres (CFC) are running at full capacity, while its Ertih CFC has increased the capacity of orders it can process to 110,000 from 80,000 in Q1.
In a City update, Halfords group like-for-like sales for the four weeks to 1 May were 23% down on a year earlier, but "better than we initially anticipated" as cycling received a boost from shoppers exporting alternatives to public transport and staying healthy. However, its motoring arm showed "overall weakness" due to a drop in car journeys in lockdown. The retailer expects its pre-tax profit to be at the upper end of its guided range of £50m to £55m for 2019/20.
Halfords reportedly has £159m of total liquidity, including overdraft facilities. The retailer is looking to preserve cash as it looks towards the next phase of easing the lockdown.
Tuesday 5 May
Waitrose is opening a new customer fulfilment centre in London's Enfield on Thursday, reporting that this would see it double the number of available online delivery slots for Londoners by September, adding 13,000 weekly delivery slots.
Amazon executive Tim Bray made headlines for leaving his role in protest of the retailer's treatment of staff who protested against a lack of coronavirus safety measures in its warehouses.
Monday 4 May
Harrods is launching 'remove clienteling', which offers personal shopping for some of its most valuable customers over the phone and by smartphone messaging.
Hotel Chocolat is increasing its banking facilities with a new £35m line of credit from Lloyds Bank, replacing a £10m overdraft facility. £25m is provided under the terms of the government's coronavirus large business interruption loans scheme, expiring in December 2021.
Essential retailer Homebase is expected to reopen all of its shops over the coming weekend. This follows rival B&Q stepping up reopenings, trading from 288 stores by the end of last week.
Sunday 3 May
Essential retail Superdrug has asked landlords to accept rent cuts. A letter addressed to landlords on 22 April said it intended to "reduce our lease payments to 25% of our passing rent commencing from the next due rental date for a minimum period of three months", despite keeping stores open.
Friday 1 May
Following the announcement that Gregg's wanted to reopen 20 stores on a trial basis next week, the business has rowed back on the plans following "significant interest" as it fears excessive customer numbers to operate with safety measures.
In its first quarter trading update, Amazon warned that earnings in its second quarter will be wiped out by costs related to coronavirus, including personal protective equipment, cleaning of warehouses, higher wages, social distancing processes and its own development of coronavirus testing facilities.
Intu has negotiated waivers on covenants with lenders until 26 June on a £600m revolving credit facility, which were set to be breached. The landlord has also appointed David Hargrave to the new position of chief restructuring officer to focus on shoring up its turnaround.
In a first quarter update, Apple said it has seen an "uptick" in the second half of April from sales of its new iPhone SE, Airpods headphones, and updates for the iPad tablet and MacBook Air. This follows a "sharp decline" in worldwide demand in March.

Thursday 30 April
TK Maxx has restarted selling online – more than two weeks after it stopped taking orders. It has set daily order limits and warned that lead times could be extended. The retailer has also adopted contactless deliveries with its partner Hermes.
In its full year update, Sainsbury's said its food sales rocketed 48% in the week to 21 March amid peak stockpiling.
Sainsbury's said food sales rose 12% in the seven weeks to 25 April. This represents an 8% uplift in total sales (excluding fuel) and offsets the 53% and 22% sales declines across clothing and general merchandise in Sainsbury's stores respectively.
Sainsbury's expects its underlying profit in 2020/21 to be flat, providing lockdown restrictions have eased by the end of June. This assumes that a £500m coronavirus hit – from protection measures and weaker sales across clothing, general merchandise and fuel – is broadly offset by £450m of business rates relief and increased grocery sales.
In an update to analysts, John Lewis said it is mulling the permanent closure of some of its department stores, even after the coronavirus lockdown ends as the department store chain struggles to return to profitability.
In its full year update, essential retailer Wilko said: "We quickly invested in safety and protection measures, we're providing full pay for all our team members without seeking government assistance to do so, we're working hard to protect as many jobs as we can, and we've met all rent and supplier obligations in full to date."
Law firm Clifford Chance and investment bank Moelis & Company are advising bondholders on the £1.3bn of debt secured against Intu shopping centres, as the landlord is at risk of breaching covenants on debts. Sites include the Victoria Centre in Nottingham and Lakeside in Essex, as well as the Braehead centre in Glasgow and Watford centre in Hertfordshire. A standstill agreement during the pandemic is expected, meaning covenant breaches would be temporarily waived.
Wednesday 29 April
Homebase opened a further 50 stores across the UK, following the reopening of 20 shops earlier in the week.Its remaining UK stores are set to reopen from 2 May.
In a trading update, Dixons Carphone said that in the five weeks to 25 April its online channels had seen sales rise by 166%, compared to 23% in the 11 weeks to 21 March. The electricals retailer said online sales in the UK and Ireland have recovered around two-thirds of sales lost to store closures.
Dixons Carphone also said it had extended its debt facilities by £266m, giving access to over £1.3bn in borrowing.
In a trading update, Next said it saw deep declines from the second week of March, which accelerated as each day passed. In the three days before lockdown, Next's retail sales were down an eyewatering 86%.
Next has made strong use of the government's Job Retention Scheme and initially furloughed 88% of its staff across the business as both stores and warehouses shut down. By the end of April, this had reduced to 84% following the reopening of its online operations.
Next said basic spring summer lines such as plain T-shirts and chinos planned to be sold this year will instead be retailed in 2021. Next is storing around £330m (at selling value) of 2020 stock to sell in 2021, representing around 15% of the total spring summer 2021 buy.
The multichannel giant has scenario planned for sales to decline this year between 50-62% in Q2, 19%-33% in Q3, and 17%-28% in the final quarter.
Tuesday 28 April
Marks & Spencer is looking to shore up its balance sheet during "highly uncertain trading conditions". It plans to borrow from the government's Covid Corporate Financing Facility and has additionally reached an agreement with banks to "substantially relax or remove covenant conditions" on its existing £1.1bn credit facility.
Monday 27 April
Homebase has reopened 20 of its bricks-and-mortar stores on a trial basis, following the closure of its entire store estate on 25 March.
John Lewis is making plans to reopen stores next month, but stressed it would not happen until the government signals that restrictions can be relaxed.
Greggs is looking to open branches on a limited trial, with distancing measures in place.
Timpson has reopened 40 supermarket shop-in-shops.
Friday 24 April
As a cost-cutting measure, JD Sports chief executive Peter Cowgill has taken a voluntary 75% pay cut, while the retailer's board and senior management team have temporarily reduced their salaries by a quarter.
In a bid to reduce queues, Sainsbury's is extending its opening hours from 8am until 10pm, with opening hours in many convenience stores extended to 11pm. It will also reopening its petrol filling station stores.
Additionally, Sainsbury's is installing additional protective screens at manned checkouts in a further 150 stores.
Sainsbury's is aiming to offer 600,000 online slots per week by the end of April, as boss Mike Coupe says its home delivery and click-and-collect services "are in more demand than ever before". Its on-demand delivery service ChopChop is also being extended to London zones 1 and 2.
The Co-op warned that it faces additional costs of more than £200m due to the coronavirus crisis, which will only "in part" be offset by business rates relief and increased food sales. The business has, for instance, taken on 7,000 new workers since the start of the outbreak.
Amazon has donated £250,000 to The Book Trade Charity fund, set up to help its physical bookshop rivals.
Marks & Spencers is looking to support its clothing suppliers. It is paying for all made garments yet to be shipped by 24 March – the date it asked suppliers to stop production. The retailer has also committed to covering purchases already made by suppliers of "large" fabric volumes, and offering vendor finance and letters of credit.

Thursday 23 April
After a successful trial of social distancing measures at 14 stores over the weekend, B&Q reopened 61 outlets yesterday and a further 80 today bringing the total number opened to 155.
Morrisons is offering its suppliers a 5% discount on groceries until at least mid-July as a gesture for helping to feed the nation.
DFS raised £64m in an equity fundraising round and received credit approval for a new 12-month bank facility of £70m from its existing lending banks. The retailer said this gives it enough "liquidity headroom through a pessimistic scenario of a lockdown to December 2020, followed by a historically weak sofa market".
eBay is working with teams across the NHS supply chain, the Department of Health & Social Care and the Army to build a dedicated portal on its website, from which UK healthcare workers across the UK can order personal protective equipment.
Kering group, which owns Gucci, Yves Saint Laurent and Bottega Veneta, recorded 16.4% drop in revenue in Q1 2020, with Gucci particularly hit by the coronavirus.
Online fashion business Studio Retail Group reported it withdrew a revolving credit facility of £85m and a securitisation facility supporting credit receivables of up to £200m on 27 March.
Fashion retailer Animal will cease trading by next year, closing all of its stores, website and concessions, "as a result of the extremely challenging retail market, which has now further worsened due to Covid-19".
LK Bennett administrators EY have extended the company's administration process to 7 March 2021.
Wednesday 22 April
Boots has hired 500 additional delivery drivers across the UK and has introduced prescription delivery to another 40 of its stores to help cope with greater demand since Covid-19.
Primark has announced its support for the UN's International Labour Organisation (ILO) call for "urgent collaboration" across the fashion industry, to support garment workers faced with the prospect of unsafe working environments or losing their jobs as a result of Covid-19.
Restructuring firm Gordon Brothers has bought the Laura Ashley brand and its intellectual property from administrators PwC, and is set to maintain "a streamlined portfolio" of stores in the UK but primarily focus on online and wholesale.
In its full year update, Boohoo said its trading has been "mixed" since the coronavirus outbreak in the UK, with "a marked decrease" in sales in mid-March. However, it said its "performance has improved in more recent weeks and we are now seeing improved year-on-year growth of group sales during April", but could not provide guidance for 2020/21.
Brigadier Acquisition Company is hoping to retract the £22.6m offer it made to acquire Moss Bros in mid-March. It is hoping to lapse its offer because of coronavirus disruption, which saw Moss Bros close all retail operations including online on 26 March.
Tuesday 21 April
CK Acquisitions has bought the Cath Kidston brand, ecommerce platform and wholesale business from administrators. The retailer's UK shops are under management of administrator Alvarez & Marsal and are likely to be closed with the loss of 740 jobs.
Primark parent ABF reported that the retailer has been able to mitigate about half of the financial impact during lockdown through lease negotiations and cost cutting, with a monthly cash outflow of about £100m while shops shut.
ABF Chief executive George Weston warned: "Much as I would love to be allowed to reopen Primark stores, because lockdown has so harmed our business and our supply chains, I know that we must not do so until we have suppressed this disease"
Joules reported it has agreed a £15m increase in borrowing facilities. Alongside an equity raise earlier in the month, the retailer said it has "sufficient liquidity headroom to manage a Covid-19-related downside scenario and the resources to emerge relatively stronger from this unprecedented situation" as online sales outperform expectations.
John Lewis Partnership cautioned that its full-year sales could fall 35% at John Lewis and a "more modest decline of less than 5%" at Waitrose – anticipating a "significant" sales decline between April and June, and weak sales thereafter.
The department store reported sales across John Lewis are down 17% overall since mid-March, despite online sale surging 84% year-on-year in the period, with store closures prompting John Lewis to furlough 14,000 staff at the beginning of April.
Waitrose sales are up 8% year-on-year since 26 January, driven by cupboard essentials such as rice, pasta, home baking, frozen food and cleaning products.
By the end of the year, Amazon is planning to launch a rapid grocery delivery service called Ultra Fast Fresh, covering some 40% of UK households.
Ikea has acquired augmented reality start-up Geomagical Labs to allow shoppers to virtually visualise big ticket items in their home without a store visit. Geomagical Labs' key product enables users to scan a room using a smartphone to create a 3D render and allow existing furniture to be virtually removed and new items added in.
Monday 20 April
Following the closure of all of its stores, essential retailer B&Q has reopened 14 stores, trialling social distancing measures including two-metre floor-markers and perspex screens at checkouts.
DFS is in "advanced stages" with lenders to extend its existing £250m debt facility by an additional £60m to £70m. It is also mulling an equity issue of up to 19.9% of its existing capital to provide "resilience for a continued disrupted trading environment" and has reduced its cash outflow.
In a trading update, DFS said online gross sales increased by 20.2% between 25 March and 17 April.
Ted Baker announced that it is launching a virtual pop-up store dubbed Ted's Bazaar, selling A4 prints, T-shirt. Beanies, tea-towels and mugs, with profits going to local community charities that support Covid-19. The virtual store will be hosted on the retailer's existing website with its first collection released on 1 May.
Asda has reportedly cancelled clothing orders and offered suppliers 30% of an order's value as a "gesture of goodwill", rising to 50% for already completed orders.
Primark has extended its support for suppliers, paying £370m of additional orders for product on top of the £1.5bn of stock in stores, depots and in transit – despite its shops being shut and its inability to trade online.
Pret a Manger is aiming to launch a range of whole and ground coffee beans in supermarkets at the end of the month, as it tries to adapt to new trading realities.
Saturday 18 April
It has been reported that Arcadia has given notice on at least 100 store leases, which could lead to renegotiations or closures by the end of the summer.
Friday 17 April
Gousto has secured £33m in a funding round, as the coronavirus lockdown has supported a 70% year-on-year increase during Q1 for the meal-kit retailer.
Waitrose's same day delivery slots are set to increase from 2,000 to 7,000 per week, while its click-and-collect slots are increasing by 10,000 per week to over 30,000 slots a week.
Primark is giving care packs containing 74,000 products to London's NHS Nightingale Hospital, including underwear, leggings, T-shirts, footwear and towels for staff and patients.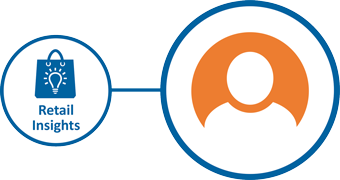 Why get a FREE TRIAL?
It's free for 30 days
Download a great selection of reports
No obligation
No credit card details
Cancel at anytime
No hassle
Excel with our RETAIL INSIGHT
START MY FREE TRIAL >