Store sales rise for second consecutive month as online growth remains robust
Retail Economics estimates total Online sales rose by 11.8 per cent in February, year-on-year, compared with growth of 12.2 per cent in February 2015. Growth was slightly above the 12-month average of 11.2 per cent. So while it was strong, it was not spectacular. According to the ONS, online sales were driven by Household Goods which rose 34.6 per cent, year-on-year, followed by Department Stores which were up by 25.8 per cent in February.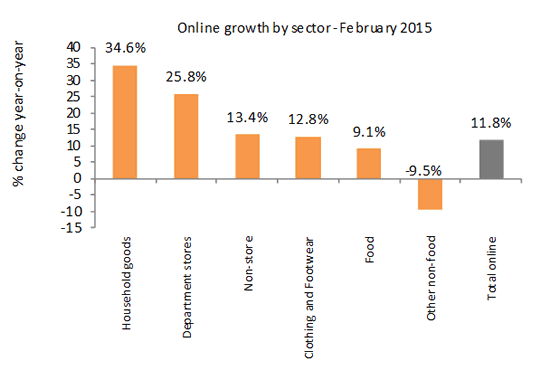 Source: ONS, Retail Economics analysisNon-store, which includes mail order, stalls and markets and other non-store retail, rose by 13.4 per cent while Clothing and Footwear was up 12.8 per cent, year-on-year. The overall trend for online spending remains robust and aligned to the three month rolling average of 11.8 per cent. Although the growth of online retail sales has slowed in recent years as the market has matured, we believe that there is plenty of scope for further growth as the proportion of total retail spending pertaining to millennials rises, handheld devices become more powerful and faster, connectivity improves and delivery options are tailored to maximise convenience and value.The importance of channels (whether sales are online, in-store, on mobile or tablets) is becoming less important and understanding the role that digital plays across channels is critical in understanding consumer trends.UK consumers have embraced click-and-collect (buying online and picking up in store) and it is growing in importance rapidly. In their latest financial results, Halfords reported 91 per cent of online orders through click-and-collect, making up 12.2 per cent of total revenue. Argos, where 54 per cent of total revenue is generated online, drove 34 per cent of online orders with collection in-store. For John Lewis, 54 per cent of online orders are click-and-collect, 66 per cent of which are collected in Waitrose stores.Online is driving customers in-store which not only boosts footfall but can inspire impulse purchases and build brand loyalty. We estimate that Store sales in February were also positive and rose by 0.8 per cent, year-on-year. For some retailers, online is a vital channel to drive in-store sales. Given the strength of click-and-collect, out-of-town retail parks are benefiting from consumers collecting online orders because of convenient free parking. In addition, large format stores promote easy collection and, together with a mix of leisure such as cafes and restaurants, they are experiencing strong sales growth. The latest data from Springboard, a footfall counting company, showed that footfall in Retail Parks was up by 2.5 per cent while High Street footfall fell by 2.9 per cent and Shopping Centres were down 0.6 per cent. Retail Park footfall has outperformed High Streets and Shopping Centres for over 24 months and continues to be the only channel of physical locations where footfall is rising.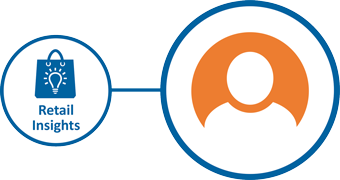 Why get a FREE TRIAL?
It's free for 30 days
Download a great selection of reports
No obligation
No credit card details
Cancel at anytime
No hassle
Excel with our RETAIL INSIGHT
START MY FREE TRIAL >