RICS Residential Market Survey May 2021
The RICS Residential Market Survey for May shows a widening gap between demand and supply, with fresh listings tailing off while new enquiries continue to rise. House price inflation is intensifying because of this mismatch, with respondents across all parts of the UK reporting strong price increases for the fourth consecutive month. Meanwhile, the rental market is regaining momentum, as lockdown restrictions ease and people return to their place of work.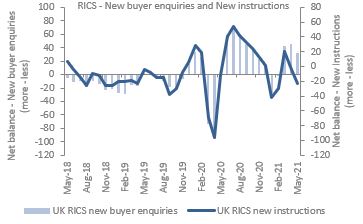 Source: RICS
Shortfall of new instructions
A net balance of +32% of UK estate agents saw an increase in new buyer enquiries in May, the third consecutive month of positive reading, indicating ongoing strength of housing demand.

Yet, new instructions coming onto the market have become scarce in recent months. The net balance for new instructions fell to -23% in May, down from -4% previously.

The gap between new buyer enquires and new instructions is now at its widest since November 2013, signalling a real mismatch between supply and demand.

In terms of the pipeline for fresh listings going forward, survey participants noted that the number of market appraisals being undertaken is up on a twelve-month comparison, which could translate into an improved number of instructions in due course.

Newly agreed sales also rose in May, evidenced by a net balance of +30% of contributors noting a monthly increase (although cooler than the +34% in April and +47% in March).
Price inflation intensifying
At a national level, a net balance of +83% of survey respondents saw a rise in house prices in May. This is up from +76% in April, with price inflation increasing consistently each month since January.

House price inflation is evident across all UK regions, with the South West, Wales and North West reportedly seeing the strongest momentum in May.

The proportion of agents anticipating prices will rise over the year ahead remains elevated, with the net balance figure rising to +64% in May, from +68% in April.
End of Stamp Duty Holiday drawing close
Near term sales expectations are moderating however, with just +10% of respondents expecting sales activity to rise over the next three months, down from +21% in April.

Sales volumes are expected to soften further in the coming three months once the Stamp Duty holiday begins to be tapered out in June through to September.

At the twelve-month horizon, sales expectations have turned flat, recording a net balance figure of -5%, compared to +12% previously.
Rental enquiries up
In the lettings market, tenant demand remains firm at a national level. A net balance of +48% of respondents cited a pick-up in rental enquiries in May. This is up from +14% at the start of the year, with activity boosted by the continued easing of lockdown restrictions and the return to places of work.

At the same time, the survey's indicator on new landlord instructions remained in negative territory for a tenth consecutive month, indicating a tight supply backdrop.

Rental growth expectations are strengthening on the back of this. +55% of agents foresee rents increasing over the next three months.

Over the next twelve months, respondents envisage headline rental growth of 3% on average across the UK.

The lettings market also appears to be recovering somewhat in London, with both the three- and twelve-month rental growth expectations series moving into positive territory.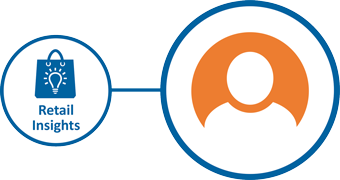 Why get a FREE TRIAL?
It's free for 30 days
Download a great selection of reports
No obligation
No credit card details
Cancel at anytime
No hassle
Excel with our RETAIL INSIGHT
START MY FREE TRIAL >