RICS Residential Market Survey June 2021
The RICS Residential Market Survey for June shows another solid month of sales activity, although buyer demand has eased somewhat as the Stamp Duty tax holiday tapers out from July. House price inflation is showing little sign of easing however due to a scarcity of properties coming on to the market. Meanwhile, the rental market is picking up momentum, as Covid-19 restrictions are lifted and people return to work (either off furlough or back to the office).
Demand starting to moderate
A net balance of +14% of UK estate agents saw an increase in new buyer enquiries in June. Whilst still positive, this is a notable cooling on the recent high of +43% posted in April.
Nevertheless, the latest industry feedback continues to signal a clear excess of demand over supply. The net balance for new instructions fell to -34% in June, the third consecutive monthly decline in new listings, and down from -24% previously, pointing to an accelerated rate of decline.
In terms of the pipeline for new listings going forward, a net share of +17% of survey participants noted that the number of market appraisals being undertaken is ahead of the same period last year, but this gauge has softened in each of the past two months (+34% in April, +24% in May).
Newly agreed sales picked up in June, evidenced by a net balance of +8% of contributors noting a monthly increase. Again, this sales metric has eased considerably in recent months, having hit +46% in March, a further sign that the market is beginning to lose steam.
Supply shortage driving price growth
At a national level, a net balance of +83% of survey respondents saw a rise in house prices in June, virtually unchanged from the previous month.
Comments submitted to the survey frequently highlight that this price growth is being driven by the sheer lack of supply on the market at present.
House price inflation is evident across all UK regions, led by exceptionally robust upward pressure in Yorkshire & the Humber, Northern Ireland and Wales.
In terms of the outlook for prices, a net balance of +56% of agents anticipate prices will rise further over the year ahead, albeit respondents in London were more cautious compared to the rest of the country.
Stamp Duty Holiday tapers out
Near term sales expectations are now broadly flat, with a net balance of -4% of respondents expecting sales activity to rise over the next three months, compared to +8% in May.
Sales volumes are expected to soften now that the Stamp Duty holiday has begun to be tapered out (the threshold halves to £250,000 on 1 July in England and Northern Ireland, while in Wales the tax break on purchases up to £250,000 ends).
The twelve-month sales expectations series returned a net balance of -12% in June (down from -5% previously), providing further indications that the level of sales activity being conducted across the market is likely to moderate further over the year ahead.
Rental market on the up
In the lettings market, tenant demand accelerated in June. A net share of +60% of respondents cited a pick-up in rental enquiries during the month, with activity boosted by the continued easing of Covid-19 restrictions and the return to places of work.
At the same time, the survey showed a worsening shortfall in new landlord instructions, with -32% of respondents noting a decline (from -21% in May), indicating a tight supply backdrop.
Rental growth expectations are strengthening on the back of this. Over the next twelve months, respondents envisage headline rental growth of +3% on average across the UK.

London's rental market appears to be recovering, with the twelve-month rental growth projections for the capital now in modestly positive territory for three consecutive months, signalling a turnaround relative to the negative assessment for rents being returned at the start of the year.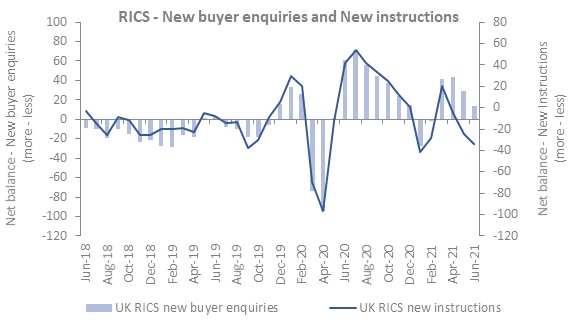 Source: RICS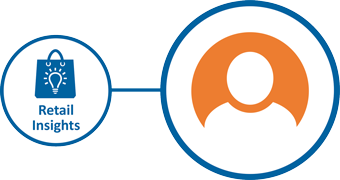 Why get a FREE TRIAL?
It's free for 30 days
Download a great selection of reports
No obligation
No credit card details
Cancel at anytime
No hassle
Excel with our RETAIL INSIGHT
START MY FREE TRIAL >