RICS Residential Market Survey January 2020
The New Year and post-election environment has brought optimism in the housing market, with renewed activity among buyers and sellers in January according to RICS's Residential Survey.
Sentiment among estate agents has lifted since the Conservative win in December, with uncertainty reduced now that the UK has entered the Brexit transition period.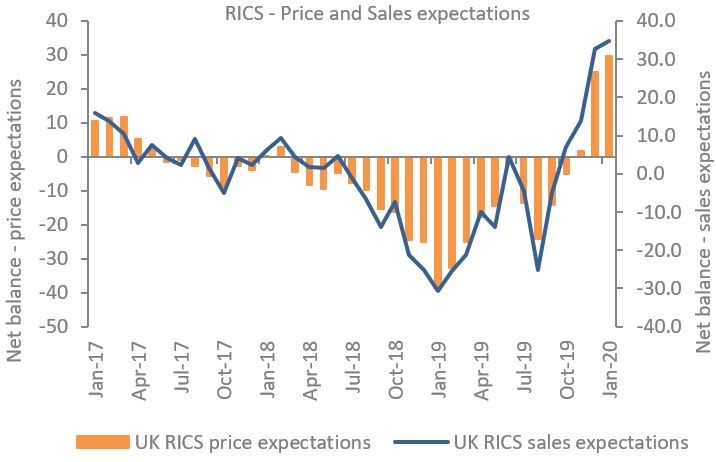 Source: RICS
Renewed buyer and seller activity
The number of homes being listed for sale increased in January, with a net balance +19% of respondents reporting a rise. This rose at its fastest rate since August 2013. But the average number of listings remain low at 43 properties per estate agent.
Building on last month's pick up, new buyer enquiries lifted to +23% of respondents reporting an increase in demand during January.
Agreed sales rose for a second month with a net balance of +21% of agents reporting an increase. Most parts of the UK were said to have seen solid growth in sales.
With activity picking up, house prices appear to be moving forward again, with RICS's headline price balance rocketing to +17% in January from -2% in December. This follows Halifax reporting last week that house prices rose by 4.1% year-on-year in January.
RICS noted that the growth was driven by a turnaround in London and the South East, which had previously faced a slowdown from the prospect of a disorderly Brexit. To this end – for the first time since February 2016 – a majority of agents said prices in London were on the up.
Rising expectations across the UK
Looking ahead, price expectations are expected across the UK. A net balance of +30% anticipate price increases over the next three months, marking the strongest expectations in price rises in three years.
Sales expectations are also positive across the UK, with a 35% net balance expecting an uplift in the near term. A net balance of +20% of respondents reported that the level of market appraisals undertaken in January was higher than a year ago, marking the first positive reading since it was introduced in 2017. This bodes well for the future pipeline of properties for sale.
Rental pressure
In the lettings market, a net balance of agents reported declining rental stock for a fifteenth quarter. However, tenant demand continues to increase, which is putting pressure on rental prices.
It is expected that rental price growth will be in the region of 2% over the coming year.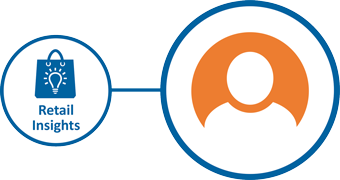 Why get a FREE TRIAL?
It's free for 30 days
Download a great selection of reports
No obligation
No credit card details
Cancel at anytime
No hassle
Excel with our RETAIL INSIGHT
START MY FREE TRIAL >