RICS Residential Market Survey & Halifax House Price Index June 2020
Following the reopening of estate agents in England in mid-May, buyer enquiries jumped in June according to RICS's latest survey among estate agents. But the outlook remains cautious as prices come under pressure from a bleak economic backdrop.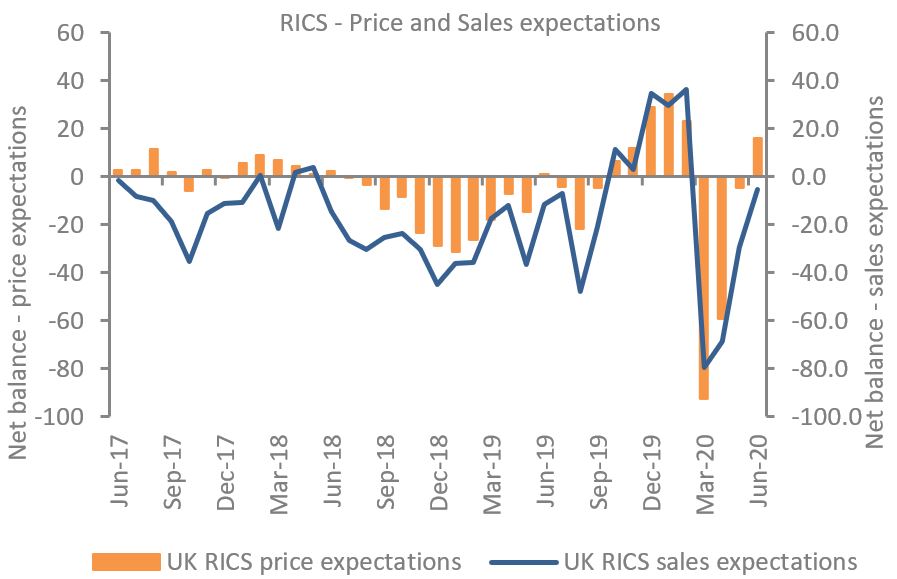 Source: RICS
Buyer and seller activity rise
RICS recorded a net balance of +61% of agents saw a rise in new buyer enquiries in June, following a reading of -94% in May.
A net balance of +42% reported a rise in the number of new properties being listed for sale, from -22% in May.
Despite the uptick in new instructions, the numbers of houses on agents' books remains close to all-time lows at an average of 39 properties in June.
Newly agreed sales picked up, with a net balance of +43% experiencing an increase in transactions in June.
Pressure on prices
Despite low supply, pressure on house prices continue against a weak outlook for employment and stricter lending criteria among mortgage providers.
A net balance of -15% of agents noted a decline in prices in June, from -32% in the previous month.
London and the South East are facing the weakest price momentum, with a net balance of -58% and -33% respectively reporting declines.
This follows Halifax reporting earlier in the week that house prices dipped 0.9% quarter-on-quarter to June, after a strong start to the year.
On a monthly basis, Halifax saw UK house prices fall for the fourth month in a row for the first time since 2010, edging down 0.1% in June. But compared to last year, prices were still 2.5% higher, with the average house price at £237,616.
Outlook cautious but improving
Looking ahead, estate agents expect the challenging economic climate to dampen market conditions. But the outlook for house prices has been progressively less negative in RICS's surveys over the past three months.
A net balance of -12% expect prices to fall over the next three months, while agents now anticipate a flat to marginally negative trend in national house prices over the next year.
Agents expect transaction levels to improve going forward, with a net balance +16% anticipating sales will rise in the next three months.
Importantly, RICS's survey was carried out before Chancellor Rishi Sunak temporarily raised the threshold of property stamp duty to £500,000 to boost activity in the housing market.
Rental growth expected
In the lettings market, tenant demand returned to growth in June with a net balance of +24% of contributors seeing an increase, following three months of decline.
Landlord instructions were broadly steady at the headline level in June.
Agents now predict around 1% rental growth nationally over the year ahead.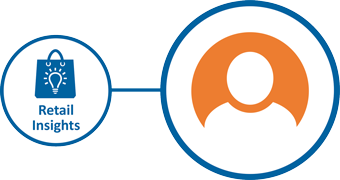 Why get a FREE TRIAL?
It's free for 30 days
Download a great selection of reports
No obligation
No credit card details
Cancel at anytime
No hassle
Excel with our RETAIL INSIGHT
START MY FREE TRIAL >