Retail's Digital Transformation: Four themes at the heart of structural change in UK retail
The growth and adoption of digital and mobile technologies has transformed the way people shop - changing the retail landscape forever. Transparency in price, service and quality has never been more ubiquitous. The customer journey has become infinitely more complex to measure, predict and understand, while shoppers' expectations have never been more challenging to meet. An informed and ever-connected consumer browses in a store, compares prices on mobile, orders from their desk at work and collects their delivery at a local convenience shop on the way home - before returning unwanted items in an entirely different location. Experiences, good and bad, are shared with friends and online communities instantaneously. The power dynamic between buyers and sellers has altered dramatically and today's consumers are more empowered than ever before. The balance will continue to edge towards consumers as more powerful devices and better connectivity converge and the digital influence on the customer journey will become even more deeply engrained.Gone are the days of "caveat emptor" (buyer beware) as the new age is "caveat venditor" (seller beware).Here are four key areas we believe are at the heart of retail's digital transformationBridging the digital and physicalA new retail business model that emerges will embrace the digital era. Fewer but more experiential stores that blur the boundaries between digital and physical will become the norm as retailers provide consistent touch points online and in-store. Retailers will need to leverage technologies like Near Field Communication (NFC), iBeacon, surface computing and mobile. Current applications like mobile payments and geo-targeted content is just the tip of the iceberg. Big data, analytics and customer centricityTargeted, personalised, relevant and real time content will be essential to generate traffic, regardless of channel. Understanding customer segmentation, assessing value and delivering a seamless customer experience will be essential to success and this will require data. Sophisticated data mining and analytics will put customers at the heart of retail operations.Investing in the last mileThe relentless growth of online and omnichannel has made order management and fulfilment more important than ever. Systems will need to be flexible enough to be able to adapt to evolving consumer habits. Inventory utilisation is of huge significance to reduce the cost of delivery and fulfilment. Retailers with a comprehensive property portfolio could hold a competitive advantage over pure online retailers if the infrastructure and model is executed effectively. International expansionBritish retailers with established brands have a unique opportunity to drive growth through international sales. We estimate that online sales that are generated overseas could increase by 500% in the next five years. Localising websites and understanding cultural differences will require investment, specialised teams and, in many cases, finding the right partner.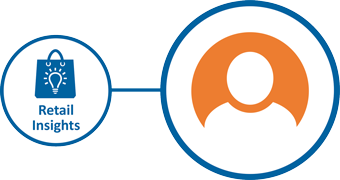 Why get a FREE TRIAL?
It's free for 30 days
Download a great selection of reports
No obligation
No credit card details
Cancel at anytime
No hassle
Excel with our RETAIL INSIGHT
START MY FREE TRIAL >