Retailers need to prepare for a no-deal Brexit
The need for UK retailers to be 'Brexit-ready' is becoming ever more urgent.
On 24 October 2018, Squire Patton Boggs and Retail Economics hosted more than 50 meetings between the UK's leading retailers and Brexit and trade experts. Throughout the meetings, it became apparent that retailers were keen to discover how their Brexit preparations compared with others within the sector.
We conducted an industry-wide anonymised online survey to further gather and quantify retailers' opinions. Our findings revealed a polarised industry. Some retailers have conducted extensive preparations for a no-deal Brexit, while others indicated they have executed no preparatory action whatsoever.
Indeed, our survey revealed that 11% of retailers feel 'very under prepared' and almost a quarter have done 'little to no preparation'. On a more positive note, just over 50% said that they have 'done some preparation'.
Concerning potential increases in sourcing costs, 73% said that they had performed some analysis to quantify the impact on their business, leaving 27% having done nothing. However, almost a third (32%) said that there would be 'significant additional costs'.
Top retailer concerns for a no-deal scenario were: (1) Supply chain management (64%); (2) availability and cost of labour (56%); and (3) rising tariff costs (52%). Nevertheless, when faced with additional trading challenges, over half (59%) suggested that they had identified ways to partially mitigate new costs. Retailers have said they are considering 'a wide range [of mitigating factors] including stockpiling where possible; different routes across the Channel; signposting support for EU workforce; [and] currency hedging'.
Interestingly, only 8% of retailers suggested that they had engaged in government consultations.
At a glance
In the event of a no-deal Brexit in March 2019, our survey showed that:
Over a third of retailers indicated they have 'done little to no preparation' or feel 'very underprepared' for a hard Brexit. The majority (52%) of retailers had done 'some preparation' and just 15% indicated that they 'feel very prepared'.
The majority of retailers surveyed (73%) have conducted some analysis attempting to quantify impacts of additional duties that would apply under a WTO framework. This leaves over a quarter of retailers having undertaken no analysis at all on potential additional costs.
A third of retailers (33%) said they would face 'significant additional costs' in the event of a no deal scenario, and all of them suggested that a no-deal would have detrimental impacts on sourcing costs.
Retailers feel that the top three concerns are: (1) supply chain management and logistics issues (67%); (2) Labour availability and cost (56%); and (3) tariff costs (48%).
Over 2 in 5 retailers (41%) have failed to identify actions that would help avoid new costs.
Measures taken by retailers who have identified cost avoidance action include: switching supply chains to the UK, stockpiling, currency hedging and employing temporary workers.
92% of retailers said that they had not participated in any government-run consultations.
Richard Lim, Chief Executive, Retail Economics said: "After two and a half years, the Brexit options have suddenly come into very sharp focus. Option one, the UK leaves the EU with no deal on 29 March 2019 meaning that trading relations fall back on to WTO terms. Option two, the UK withdraws its Article 50 notification and stays in the EU. Finally, the UK ratifies and implements the Withdrawal Agreement negotiated by Theresa May and the EU.
"Leaving the EU without a deal would give the UK total sovereignty over trade, borders and immigration but would mean the immediate emergence of new, expensive and disruptive checks and costs at the border for trade with the EU. It's awfully concerning that over a third of retailers have done 'little to no preparation', or feel 'very underprepared' for a hard-Brexit when this scenario could unfold early next year.
"Retailers identified disruption to supply chains, labour availability and tariff costs as their three biggest concerns of a no-deal, yet just two in five said that they had identified any way to mitigate against these additional costs.
"Calls from some in the UK for an alternative Brexit deal – a fourth option - are almost certainly in vain because there is no time to negotiate one and there is no appetite from the EU to do so."
Matthew Lewis, Partner and Head of Retail, Squire Patton Boggs said:
"We work closely with a large number of retailers, across food, fashion and health & beauty, and the survey results echo the same significant concerns we have been hearing from the industry. There have been numerous public predictions about likely disruption at UK ports and higher costs in the event of no deal, and the survey supports the view that a primary and urgent focus for retailers must be on their supply chain and how best to manage this going forward.
"Retailers are considering stockpiling and changing supply locations as ways of mitigating the impact but they all recognize that increased costs are inevitable. There are huge legal and economic ramifications of a no deal and both have to be considered together to identify ways of mitigating the biggest concerns for retailers. We are working with Retail Economics to help steer a way through the difficulties retailers are facing and supporting them with advice regarding the economic and legal impacts.
"The debate about the Withdrawal Agreement continues in earnest, as does the uncertainty all this brings. The actual outcome should become clearer within the next few weeks. However, despite the UK's Brexit deal being agreed by EU leaders, in light of the political dynamic, contingency planning for no deal has to be a priority."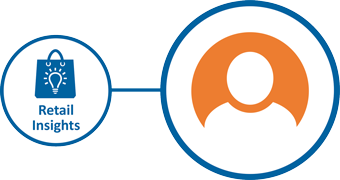 Why get a FREE TRIAL?
It's free for 30 days
Download a great selection of reports
No obligation
No credit card details
Cancel at anytime
No hassle
Excel with our RETAIL INSIGHT
START MY FREE TRIAL >