Retail Sales in August weaken but outlook for fourth quarter still positive
Retail sales rose by 0.6 per cent year-on-year (non-seasonally adjusted) in August according to the Retail Economics Sales Index. The three month rolling average, which smooths seasonal distortions, showed continued weakness of retail sales growth. Nevertheless, we remain upbeat about the outlook for the industry and forecast stronger growth in the fourth quarter, averaging c.2.0 per cent.
Retail Economics Sales Index: Total retail sales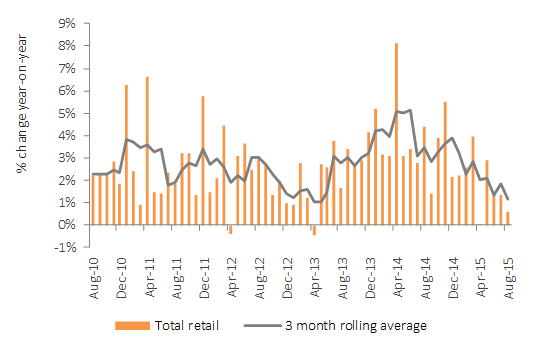 Source: Retail Economics Sales IndexThe timing of the August Bank Holiday, which fell in September's trading calendar this year compared with August last year, had a significant impact. So analysing August's figures in isolation must be treated with caution. Categories which usually benefit from "back-to-school" trade (such as Clothing, Footwear and Stationery) saw sales pushed back until September while Furniture and Flooring and DIY and Gardening also saw a negative impact. Once again, sales growth in the Food sector declined - down 1.6 per cent in August. The grocery sector continues to face considerable challenges, undergoing significant structural change. At the heart of these structural changes lies three core themes:
1.Rise of the discounters
– 8-9 per cent market share but rising rapidly
2.Online retailing
– significant opportunity but less profitable and current business models not fit-for-purpose
3.Convenience
– fewer large weekly shops, lower average basket values, margins being squeezedAgainst this backdrop, supermarkets have invested millions of pounds in price wars as competition has intensified. With investors clearly worried about the impact of declining industry volumes and profitability, billions of pounds have been wiped off stock market prices over the last 18 months.We believe that the industry will become increasingly polarised in the coming 6-9 months with the Food sector continuing to struggle and Non-Food gaining strength. Competition within Food will intensify and targeted promotions on prices will hold back growth. The introduction of the National Living Wage (NLW) in April 2016 will increase costs further. Typically, labour costs constitute around 40-50 per cent of operational costs for retailers. This will likely result in retailers cutting back on hours, reducing benefits (such as staff discounts, paid breaks and bonuses) and moving to the most flexible contracts such as zero hours. For Non-Food, household's positive backdrop of low inflation, rising real wages, near record levels of employment and buoyant consumer confidence will support growth in discretionary spending.
Retail Spending Outlook for Q4 2015
The pace of retail spending has slowed in recent months but we don't believe this to signal a wider slow-down in consumer spending. The industry is becoming increasingly polarised with the contraction in the Food sector driving down overall total retail sales. Non-Food, particularly Home categories, has performed strongly. As Christmas approaches, we're confident that underlying momentum, which has underpinned consumer spending growth, will trickle through to the retail sector. The latest data showed earnings growth up by 3.7 per cent (inc. bonus) as inflation dipped back to zero where it has been hovering for the last eight months. Improvements in the unemployment rate have been more modest recently suggesting that slack in the labour market is being eroded. This will allow pay growth to pick up without triggering inflation or force the Bank of England's hand into a pre-emptive rise in interest rates. Our forecast suggests a rate rise no sooner than Q2 2016 – although the sharp slow-down in China, and the knock-on impact, could push this back even further.In combination with healthier demand for credit, net unsecured borrowing was up 7.5 per cent in August, renewed strength in the housing market and continued cheap borrowing rates – we expect retail sales growth to pick up in the final quarter of 2015.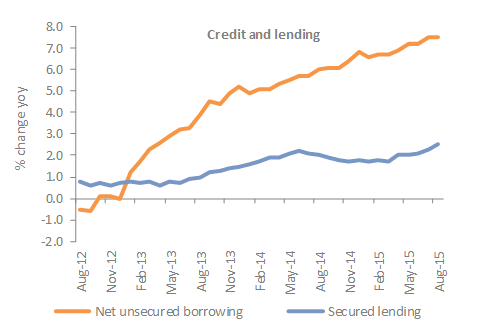 Source: Bank of EnglandBlack Friday will also play an important role in the spread of Christmas sales over November and December. It will be interesting to see different retail strategies unravel as we approach this relatively new retail event.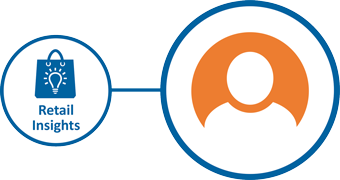 Why get a FREE TRIAL?
It's free for 30 days
Download a great selection of reports
No obligation
No credit card details
Cancel at anytime
No hassle
Excel with our RETAIL INSIGHT
START MY FREE TRIAL >