Retail sales boost in September bodes well for a bumper Christmas 2015
Retail sales rose by a stellar 3.2 per cent year-on-year (non-seasonally adjusted) in September according to the Retail Economics Sales Index. The three month rolling average, which smooths seasonal distortions, rose to 1.8 per cent from 1.3 per cent in the previous period. It suggests that pent-up demand from improvements in households'' financial positions is filtering through to the retail sector.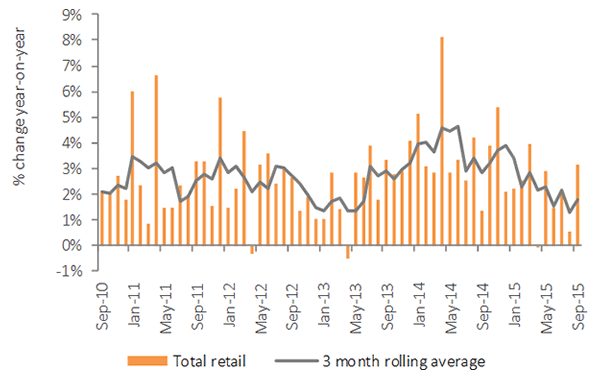 Source: Retail Economics IndexHowever, we must not get too carried away with the strength in the latest data as the timing of the August Bank Holiday, which fell in September's trading period this year and August last year, flattered growth. Nevertheless, these are still very strong figures and, barring Easter distortions, the strongest this year.Sales growth was solid across most non-food categories with those benefiting from "back-to-school" trade and seasonal home promotions performing the strongest. Clothing (+5.8 per cent), Footwear (+15.0 per cent), Homewares (+9.3 per cent) and Furniture and Flooring (+5.8 per cent) all achieving impressive levels of growth. Footwear sales were the strongest since November 2010.Food sales were up 0.9 per cent which was the strongest since June 2014, excluding Easter distortions, helped by the Rugby World Cup. However, the sector continues to face considerable challenges as it undergoes significant structural change. In addition, volumes are still in decline with the latest inflation data from the ONS suggesting food deflation of 2.3 per cent in September. The combination of intense competition from the discounters, online and the drive towards convenience are eroding margins.We believe that the industry will become increasingly polarised in the coming months with the Food sector continuing to struggle and Non-Food gaining strength. Competition within grocery will intensify and targeted promotions on prices will hold back growth.The introduction of the National Living Wage (NLW) in April 2016 will increase costs further. Retail workers aged 25+ will be entitled to £7.20 per hour which will rise, on average, by 6 per cent per annum until c.£9 in 2020. The trajectory of these labour costs will far exceed those faced by the retail industry since the introduction of the National Minimum Wage. We estimate that this could cost the industry in the region of an additional £2 billion per year from 2016 – a significant cost.Typically, labour costs constitute around 40-50 per cent of operational costs for retailers. This will likely result in retailers cutting back on hours, reducing benefits (such as staff discounts, paid breaks and bonuses) and moving to the most flexible contracts such as zero hours. The push towards boosting productivity will intensify which could suggest cutting back on the number or outlets and driving even more customers online.From a household point of view, underlying momentum remains strong. Deflation returned to the UK last month and with average weekly wages rising at c.3.5 per cent the scope for additional spending is strong. The components of the consumer basket driving down prices are leading to "good" deflations – prices across food, utility bills and transport are all falling meaning the boost is to discretionary spending.This has certainly been the case over the last few months with healthy levels of growth across Clothing and Footwear and home related product categories. Electricals also saw strong growth with sales up 7.0 per cent, year-on-year. The Rugby World Cup is likely to have provided some support for sale of televisions while there may also have been some pent-up demand from June and July when growth flat-lined.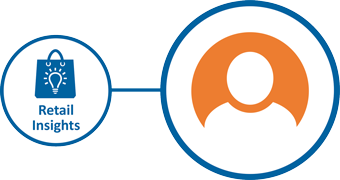 Why get a FREE TRIAL?
It's free for 30 days
Download a great selection of reports
No obligation
No credit card details
Cancel at anytime
No hassle
Excel with our RETAIL INSIGHT
START MY FREE TRIAL >