Retail Economics Response - ONS Retail Sales July 2016
According to the ONS, Retail sales growth (value, non-seasonally adjusted) rose by 3.6 per cent in July from 1.2 per cent in the previous month as consumers shrugged off any Brexit fears following the EU Referendum result. This is the strongest sales growth since November 2014.The ONS figures remain stronger than the BRC who reported sales growth of 1.9 per cent over the same period. The volume of retail sales in July 2016 is estimated to have increased by 5.9 per cent compared with July 2015 – the 39th consecutive period of year-on-year growth. Compared with the previous month, volumes rose by 1.4 per cent. The amount spent online increased by 16.7 per cent compared with July 2015 and increased by 1.2 per cent compared with June 2016. Average weekly spending online in July 2016 was £963.8 million, accounting for 14.2 per cent of all retail spending, excluding automotive fuel, compared with 12.6 per cent in July 2015.
Chart 1 – Retail Sales Volume Growth by Components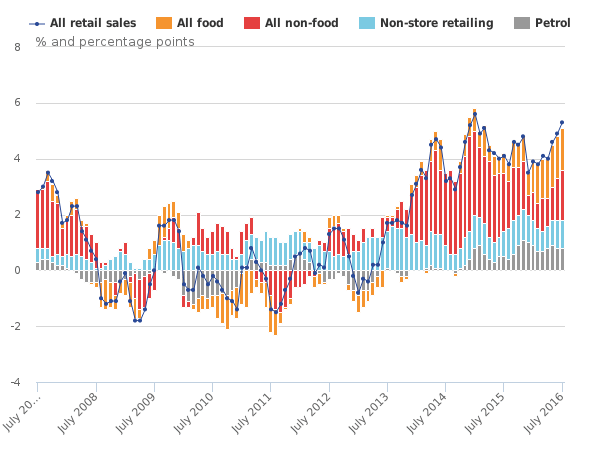 Source: ONSOverall, these are very positive figures and show that consumer spending remained resilient despite the pessimism spelt out by consumer sentiment surveys. As we suggested last month, what consumers say they are going to do and what they do in reality are two entirely different prospects. In addition, a stable government and the considered approach to triggering Article 50 is likely to have put some consumers at ease for the moment. However, we are more concerned with long run implications. With heightened uncertainty businesses are likely to cut back on hiring intentions and may even reduce headcount. The sharp fall in sterling is likely to push up on import costs over the coming months and, once retailers can no longer absorb rising costs, consumer prices will rise. The resulting erosion of household incomes will undermine strength in consumer spending with income sensitive areas likely to feel the pinch first. The real test of consumer resilience will be when the impact of Brexit feeds through to the real economy.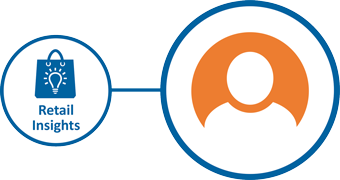 Why get a FREE TRIAL?
It's free for 30 days
Download a great selection of reports
No obligation
No credit card details
Cancel at anytime
No hassle
Excel with our RETAIL INSIGHT
START MY FREE TRIAL >