Retail Economics Response - ONS Retail Sales Index November 2016
Retail sales (volumes, seasonally adjusted, excluding fuel) saw another strong month rising by 6.6 per cent in November according to the ONS. This was off the back of 7.5 per cent growth in the previous month. It suggests that consumers are unfazed by the Brexit vote and undeterred by the economic doom-mongers.Black Friday appeared to be a success for many retailers with online rising by 24.9 per cent, year-on-year, accounting for 15.8 per cent of total spending – up from 13.3 per cent this time last year. Retail sales growth (value, non-seasonally adjusted, excluding fuel) rose by 6.1 per cent in November, up from 6.0 per cent in the previous month. Our preference is for this "cleaner" series which avoids seasonal and inflationary adjustments. It compares directly to the BRC-KPMG Retail Sales Monitor which reported sales growth of 1.3 per cent during the same period. Visa's Consumer Spending Index, which is wider than just retail, reported growth of 3.2 per cent, but it was the non-retail components such as Recreation and Culture (+9.3 per cent) which drove overall growth. Average store prices (including petrol stations) rose by 0.1 per cent in November, the first rise in retail inflation since June 2014. However, this measure includes petrol stations which had the largest contribution. Without rising fuel costs, shop prices remained deflationary. Overall retail sales were driven by the performance of small retailers who saw growth of an implausible 18.5 per cent. This followed growth of 12.6 per cent in the previous month. We find it difficult to explain why small retailers have reportedly outperformed large retailers to such a large extent who saw growth of 3.0 per cent over the same period. We will need to unravel the ONS figures carefully to give a more in-depth view – watch out for our UK Retail Sales report released next week.
Figure 1. Components of retail sales growth, November 2006 to November 2016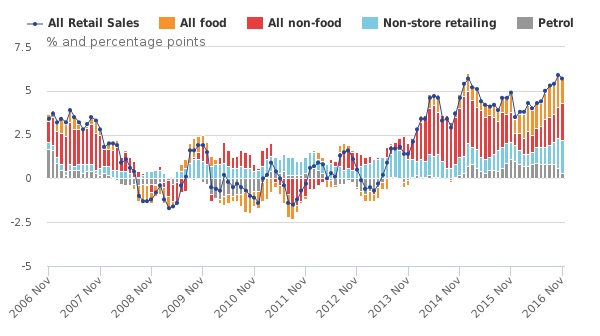 Source: ONS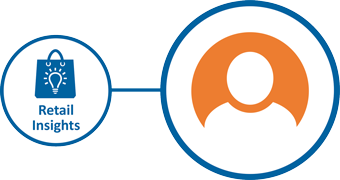 Why get a FREE TRIAL?
It's free for 30 days
Download a great selection of reports
No obligation
No credit card details
Cancel at anytime
No hassle
Excel with our RETAIL INSIGHT
START MY FREE TRIAL >