Retail Economics Response - ONS Retail Sales Index February 2017
Retail sales (value, seasonally adjusted, excluding fuel) rose by 4.7 per cent in February 2017 year-on-year, according to the latest figures from the ONS. This was stronger than the previous month (+1.8 per cent) but underlying conditions from the three-month on three-month measure showed a sharp slowdown, registering its worst performance since March 2010. Overall growth was also boosted by the performance of small retailers who saw growth of 10.5 per cent (value, seasonally adjusted, excluding fuel) compared with large retailers' growth of 3.2 per cent over the same period. In volume terms, retail sales rose by 3.6 per cent on last year (volume, seasonally adjusted, excluding fuel. Average store prices (including fuel) increased by 2.8 per cent on the year, the largest growth since March 2012 - the largest contribution came from petrol stations, where year-on-year average prices rose by 18.7 per cent.Online sales (excluding automotive fuel) increased year-on-year by 20.7 per cent and by 3.3 per cent on the month, accounting for approximately 15.3 per cent of all retail spending.The underlying pattern as suggested by the 3-month on 3-month movement decreased for a second period in a row, down 1.4 per cent in February — the largest decrease since March 2010 and only the second fall since December 2013.
Retail sales (value, non-seasonally adjusted) year-on-year growth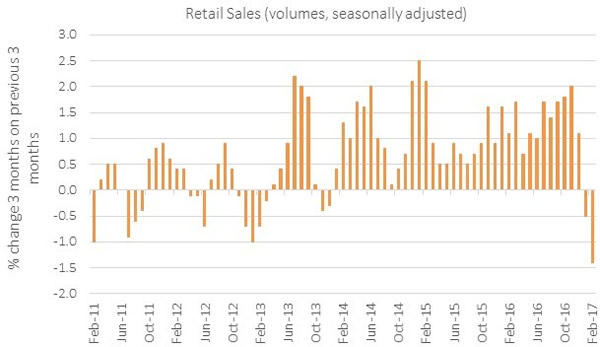 Source: ONSThe combination of rising inflation and continued weak earnings growth has eroded households' spending power. Indeed, inflation is rising at the fastest rate in over three years and on its current path we expect real earnings to be shrinking by the summer. As households' budgets tighten, discretionary spending will come under further pressure. Furthermore, the prospect of a sooner than expected interest rate rise may spook consumers into tightening their purse strings. While we do not expect an interest rate hike this year, market expectations of an increase have moved forward markedly in the last three months. We will need to unravel the ONS figures carefully to give a more in-depth view – watch out for our monthly
UK Retail Sales
report released next week.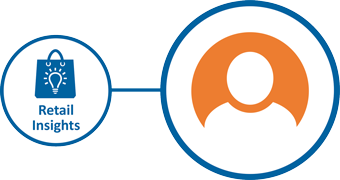 Why get a FREE TRIAL?
It's free for 30 days
Download a great selection of reports
No obligation
No credit card details
Cancel at anytime
No hassle
Excel with our RETAIL INSIGHT
START MY FREE TRIAL >