Retail Economics Response - ONS Consumer Prices Index May 2017
The Consumer Prices Index (CPI) rose to 2.9 per cent in May on the previous year, up from the 2.7 per cent rise in the previous month. This was above the consensus view.The Consumer Prices Index including owner occupiers' housing costs (CPIH, not a National Statistic) was 2.7 per cent in May 2017 compared with the same month a year ago, up from the 2.6 per cent rise in April. This is the sharpest rise since April 2012.The main upward contributor to the increase in the headline rate was Recreation and Culture. Within this category it was games, toys and hobbies and, notably, computer games, which saw prices rise between April and May this year, compared with a fall a year earlier. Price rises were also seen in Food, Clothing, Furniture and Household Goods and Electricity.As expected last month, Transport, in particular motor fuels and transport services, were the main downward contributors. Petrol and diesel prices fell this year compared to a rise a year earlier, however, it was air and sea fares which showed deep declines, falling 6.4 per cent and 10.8 per cent respectively, impacted by the timing of Easter.
Figure 1: CPIH, OOH (owner occupiers' housing costs) and CPI 12-month inflation rate for the last 10 years: May 2007 to May 2017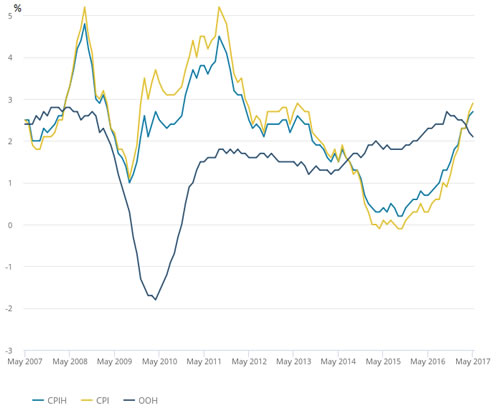 Source: ONS Core inflation (excludes food and energy prices) rose further to 2.6 per cent on the previous year compared with a rise of 2.4 per cent reported in the previous month. While some of the movements in the categories that underpin the headline inflation rate were expected, we note that these latest figures already outpace the recent forecast from the Bank of England which suggested inflation would peak at 2.9 per cent in Q4 2017. While the Monetary Policy Committee (MPC) may ordinarily feel under increasing pressure to consider a move in tightening monetary policy, given other pressures from heightened political uncertainty, we don't expect this to deter their current thinking in the short-term. Our view remains that interest rates are unlikely to move before 2019.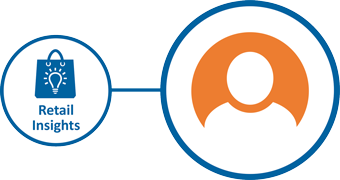 Why get a FREE TRIAL?
It's free for 30 days
Download a great selection of reports
No obligation
No credit card details
Cancel at anytime
No hassle
Excel with our RETAIL INSIGHT
START MY FREE TRIAL >