Retail Economics Response - ONS Consumer Prices Index March 2017
The Consumer Prices Index (CPI) rose to 2.3 per cent in March on the previous year, unchanged from the previous month. This was in line with the consensus expectation and is a temporary pause, driven by the timing of Easter.The Consumer Prices Index including owner occupiers' housing costs (CPIH, not a National Statistic) 12-month inflation rate was 2.3 per cent in March 2017, also unchanged from February.Rising prices of food, alcohol and tobacco, clothing and footwear and miscellaneous goods were the main contributors to the increase in the rate. Prices for food increased by 1.6 per cent in March compared with a year earlier, the first annual rise since mid-2014. On a month-on-month basis, food prices rose 0.6 per cent in March after falling by 0.7 per cent in the same month a year ago.
Figure 1: CPIH, OOH (owner occupiers' housing costs) and CPI 12-month inflation rate for the last 10 years: March 2007 to March 2017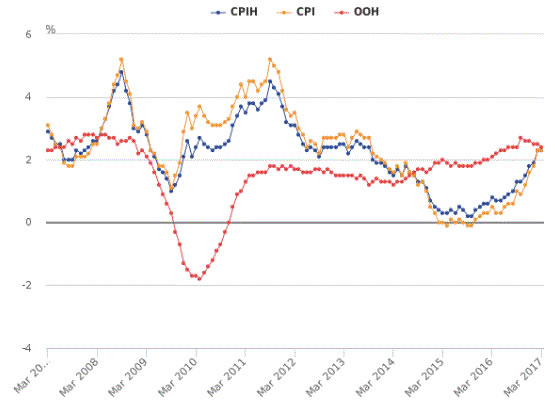 Source: ONSCore inflation (excludes food and energy prices) fell to 1.8 per cent on the previous year compared with a rise of 2.0 per cent reported in the previous month. Prices were boosted in March last year due to Easter falling in that period compared with April this year. Air fares, which typically rise over the Easter holidays, fell by 3.9 per cent on February because of this distortion, having risen 22.9 per cent between February and March in 2016. The reversal of this will be reflected in April's headline figure, along with the impact of the recent rise in energy prices imposed by some of the leading utility companies. We therefore anticipate inflation to continue on its upward trajectory when it is released next month. Inflation remains ahead of the Bank of England's expectations, who anticipated a 2.1 per cent year-on-year rise in March in their last inflation report. We maintain our view that inflation will reach 3 per cent this year, given there are pressures that are yet to filter through the supply chain. Given uncertainties still exist around Brexit negotiations and the strength of economy during this period, we do not foresee the Bank to raise interest rates until next year.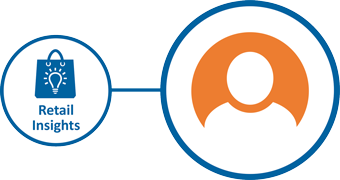 Why get a FREE TRIAL?
It's free for 30 days
Download a great selection of reports
No obligation
No credit card details
Cancel at anytime
No hassle
Excel with our RETAIL INSIGHT
START MY FREE TRIAL >