Retail Economics Response - ONS Consumer Prices Index February 2017
The Consumer Prices Index (CPI) rose to 2.3 per cent in February on the previous year, up from 1.8 per cent reported in January. This was well above the consensus estimate of 2.1 per cent and higher than the Bank of England's forecast. Inflation is now rising at its fastest rate since September 2013. Rising transport costs, particularly for fuel, food, recreation and culture and communications were the main contributors to the increase in the rate. Prices for food increased by 0.3 per cent between February 2016 and February 2017, following 31 consecutive months of prices falling on the year.The Consumer Prices Index including owner occupiers' housing costs (CPIH, not a National Statistic) 12-month inflation rate was 2.3 per cent in February 2017, up from 1.9 per cent in January.
Figure 1: CPIH, OOH (owner occupiers' housing costs) and CPI 12-month inflation rate for the last 10 years: February 2007 to February 2017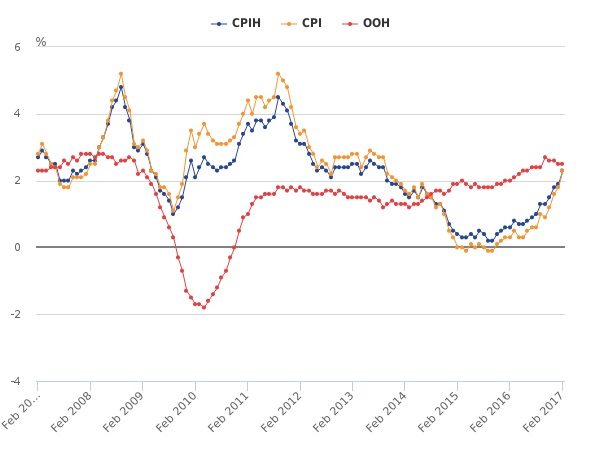 Source: ONS
Core inflation (excludes food and energy prices) also rose more sharply than expected, up 2.0 per cent on the previous year compared with a rise of 1.6 per cent reported in the previous month. In particular, inflation for recreation and culture rose sharply. This indicates that past falls in sterling may be feeding through faster than expected. As we have noted previously, since the financial crisis, retailers have dedicated increasing efforts to reduce their cost base. We believe that opportunities to further improve efficiencies will be much harder to find and so the rise in sourcing costs will be more difficult to absorb. As a result, our forecast of inflation hitting 2.5 per cent by Easter appears increasingly likely – despite more moderate forecasts from the Bank of England. Nevertheless, these latest figures are punchier than we had expected. Accordingly, our forecast of inflation reaching 3 per cent this year, before today's figures, is likely to be revised upward after pouring through the data in more detail. Furthermore, given the future path of inflation may be a little higher than the Monetary Policy Committee had expected, interest rates could rise rather sooner than the markets have recently been anticipating. That said, considerable uncertainty remains around Brexit negotiations and how strongly the economy will weather this uncertainty. As such, we don't expect a hike in 2017.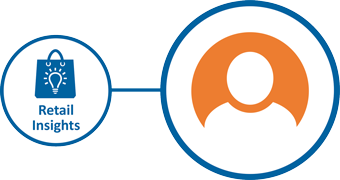 Why get a FREE TRIAL?
It's free for 30 days
Download a great selection of reports
No obligation
No credit card details
Cancel at anytime
No hassle
Excel with our RETAIL INSIGHT
START MY FREE TRIAL >