Retail Economics Response - ONS Consumer Prices Index April 2017
The Consumer Prices Index (CPI) rose to 2.7 per cent in April on the previous year, up from the 2.3 per cent rise in the previous month. This was in line with the Bank of England's expectations but above the consensus view.The Consumer Prices Index including owner occupiers' housing costs (CPIH, not a National Statistic) was 2.6 per cent in April 2017 compared with the same month a year ago, up from the 2.3 per cent rise in March.This is the sharpest rise since June 2013 and the first time CPIH has been below CPI since June 2014. As expected, air fares were the main driver of the rise in inflation in April, a reversal of March's sharp fall,which was driven by the timing of Easter. Prices of Clothing saw their sharpest April rise since 2011 (+1.1 per cent), although the increase was emphasised by an unusual drop in prices a year ago. A 2.5 per cent rise in Electricity prices also exerted upward pressure.
Figure 1: CPIH, OOH (owner occupiers' housing costs) and CPI 12-month inflation rate for the last 10 years: April 2007 to April 2017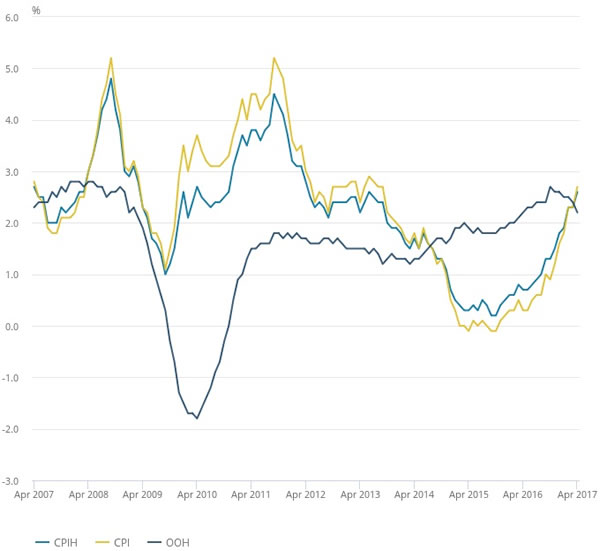 Source: ONSCore inflation (excludes food and energy prices) rose sharply to 2.4 per cent on the previous year compared with a rise of 1.8 per cent reported in the previous month. There were no surprises in April's figures, with air fares, energy prices and the continued impact of sterling's depreciation all contributing to the uplift in inflation. Air fares may well fall back again in May due to the timing of school holidays which could exert downward pressure next month but, overall, this is likely to amount to slight volatility on an otherwise upward trajectory over the coming months. Energy prices will rise further as the price increases imposed by five of the six largest utility companies feed through to consumers, while the continued pass through of the depreciation in sterling as well as rising food price inflation will also see inflation pushed higher. Last week, the Bank of England raised its inflation forecast to 2.7 per cent from its February forecast of 2.4 per cent, expecting inflation to peak just under 3 per cent in Q4. It also now anticipates average earnings to grow just 2.0 per cent, a one percentage point downgrade from its forecast in February. We maintain our view that inflation will reach c.3.3 per cent this year given the pressures that are yet to filter through the supply chain.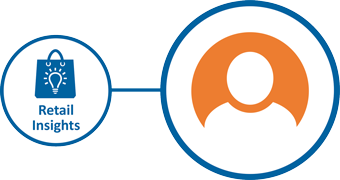 Why get a FREE TRIAL?
It's free for 30 days
Download a great selection of reports
No obligation
No credit card details
Cancel at anytime
No hassle
Excel with our RETAIL INSIGHT
START MY FREE TRIAL >