Retail Economics Response - BRC-KPMG Retail Sales Monitor September 2016
Retail sales regained some lost ground in September with total sales up 1.3 per cent, year-on-year, according to the BRC-KPMG Retail Sales Monitor. Like-for-like sales also improved on the previous month with growth of 0.4 per cent. There are some seasonal factors to consider this month with a later back-to-school period supporting some sales activity. What's more, September was the strongest month of the year in 2015 (excluding Easter distortions) when total sales rose by 3.9 per cent. There are some tough comparisons.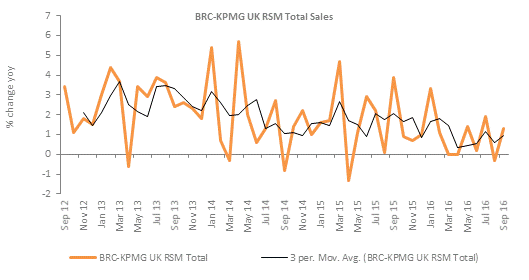 Source: BRC-KPMG Retail Sales MonitorNevertheless, longer term trends show total sales growth is on a downward trajectory with a recovery in food and grocery supporting the overall market. Year-to-date growth averaged just 1.0 per cent up to September, markedly weaker than 1.9 per cent growth during the comparable period in 2015.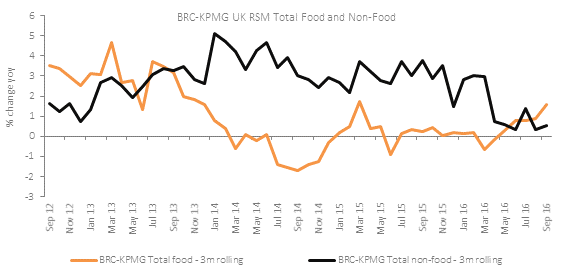 Source: BRC-KPMG Retail Sales MonitorDespite persistent deflation, Food sales have shown a strong comeback in the last six months. In the three months to September total food sales rose by 1.6 per cent, the strongest since November 2013, excluding Easter distortions. In the same period last year, Food sales rose by just 0.3 per cent. Meanwhile, Non-Food has weakened sharply over the same period. In the three months to September, total sales rose by 0.5 per cent which is the worst performance since December 2011 if we ignore Easter distortions. Despite the rebound in consumer confidence shown in other survey evidence, it would appear that consumers have cut back on discretionary purchases over the last quarter. The declines in Non-Food were driven by Clothing, House Textiles and Other Non-Food (predominantly DIY and Gardening and Electricals). However, there was some support for big-ticket purchases with Furniture and Flooring and Household Appliances two of the best performers. Jewellery and Watches was the fastest growing category which continues to benefit from tourists making the most of favourable exchange rates.Looking forward, we expect there to be a high degree of volatility in retail sales in the coming months as consumer confidence and spending remains sensitive to economic and Brexit news. Underlying economic conditions will become tougher in 2017 as the combination of rising inflation and a weaker labour market erode households' disposable incomes. That said, the performance of the all-important final quarter of the year is difficult to tell. On the whole, consumers react to their personal experience of the economy in terms of their job security, rising prices in the shops and what happens to their wages. As of yet, not much has happened to affect their spending power and so they may be willing to continue to spend before any real impact is felt. The Chancellor's Autumn Statement may give households some unexpected fiscal support which could make all the difference for Christmas.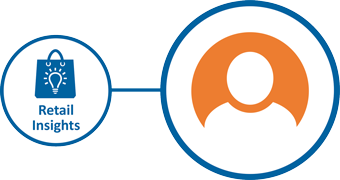 Why get a FREE TRIAL?
It's free for 30 days
Download a great selection of reports
No obligation
No credit card details
Cancel at anytime
No hassle
Excel with our RETAIL INSIGHT
START MY FREE TRIAL >