Prospects for UK retail strong with 2.5 per cent rise in spending in May
Retail sales values non-seasonally adjusted rose by 2.5 per cent in May, according to the Office for National Statistics. The underlying strength of data as suggested by the three month on three month movement in the quantity bought, continued to show growth for the 27th consecutive month, increasing by 0.6 per cent. This is the longest period of sustained growth since consistent records began in June 1996. Average store prices including petrol stations fell by 2.7 per cent in May 2015 compared with May 2014. This is the 11th consecutive month of year-on-year price falls. The largest contribution once again came from petrol stations which fell by 10.2 per cent, the 21st consecutive month of year-on-year falling prices in this store type.
Source ONS
Retail sales by category showed the Food sector continuing to struggle with sales growth of 0.9 per cent in May compared with the previous year. Given food prices are falling at around 1.8 per cent according to the ONS, volumes are also in decline.
Homewares, Furniture and Flooring continued to perform strongly on the back of rising household disposable incomes, a rebound in housing market activity and buoyant consumer confidence.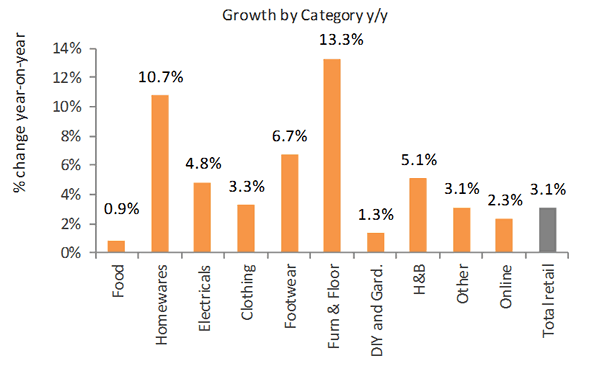 Source Retail Economics Index
Although consumer confidence in making major purchases dipped recently according to GfK, it remains at historically high levels. Activity is also being boosted by footfall in out-of-town locations according to Springboard. The latest data suggests that footfall in out-of-town was up 2.0 per cent in May, against declines of 1.1 per cent in the high street and 1.4 per cent in shopping centres.
Footfall appears to be most defensive in retail parks as they look to reinvent themselves to bring a greater mix of leisure and experiences outside of just retail shopping. The success of click-and-collect is also driving footfall to these locations.
Clothing and Footwear sales slowed on the previous month as unsettled weather dampened demand. However, there were still robust sales in some areas. The ONS suggests strong demand in small boutique retailers in footwear providing a boost to overall growth of the category.
We continue to forecast growth in consumer spending of around 3 per cent in 2015 as households benefit from the ongoing impact of low levels of inflation and rising real incomes. We believe a sharp pick up mortgage approvals, which rose over 10 per cent from March to April to 68,100, may prove to be a wider pick-up in the housing market over the coming months. If the housing market does begin to pick-up steam once again, home and furniture retailers will benefit directly, while rising house prices are likely to boost consumer confidence further to the benefit of all consumer sectors.
However, retail has not yet seen the full impact of consumers being better off. Other parts of consumer spending, for example recreation and culture, have seen a boost in demand. Where households decide to spend their additional windfall will be critical for the sector.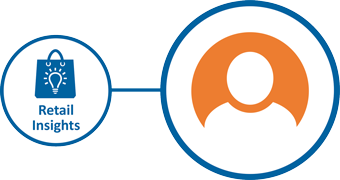 Why get a FREE TRIAL?
It's free for 30 days
Download a great selection of reports
No obligation
No credit card details
Cancel at anytime
No hassle
Excel with our RETAIL INSIGHT
START MY FREE TRIAL >