Outlook for inflation remains weak as CPI falls back down to zero in June
The Consumer Price Index CPI was zero in June, a marginal decline from 0.1 per cent in May. UK consumers are continuing to benefit from sustained period of low inflation. It has now been 18 months since inflation was above 2 per cent - the Bank of England''s target rate.Falls in clothing -0.7 yy and food prices -2.2 yy were the main components to push down the overall rate. Recreation and Culture also fell by 1.0 per cent on the year, the fifth consecutive month to show a decline. The source of underlying weakness continues to come from the ongoing impact of lower energy and import prices.We believe that the recent fall in oil prices, down from around $64 to $57 per barrel in the last month, will filter through to petrol prices quickly. A period of deflation could return to the UK as soon as next month. A 5 per cent appreciation in Sterling since the start of the year will help to keep import prices cheaper heaping pressure on the downside.Weakness in the Producer Price Index PPI, which remained deflationary in June 1.5 per cent, suggests that pricing pressure in the pipeline remains muted.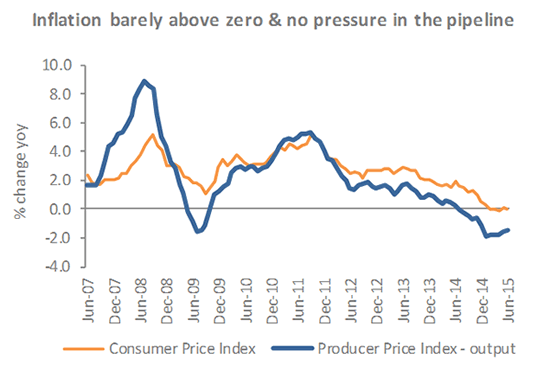 Source ONSOverall, we expect inflation to remain around zero over the remainder of the year barring any shocks in commodity markets. Fierce competition in the grocery sector is unlikely to ease any time soon which means inflation will remain below average for some time yet. Grocers are cutting back on product lines to trim the fat out of operations and investing further on price promotions.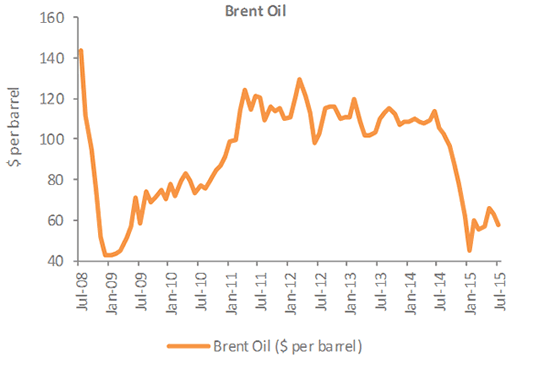 Source Bank of England Commodity prices remain soft according to the Reuters-Jefferies CRB Index, a basket of commodities. Prices have continued to fall over the last few months suggesting there is little upward pressure in the supply chain. Cooling demand in emerging markets has also eased commodity price rises. Sterling's rise against the euro will keep downward pressure on imported food products. However, there is still a long lead time on the full impact of these changes feeding through to supply given hedging on currencies, commodities and contracts. In the near term, pay growth is expected to strengthen, driven by the narrowing and erosion of slack in the labour market. The recent announcement in the Budget of a National Living Wage will also add pressure next year. Businesses could look to rebuild margin over the coming months to accommodate additional labour costs. Continued low inflation is supporting real wage growth in the consumer sector. Low inflation in food and transport is boosting households' spending power. On balance, we believe that this is a continuation of good news for the Bank of England. Inflation does not show any signs of weakening significantly in the short term. Nor does it appear that inflation will rise sharply. This will give the Bank the opportunity to keep to its plan of a gradual rise in interest rates next year.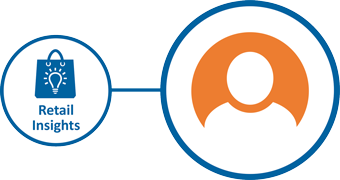 Why get a FREE TRIAL?
It's free for 30 days
Download a great selection of reports
No obligation
No credit card details
Cancel at anytime
No hassle
Excel with our RETAIL INSIGHT
START MY FREE TRIAL >