ONS Retail Sales March 2020
The impact of Covid-19 has obliterated retail sales to record lows according to the latest ONS data. As non-essential retail stores closed their doors on 23 March, retail sales (value, non-seasonally adjusted, excluding fuel) declined by a record 2.3% year-on-year in March.
In volume terms, the quantity bought (excluding fuel) fell by a record low of 3.7% in March compared to the previous month, and declined by 4.1% compared to the previous year.
The immediate shock of lockdown to our lives has forced new shopping behaviours and a focus on essentials. Food stores and online players were the only sectors to show growth in monthly volumes, with food stores seeing the strongest volume growth at a record 10.4% in March compared to the previous month.
Online sales (non-seasonally adjusted, excluding automotive fuel) surged by 13.1% year-on-year and accounted for a record 21.9% of all retail spending in March, surpassing the previous Black Friday-supported peak in November 2018 as shoppers shifted spending away from physical stores.
But worries about health, job security and prospects for the economy are ultimately causing some consumers to cut non-essential spending and hibernate. Textile, clothing & footwear retailers saw sales volumes tumble 34.8% against the previous month.
This comes as GfK reported its consumer confidence index remained at a near all-time low of -34 during the 1 to 14 April survey period – unchanged from the 16 to 27 March survey, but firmly below the -9 reported earlier that month and -7 in February.
The retail sales deflator (a measure of inflation specific to retail) increased by 0.4% (excluding fuel) in the year to March. Non-Food stores continued to face a deflationary environment, down by 0.6% year-on-year in March, while inflation among Food stores rose by 1.1%.
Retail sales (volume, seasonally adjusted) – 3-months on previous 3-months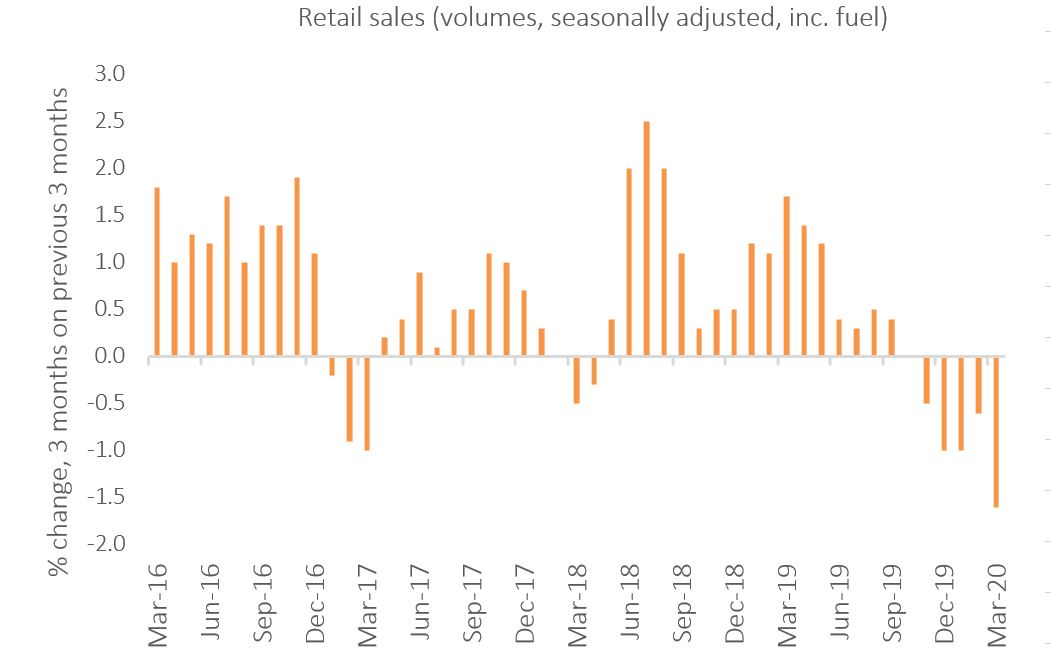 Source: ONS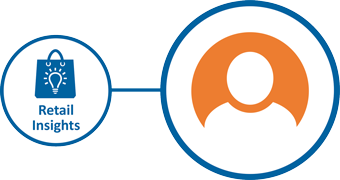 Why get a FREE TRIAL?
It's free for 30 days
Download a great selection of reports
No obligation
No credit card details
Cancel at anytime
No hassle
Excel with our RETAIL INSIGHT
START MY FREE TRIAL >