ONS Labour Market May 2021
Job vacancies in the UK have hit their highest level since the start of the pandemic, with an increase in the quarterly employment rate and a decrease in the quarterly unemployment rate suggesting "some early signs of recovery" according to the ONS.
Hiring up as lockdown eases
Between February and April, the number of vacancies reached its highest level since January to March 2020, with most industries showing increases – but particularly accommodation and food service activities.

In the quarter to April, there were 657,000 vacancies, up by some 48,400 – or 8.0% – on the previous quarter as restrictions unwind. But despite the rise in job vacancies over the past year, vacancies are some 128,000 below the pre-pandemic level in the January to March quarter of 2020.

Single-month estimates show an increase in vacancies in early April, reaching near pre-pandemic levels according to statistics of online job adverts from Adzuna.
Number of vacancies in the UK, seasonally adjusted,February 2002 to April 2002 to February 2021 to April 2021

Source: ONS
Payroll rises
Early payroll estimates for the quarter to April show the number of payroll employees increased for a fifth consecutive month, but remains some 772,000 below pre-pandemic levels – with the largest falls among hospitality, those aged under 25 years, and those living in London.

The UK employment rate was estimated at 75.2% in the three months to March, which is 0.2 percentage points higher than the previous quarter. This was driven by an increase in the number of full-time employees. However, it is 1.4 percentage points lower than before the pandemic (December 2019 to February 2020).

It should be noted that there are still over four million workers on the furlough scheme, who count as employed.

Younger workers been particularly impacted by the pandemic. The quarter to March has seen a decrease in the employment and unemployment rates for young people –particularly amongst 16- to 17-year-olds – and record economic inactivity among young people in full-time education, suggesting that more young people are staying in education and not looking for work.
Unemployment dips
The latest unemployment estimates show the largest quarterly decrease since September to November 2015, falling 0.3 percentage points on the previous quarter to 4.8% in the three months to March.
Hours worked impacted by restrictions
With the reintroduction of tougher coronavirus restrictions between January and March, total hours worked decreased on the quarter.

Between January and March, total actual weekly hours worked was 956.2 million hours in the UK. This marked a decrease of 11.8 million hours from the previous quarter.
Earnings rise
Annual growth in average employee pay continued – driven in part by compositional effects from a fall in the number and proportion of lower-paid jobs.
For March in nominal terms:
Average regular pay (excluding bonuses) for employees in Great Britain was £535 per week before tax and other deductions from pay – up from £510 per week a year earlier.

Average total pay (including bonuses) for employees in Great Britain was £562 per week before tax and other deductions from pay – up from £540 per week a year earlier.

Total and regular pay growth is outpacing inflation, at 4.1% and 4.9% in March compared to a year earlier.

The ONS estimates that adjusting for inflation and removing the compositional effect of fewer lower-paid jobs, the underlying wage growth is around 1.5% for total pay and 2.0% for regular pay.
Great Britain, AWE annual growth rates, January to March 2021
Source: ONS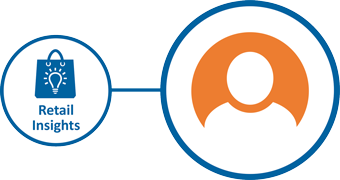 Why get a FREE TRIAL?
It's free for 30 days
Download a great selection of reports
No obligation
No credit card details
Cancel at anytime
No hassle
Excel with our RETAIL INSIGHT
START MY FREE TRIAL >