ONS Labour Market July 2020
The latest labour market data from the ONS shows that job vacancies are at a record low at a time when payroll work continues to fall, with signs of inactivity rising. The latest data covers the period before recent redundancies were reported across the high street.
Record decline in hours worked
Based on flash estimates for June using PAYE data, the number of paid employees dropped by 2.2% (649,000) compared with March.
The total number of weekly hours worked continued to decrease at the highest annual rate on records dating back to 1971. Between March and May 2020, total actual weekly hours worked in the UK fell by a record 175.3 million, or 16.7%, to 877.1 million hours.
Accommodation and food services have been the hardest hit – down 12.0 hours to a record low of 16.0 hours per week.
UK total actual weekly hours worked (people aged 16 years and over), seasonally adjusted, between March to May 1992 and March to May 2020

Source: ONS
Vacancies decline in all sectors
Between April and June, the ONS recorded the largest annual and quarterly decrease in job vacancies since records began in 2001. During the period there were an estimated record low 333,000 vacancies, some 497,000 (-59.9%) fewer vacancies than a year earlier and 463,000 (-58.1%) fewer than the three months to March 2020.
While there have been quarterly decreases across all sectors, the hardest hit have been wholesale, retail trade and repair of motor vehicles with 92,000 (-70.0%) fewer vacancies, as well as accommodation and food service activities with 78,000 (-91.1%) fewer.
The ONS's experimental claimant count data shows a 1.1% increase in the number of claims between May and June to 2.6 million. Since March, the claimant count has increased by 112.2%, or 1.4 million.
It should be cautioned that recent changes to the claimant count mean that the count is likely to overstate underlying changes in unemployment. As part of the response to the pandemic, the rules about who can claim Universal Credit have changed, meaning an increased proportion of those claiming may still be in some kind of work.
Employment broadly stable
The unemployment rate was unchanged on the previous quarter at 3.9% between March and May.
The employment rate does not reflect those furloughed, who are still counted as employed, and remained broadly stable at 76.4% in the three months to May – up by 0.3% points on last year but down 0.2% points on the quarter.
The number of people employed but temporarily away from a job while receiving no pay was around half a million employees during May.
There are some signs of economic inactivity rising, with people out of work not currently looking for work up 0.2% points between March and May at 20.4%. However, this is down 0.4% points compared to last year, driven by a gradual decline in inactivity among women.
Real pay declines
Average pay growth slowed further in May, which saw total pay decline in real terms.
Pay declined in industries where furloughing was prominent, many of these being the lowest-paid industries including accommodation and food service activities, the retail trade and repairs industry, and the arts, entertainment and recreation industry.
For the three months to May:
total pay (including bonuses) fell by 0.3%
regular pay (excluding bonuses) increased by 0.7%
Adjusted for inflation:
total real pay fell by 1.3%
regular real pay fell by 0.2%
Great Britain average weekly earnings annual growthrates, seasonally adjusted, January to March 2001 to March to May 2020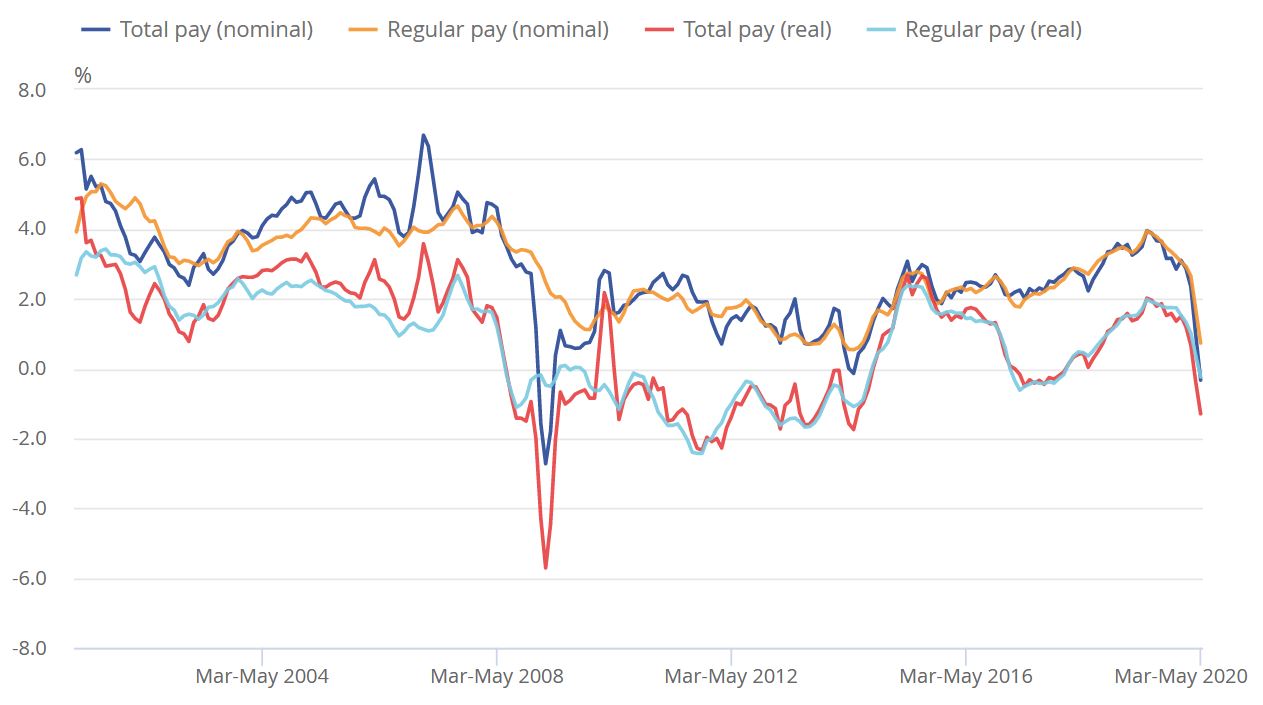 Source: ONS
For May in nominal terms (that is, not adjusted for price inflation):
average regular pay (excluding bonuses) for employees in Great Britain was £504 per week before tax and other deductions from pay – no change on last year
average total pay (including bonuses) for employees in Great Britain was £530 per week before tax and other deductions from pay – down from £536 per week a year earlier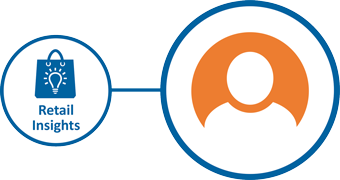 Why get a FREE TRIAL?
It's free for 30 days
Download a great selection of reports
No obligation
No credit card details
Cancel at anytime
No hassle
Excel with our RETAIL INSIGHT
START MY FREE TRIAL >