Nielsen/Kantar Grocery Market Share November 2019
Four & 12 weeks to 2/3 November 2019
Grocery sales growth rose 1.1%, year-on-year, in the four weeks to 2 November, according to the latest figures from Nielsen, slowing from the 1.7% rise in the previous four-week period.
Over the last 12 weeks, grocery sales increased by £500m however, sales fell in all the top four supermarkets, with Morrisons (-1.5%) and Asda (-0.6%) experiencing the sharpest declines.
Outside of the top four, the leading discounters continued to demonstrate significant sales growth, with Lidl (+13.8%) outperforming Aldi (+9.5%). The ongoing rise of these discounters has resulted in the combined market share of the top four grocers falling three percentage points to 64% in the last three years. What's more, there is little sign of this pressure easing, with Nielsen noting that 73% of incremental sales were made at the two leading discounters in the last 12 weeks.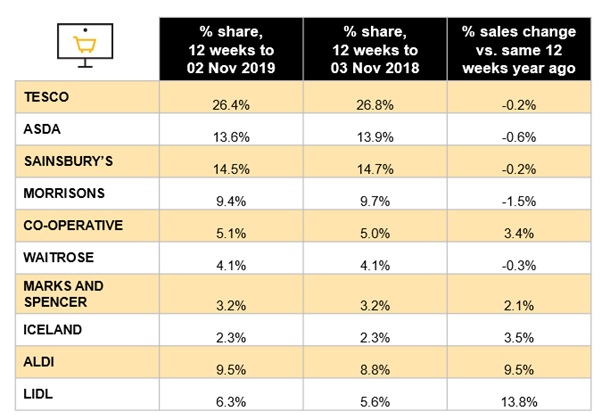 Source: Nielsen Homescan Total Till
12 weeks to 2 November 2019
A separate survey from Kantar covering the 12 weeks to 3 November showed that:
Supermarket sales rose 1.0%, year-on-year, during the 12-week period.
Pumpkin sales were up by 6% in October.
£17 million was spent on mince pies and £3 million on Christmas puddings so far this year.
Kantar expect the average household to spend more than £380 on groceries during December with shoppers spending nearly £11 billion in total in December alone.
Co-op welcomed an additional 274,000 shoppers through its doors in the past 12 weeks.
Some 1.8 million households made at least two trips to Tesco worth £50 or more in the past four weeks.
Ocado sales grew by 13.5% compared to a year ago.
Grocery inflation is rose by 0.8% in the 12-week period.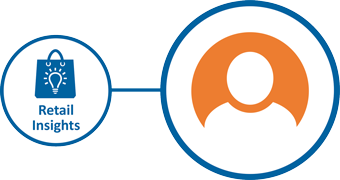 Why get a FREE TRIAL?
It's free for 30 days
Download a great selection of reports
No obligation
No credit card details
Cancel at anytime
No hassle
Excel with our RETAIL INSIGHT
START MY FREE TRIAL >