Household income boosted by fall in inflation
The Consumer Prices Index (CPI) fell to 0.3 per cent in April from 0.5 per cent in March – lower than consensus expectations of a 0.5 per cent rise. Air fares and clothing prices, which caused the Index to rise last month due to the earlier timing of Easter, and social housing rent, were the main contributors to the decrease in the rate between March and April 2016. These downward pressures were partially offset by a rise in Recreation and Culture prices, where prices of computer games and admissions to cultural events increased by more than they did a year ago. Food also applied some upward pressure. The price of oil has risen to c. $50 per barrel in the last week. This is an 80 per cent rise since prices bottomed out in January and the highest price since early November 2015. Core inflation, which excludes the impact of food and fuel, fell to 1.2 per cent in April from 1.5 per cent in the previous month, below expectations of 1.4 per cent. We expect core inflation to remain subdued in the coming months as earlier falls in oil prices and rises in sterling continue to work their way through the supply chain.In the latest Inflation Report, the Bank of England expect the path of inflation to be gradual, rising to 0.9 per cent by September as past falls in energy and food prices drop out of the annual comparison. This is slightly higher than their expectation in the February report. In the longer term inflation will depend on inflation expectations, companies' pricing decisions, strengthening unit labour costs and the speed at which import cost pressures weaken.
Falling retailer' costs beginning to slow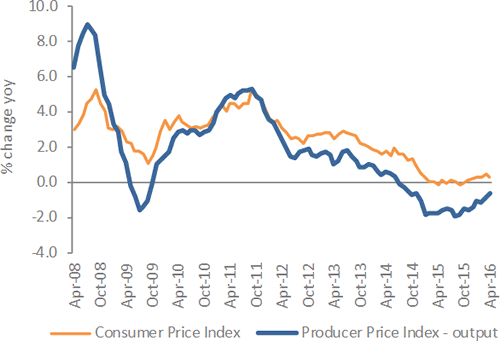 Source: ONSThe decline in factory gate prices continues to ease as the impact of lower oil prices and the appreciation of sterling annualises. The latest Producer Price Index showed deflation of 0.7 per cent in April, the shallowest deflation rate since November 2014. ONS Food remained deflationary at 2.6 per cent, decelerating on 3.0 per cent in the previous month. Retail Economics estimates that Footwear saw the sharpest deflation in April (-3.6 per cent), followed by Clothing (-3.3 per cent) and Food and Drink (-2.6 per cent).The outlook for inflation remains weak. The turn-out of whole-economy unit labour costs remains weaker than expected while inflation expectations are well anchored within the 2 per cent target. Interest rates are expected to remain at current levels until the start of next year before rising to 0.8 per cent by 2019 – according to current market expectations.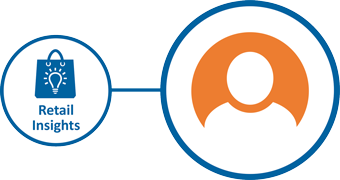 Why get a FREE TRIAL?
It's free for 30 days
Download a great selection of reports
No obligation
No credit card details
Cancel at anytime
No hassle
Excel with our RETAIL INSIGHT
START MY FREE TRIAL >