GfK Consumer Confidence - October 2019
GfK's Consumer Confidence measure slipped back to -14 in October following a two point rise in the previous month, as questions around a Brexit deal, an extension to the deadline and a general election remained unclear in the month.
All five components in the survey, which took place during the first half of October, declined month-on-month. Consumers became slightly more pessimistic about the general economic situation and their personal finances, despite the latest earnings and inflation data suggesting that real wage growth is rising at its fastest rate in three years, at a healthy 2.1%.
Given the extension to the Brexit deadline and a general election looming, we expect confidence to continue to remain in negative territory throughout the coming months as consumers crave clarity. Against a backdrop of many unknowns, including the future direction of short term interest rates, consumers believe now is a good time to save – which makes for an unnerving environment for retailers in the all-important golden quarter.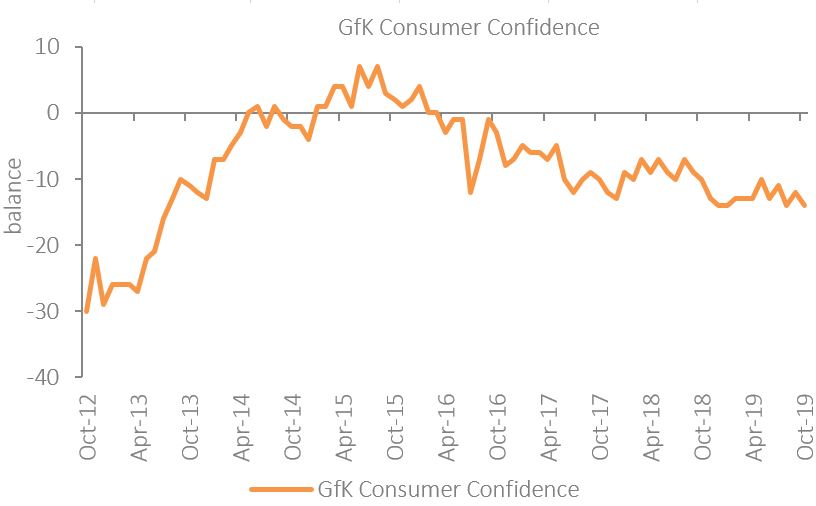 Source: GfK
General economic situation
Consumers' perceptions of the general economic situation over the last 12-months decreased by a point to -33 in October, five points lower compared to last year. The forward-looking component remained the weakest performing in the month, declining two points to -37 – nine points lower than in October 2018.
Personal finances
The backwards-looking personal finances component remained in positive territory but dropped a point in the month to +1 in October – the same level as last year. The forward-looking measure saw a three point decrease to +1, which is also three points lower than a year ago.
Major purchases
The major purchases index reported a two point decrease to +1 in October, down from +4 in October 2018.
Savings Index (not included in the overall measure)
The savings index wound back two points to +21 in October, but is nine points higher than last year.

Source: GfK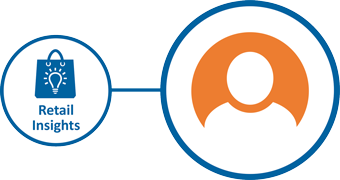 Why get a FREE TRIAL?
It's free for 30 days
Download a great selection of reports
No obligation
No credit card details
Cancel at anytime
No hassle
Excel with our RETAIL INSIGHT
START MY FREE TRIAL >