GfK Consumer Confidence - January 2020
Early indications suggest a modest Boris bounce in consumer sentiment, with GfK's Consumer Confidence measure increasing by two points to -9 in January.
Four out of the five components in the measure improved in the month. Consumers feel more positive about the year ahead and when reflecting on 2019, on the back of strong employment, real wage growth and low inflation.
This has also been reflected in Retail Economics' January Consumer Sentiment Survey, with 28% of respondents expecting the economy to strengthen over the next three months, up from 17% in October.
GfK's Major Purchase Index was the only measure to decline, partly indicating January blues after splashing out at Christmas. It also reflects subdued non-essential sales that retailers have been facing, against what remains a critical year ahead for Brexit as we enter the transition period.
Indeed, GfK's index has been in negative territory for four years running.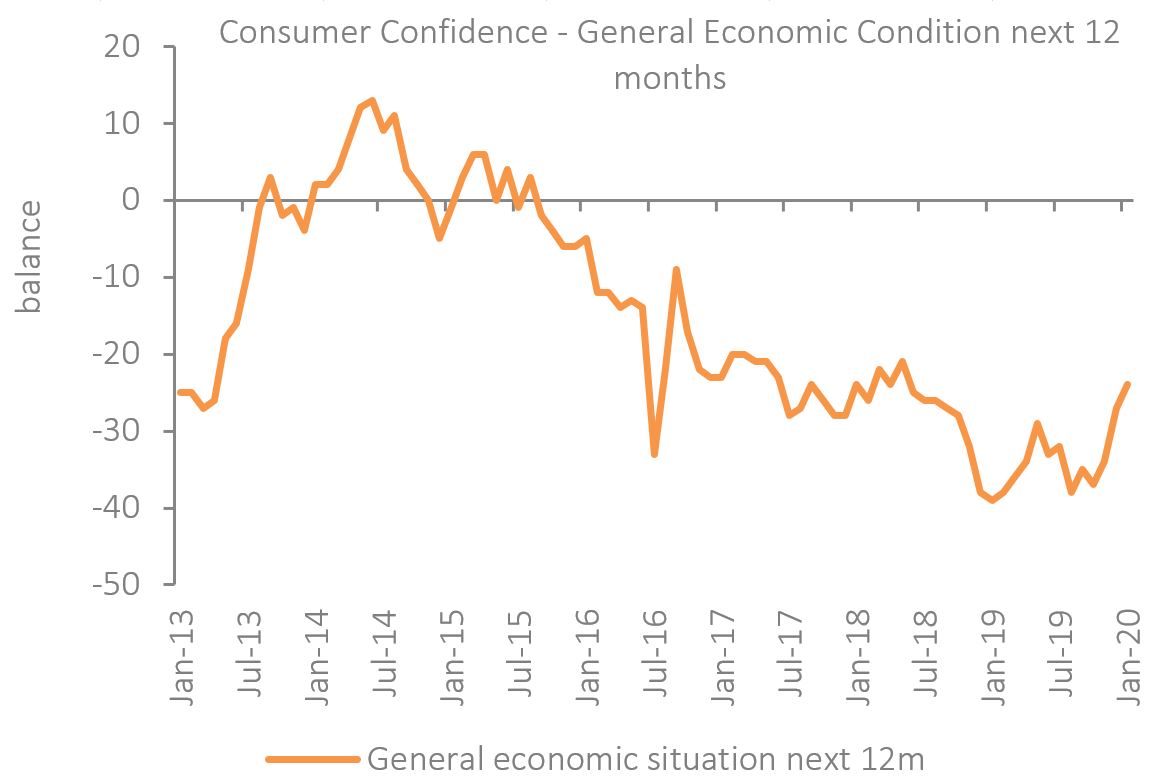 Source: GfK
General economic situation
Consumers' perceptions of the general economic situation over the last 12-months increased by a further three points to -28 in January – seven points ahead of last year.
The forward-looking component saw a robust three-point uplift to -24, which is a staggering 15 points higher than in January 2019.
Personal finances
The backwards-looking personal finances component increased by four points to +1 in January and is one point higher than a year ago.
The forward-looking measure improved by three points to +6, which is five points higher than last year.
Major purchases
The major purchases index declined by two points to +1 in January – one point lower than a year ago.
Savings Index (not included in the overall measure)
The savings index was up by two points to +20 in January – six points ahead of last year.

Source: GfK
Business confidence rose to a 14-month high in January according to Lloyds Bank. Indeed the overall measure rose to 23% from 10% in December. Economic optimism improved markedly in January, rising to 23% from just 2% in December. A rise in trading prospects also contributed to the overall uplift in business confidence, up four points to 22%.
The retail sector continued to demonstrate a strong level of sentiment in January, with its net balance rising to 24%. This compares with a sharp uplift for the construction sector which rose 15 percentage points to 27% while confidence in manufacturing fell back to 21% (from 27% in December).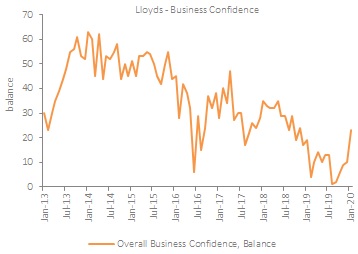 Source: Lloyds Bank Business Barometer (January 2020), BVA BDRC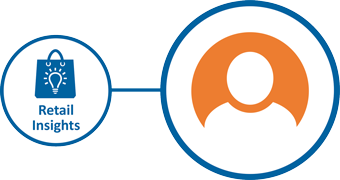 Why get a FREE TRIAL?
It's free for 30 days
Download a great selection of reports
No obligation
No credit card details
Cancel at anytime
No hassle
Excel with our RETAIL INSIGHT
START MY FREE TRIAL >