GDP Q4 2020 Quarterly National Accounts
Record contraction in GDP in final quarter of 2020
UK GDP is now estimated to have contracted by 9.8% over 2020, a slight revision on the preliminary estimate of a 9.9% drop, but still the largest annual decline since "The Great Frost" of 1709.
GDP is estimated to have increased by 1.3% in Q4 2020 (Oct-Dec), an upwards revision of 0.3 percentage points (pp).
The level of economic output in the UK remains 7.3% below its Q4 2019 level, compared to the previous estimate of 7.8%.
There have been some revisions to earlier quarters in 2020. GDP in Q2 2020 (Apr-Jun) is now estimated to have fallen by 19.5% (downwards revision of 0.5pp), followed by growth of 16.9% in Q3 2020 (upwards revision of 0.8pp), reflecting a partial economic recovery as Covid-19 restrictions were eased over the second half of the year.
Services output fell by a slightly upwardly revised 9.0% in 2020, while there was an upwardly revised 8.0% decline in production output and a downwardly revised 14.0% contraction in construction output, reflecting the widespread impact of the Covid-19 pandemic and the associated restrictions in place over the year.
Household Consumption
Household consumption fell by a revised 1.7% in Q4 2020, following a bounce back of 19.7% in Q3 (Jul-Sept). Household consumption expenditure decreased by £7.4bn in current prices in the final quarter, as restrictions in place to stop the spread of Covid-19 severely limited households' discretionary spending.





The household saving ratio increased to 16.1% in Q4 2020, up from a revised 14.3% in Q3.
Household saving ratio increased to 16.1% in Q4 2020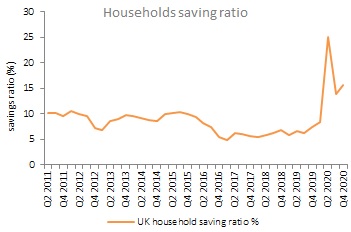 Source: ONS
GDP breakdown by sector
Services

output is estimated to have risen by 1.0% in Q4 2020, but remains 6.8% below Q4 2019 levels.
The services sector saw the weakest growth in the final quarter of 2020 due to the comparatively higher restrictions on consumer facing industries that were in place in November, and December too for some UK regions.
The growth in the services sector in Q4 was mainly due to health and education industries, as schools remained open and coronavirus test and trace schemes were expanded across the UK. Warehousing and postal and courier services also made a positive contribution, driven by increased online retailing around Black Friday and the run-up to Christmas.
In contrast, accommodation and food services fell by 32.0% in Q4 2020, due to the reintroduction of restrictions on restaurants and hospitality in November. The output of the accommodation and food services sector remains 49.1% lower than pre-pandemic levels.

Elsewhere, Construction rose by 2.7% (downward revision from the first estimate of 4.6%) and Production by 2.0% (upward revision of 0.2pp) in Q4.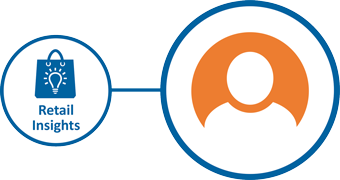 Why get a FREE TRIAL?
It's free for 30 days
Download a great selection of reports
No obligation
No credit card details
Cancel at anytime
No hassle
Excel with our RETAIL INSIGHT
START MY FREE TRIAL >