GDP Q1 2021 Quarterly National Accounts
Headlines:
UK GDP is estimated to have contracted by 1.6% in Q1 2021, a slight revision on the preliminary estimate of a 1.5% drop.

GDP is now 8.8% below its Q4 2019 level, compared to the previous estimate of 8.7%.

The largest contributors to this fall were from the education, wholesale and retail trade, and accommodation and food services industries due to the tightening of coronavirus (COVID-19) restrictions.

Real GDP remains below pre-pandemic levels in all G7 countries while nominal GDP has now recovered in US and Canada.
UK GDP fell by 1.6% in the first quarter of 2021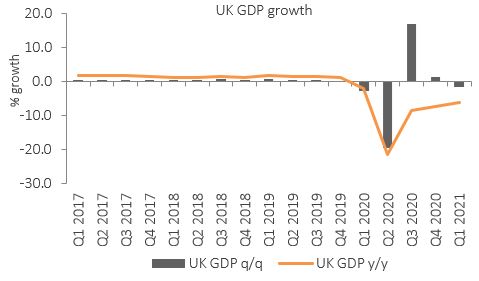 Source: ONS
GDP breakdown by sector
Services
Services output is estimated to have fallen by 2.1% in Q1 2021 and remains 8.8% below Q4 2019 levels.

The education (-14.7%), wholesale and retail trade (-5.7%), and accommodation and food services (-18.6%) industries made the largest contributions to the fall due to the tightening of COVID-19 restrictions. Combined, these consumer facing services fell by 7.5% in Q1 2021.

Elsewhere within the services component, Health (+2.2%) experienced an increase in output in Q1 2021, reflecting the inclusion of the effect of the NHS Test and Trace service and coronavirus vaccination programme.
Production
Production output fell by a slightly revised 0.5% in Q1 2021, driven by a 1.0% decline in manufacturing output. Production output is now 3.7% below pre-pandemic levels.
Construction
Construction output increased by 2.3% in Q1 but remains 3.7% below pre-pandemic levels. Rises in private new housing and non-housing repair and maintenance supported the category in the first quarter.

Growth was particularly strong in March driven by an increase in demand and confidence across the industry along with unusually warm weather.
Household consumption
Household consumption fell by a revised 4.6% in Q1 2021 due to COVID-19 restrictions being reintroduced.

Spending in restaurants and hotels fell by 42.2%, while spending on Transport (-14.0%), Miscellaneous goods and services (-7.0%), Recreational Goods and Services (-1.9%) and Clothing and Footwear (-3.5%) also fell on the previous quarter.

The household saving ratio increased to 19.9% in Q1 2021, which is the second highest on record, compared with 16.1% in Q4 2020.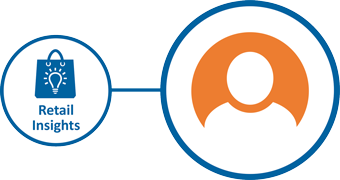 Why get a FREE TRIAL?
It's free for 30 days
Download a great selection of reports
No obligation
No credit card details
Cancel at anytime
No hassle
Excel with our RETAIL INSIGHT
START MY FREE TRIAL >