GDP Monthly Estimate: July 2019
UK gross domestic product (GDP) was flat in the three months to July following a 0.2% contraction in Q2. Services was the only positive contributor to growth, rising 0.2%, while both the production and construction indexes fell, down 0.5% and 0.8% respectively.
Monthly GDP for July grew 0.3% with all but one component reporting a rise.
Three months on previous three months GDP growth, UK, June to August 2018 until May to July 2019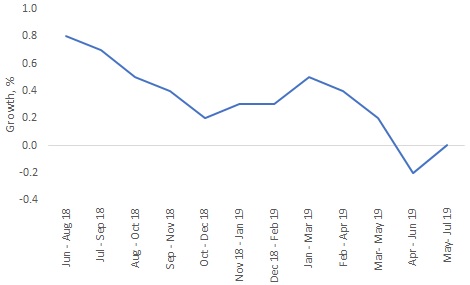 Source: ONS
Production
Monthly Production growth rose 0.1% in July, following a 0.1% decline in June. This was driven by growth in the manufacture of pharmaceutical products which rose 3.8%.
In the three months to July, the Production sector fell 0.5% due to significant volatility in the sector. That said, electricity and gas was a strong performer, growing 2.8% in the three months to July.
Construction
Construction fell 0.8% in the three months to July driven by private housing repair and maintenance and public other new work, which fell by 6.3% and 6.2% respectively.
On a monthly basis, construction returned to growth, up by 0.5% in July. This was driven by private new housing and public housing repair and maintenance, which grew by 4.4% and 7.8% respectively. Interestingly, public new housing fell 11.7% reversing the recent trend which has seen a rise in public housing rise and fall in private housing.
Services
Meanwhile, growth in the services sector was muted at 0.2% in the three months to July. Weakening growth has been notable in 'other services' driven by a number of sub-industries while the information and communication component performed strongly.
On a monthly basis, Services grew 0.3% in July, following four consecutive months of flat growth. A notable rise was reported in administrative and supportive service activities which contributed 0.08 percentage points to GDP growth.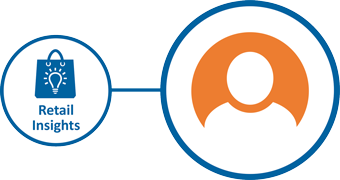 Why get a FREE TRIAL?
It's free for 30 days
Download a great selection of reports
No obligation
No credit card details
Cancel at anytime
No hassle
Excel with our RETAIL INSIGHT
START MY FREE TRIAL >