GDP Monthly Estimate: February 2020
UK gross domestic product (GDP) rose 0.1% in the three months to February 2020, following flat growth in the previous two periods.
Monthly GDP fell 0.1% in February, following a 0.1% monthly rise in January and 0.2% rise in December. The latest monthly decline was driven by a sharp fall in the construction component.
The ONS noted that whilst the period was largely unaffected by the coronavirus, there was anecdotal evidence of some indirect effects in the data. For instance, within the production component there was a reduction in the number of exports of motor vehicles to China. Closer to home, some UK businesses have also partially shut down due to supply chain issues in China.
GDP growth, three-months on previous three-months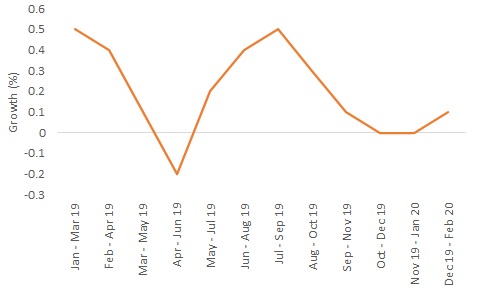 Source: ONS
Services
Services output grew 0.2% in the three months to February, up from no growth in January. Several categories contributed to growth, notably Education, which continued its strong performance witnessed in recent months. Disappointingly, the Wholesale and Retail component continued to demonstrate negative growth on a three-month rolling basis although improved somewhat from the previous period.
On a monthly basis, Services output was flat, slowing on the 0.1% rise in January. Computer programming made a positive contribution which was offset by falls in warehousing and wholesaling, impacted by disrupted activity in China due to Covid-19, falling oil prices and the weather. Elsewhere, travel agents and tour operators were also impacted by the coronavirus with reduced bookings resulting in the index falling to its lowest level since February 2014.
Production
Production fell by 0.6% in the three months to February, with a 0.4% fall recorded in manufacturing. Declines were particularly apparent across manufacturing industries with a notable fall in the manufacture of transport equipment (-1.9%) driven by weaker exports to China due to the coronavirus. Elsewhere, falls were seen in energy production, mining and quarrying while water supply increased.
On a monthly basis, production grew by 0.1% in February, slowing on the 0.2% rise in the previous month.
Construction
Construction output declined by 0.2% in the quarter to February, down from 1.0% growth in January. A sharp fall in private housing repair and maintenance (-5.6%) was the main driver.
Growth on a month-on-month basis also fell 1.7% in February following a marginal fall in the previous month. The decline was driven by private new housing which plummeted 7.7%. Some businesses noted that they were impacted by stormy conditions with the Met Office reporting it was the wettest February on record.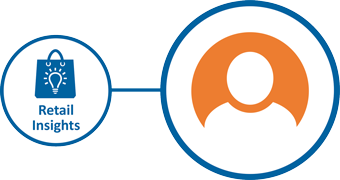 Why get a FREE TRIAL?
It's free for 30 days
Download a great selection of reports
No obligation
No credit card details
Cancel at anytime
No hassle
Excel with our RETAIL INSIGHT
START MY FREE TRIAL >