GDP Monthly Estimate: April 2021
UK economic activity accelerated in April as the UK came out of lockdown. GDP grew by 2.3% over the month, the strongest growth rate since July 2020.
The Services sector (+3.4%) saw the largest bounce as retail sales were boosted by the reopening of non-essential stores, Meanwhile, the Construction (-2.0%) and Production (-1.3%) sectors both contracted in April, mainly because of strong performances over the previous month.
April's GDP remains 3.7% below pre-pandemic levels of February 2020, but it is now 1.2% above the initial Covid-19 recovery peak seen in October 2020.
UK GDP grew by 2.3% in April as the economy reopened post-lockdown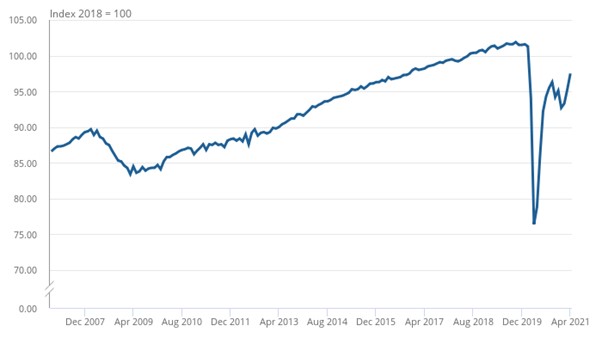 Source: ONS
Services
Services output picked up considerably in April, rising by 3.4% month-on-month, as restrictions on consumer-facing industries were eased.
Retail sales volumes grew sharply in April, with a monthly increase of 9.2%, reflecting the re-opening of non-essential stores from 12 April in England and Wales and from 26 April in Scotland.
Accommodation services grew by 68.6% as caravan parks and holiday lets picked up, while food and beverage services grew by 39.0% as pubs, restaurants and cafes were permitted to serve customers in outdoor seating areas.
On a three-month rolling basis, services output grew by 1.4%, reflecting the ongoing recovery in retail sales, which was partly offset by a decline in educational activities as schools were closed in February and some of March. Overall, Services output is still 4.1% below its pre-pandemic level of February 2020.
Production
Production output fell by 1.3% in April, the first decline since the start of the year when Covid-19 restrictions were re-introduced. The sector is now 3.5% below its February 2020 level.
Following two months of growth, the Manufacturing sector contracted slightly by 0.3%. The largest downward contribution came from the manufacture of pharmaceutical products (-16.0%) and transport equipment (-2.8%).
Mining and quarrying output contracted by 15.0% in April, mainly because of an 18.2% fall in extraction of crude petroleum and natural gas. Planned temporary closures for maintenance of oil field production sites and a fall in fuels exports were the main reasons for this.
In the three months to April, production output increased by 0.5%.
Construction
Construction output fell by 2.0% month-on-month in April, following exceptionally strong growth in March. The drop was a result of a fall in both new work (-2.9%) and repair and maintenance (-0.6%).
Despite this, the Construction sector remains 0.3% above February 2020's pre-pandemic levels.
Construction output increased by 5.1% in the three months to April, as the sector remained open during lockdown, benefitting from a rise in home building activity and public sector infrastructure projects since the start of the year.
GDP sector breakdown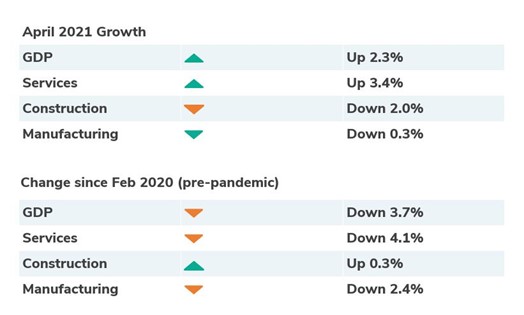 Source: ONS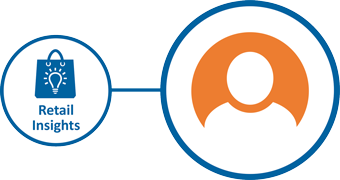 Why get a FREE TRIAL?
It's free for 30 days
Download a great selection of reports
No obligation
No credit card details
Cancel at anytime
No hassle
Excel with our RETAIL INSIGHT
START MY FREE TRIAL >