GDP Monthly Estimate: April 2020
UK gross domestic product (GDP) fell 10.4% in the three months to April 2020, capturing the direct impact of the coronavirus pandemic. The services sector fell by 9.9%, production by 9.5% and construction by 18.2%.
It's worth noting that challenges in collecting the data mean that GDP estimates for March and April are subject to a higher degree of uncertainty than normal.
Monthly GDP fell 20.4% in April, following a 5.8% monthly fall in March and 0.2% fall in February. This is the biggest monthly decline since the series began in 1997 and deeper than the consensus forecast of an 18.7% fall. All components of GDP declined with a -43.6% fall in construction the most severe.
UK GDP growth, Quarter 1 (Jan to Mar) 2005 until February to April 2020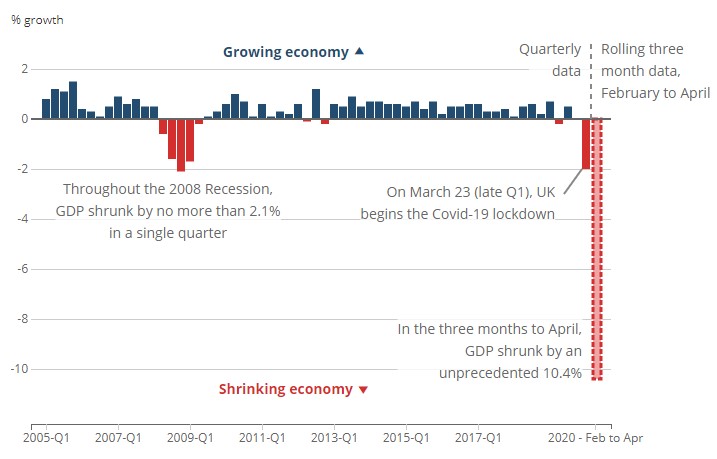 Source: ONS
Services
Services output fell by 9.9% in the three months to April, following a 1.9% fall in March. Notable declines were reported in Education (-18.8%) as schools around the country were towards the end of March and the whole of April. Elsewhere, Wholesale and Retail continued to deteriorate, falling 41.6% on a three-month rolling basis driven by a reduction in new car registrations.
On a monthly basis, Services fell 19% - the largest monthly fall on record. Services industries were the most effected by social distancing measures.
The ten largest industry falls in the services industries
Index of Services, monthly growth, seasonally adjusted, UK, April 2020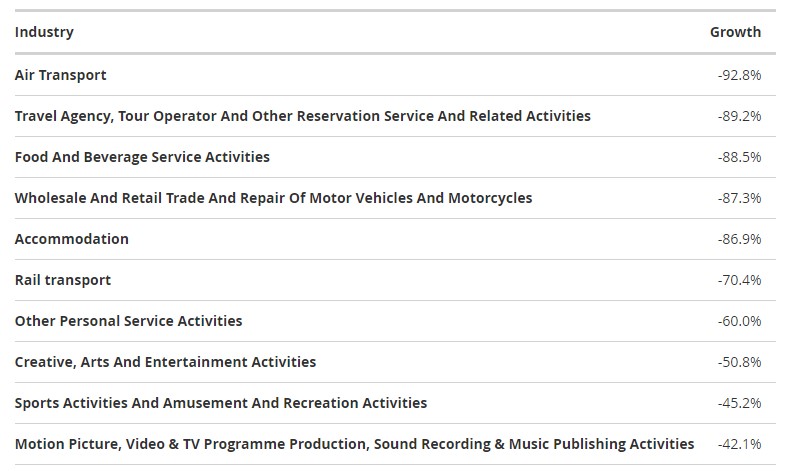 Source: ONS
Production
Production fell by 9.5% in the three months to April, with all four sub-categories falling during the period. Declines were seen in 12 out of 13 manufacturing industries with a notable fall in the manufacture of transport equipment (-28.3%). The only increase was recorded in the manufacturer of basic pharmaceuticals which rose 15.4%.
On a monthly basis, production declined 20.3% in April, with manufacturing also falling by 24.3%.
Construction
Construction output declined by 18.2% in the quarter to April, the sharpest decline of all main components. Significant falls in private housing (-28.3%) and private commercial (-19.6%) were the main drivers.
Growth on a month-on-month basis fell by 40.1% in April – a new record low. This decline was driven by private new housing which plummeted 7.7%. This fall was driven by record declines in all work types, with the largest contribution coming from private housing which fell 59.2%.
Breakdown of GDP and its sub-sectors, rolling three-month growth rate, February to April 2020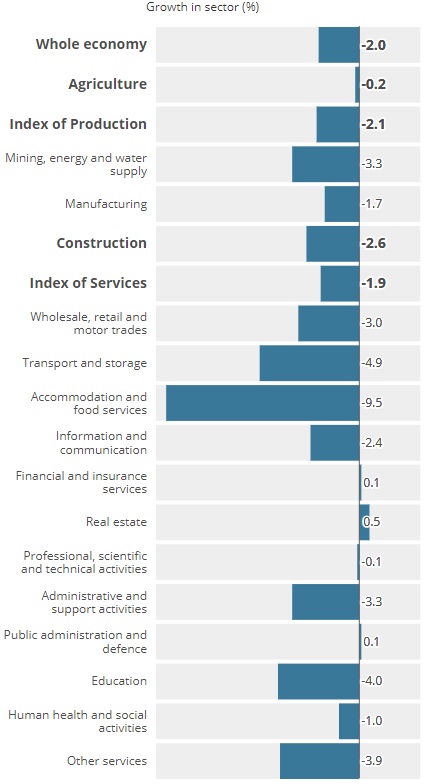 Source: ONS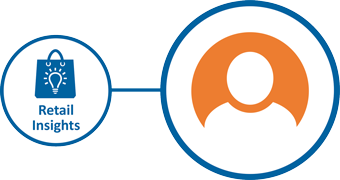 Why get a FREE TRIAL?
It's free for 30 days
Download a great selection of reports
No obligation
No credit card details
Cancel at anytime
No hassle
Excel with our RETAIL INSIGHT
START MY FREE TRIAL >