Food prices continue to fall as supermarkets fight price war
The Consumer Prices Index (CPI) remained at 0.3 per cent in May for the second consecutive month – slightly below the consensus expectations of a 0.4 per cent rise. Transport, particularly motor fuels and sea fares, and Hotels were some of the main upward contributors to the headline inflation rate in May. These upward pressures were offset by a fall in Clothing and Footwear and Recreation and Culture, where prices of computer games decreased by more than they did a year ago - a reversal of April's trend. Food also applied some downward pressure. The price of oil continues to fluctuate around c.$50 per barrel and is likely to remain around current levels due to fairly benign conditions. The International Energy Agency forecast a slight surplus in oil at the start of 2017 in its latest monthly oil market report. Core inflation, which excludes the impact of food and fuel, was also unchanged, remaining at 1.2 per cent in May. This suggested that domestically generated inflation remains weak.Price pressures are expected to build gradually, with a slow movement back to the Bank of England's 2 per cent target. We expect inflation to reach one per cent towards the end of the year as the recent rise in oil prices, easing food deflation and movements in sterling begin to work their way through to shop prices.The Producer Price Index for output (factory gate prices) continues on an upward trajectory suggesting that as the impact of lower oil prices and the appreciation of sterling from last year annualise, these costs are being passed through the supply chain.
Falling retailer' costs beginning to slow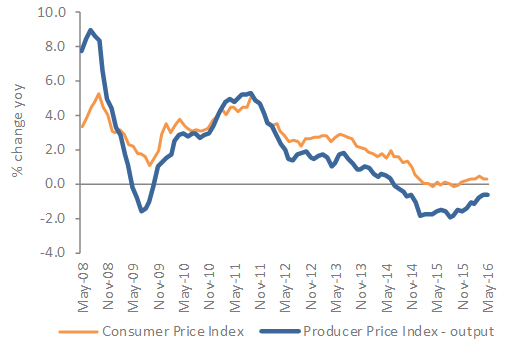 Source: ONSThe latest Producer Price Index showed deflation of 0.7 per cent in May, again unchanged from the previous month. However, this was significantly higher than deflation of 1.6 per cent this time last year. The ONS reported Food and Non-Alcoholic Beverages deflation of 2.8 per cent in May, accelerating from 2.5 per cent in April. Retail Economics estimates that Footwear and Clothing saw the sharpest deflation in May, falling 4.0 per cent each respectively, followed by Food and Drink (-3.0 per cent).
Supermarket price wars keep food deflationary
Source: ONSThe outlook for inflation remains weak. Fierce competition in the grocery sector suggests that cost pressures passed through the supply chain will be absorbed by retailers – to some extent. Food deflation is likely to ease back slowly in the coming months.The market-implied path suggests interest rates are expected to remain at current levels until 2018 before rising to 0.8 per cent by 2019.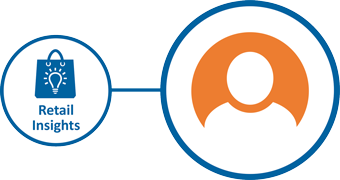 Why get a FREE TRIAL?
It's free for 30 days
Download a great selection of reports
No obligation
No credit card details
Cancel at anytime
No hassle
Excel with our RETAIL INSIGHT
START MY FREE TRIAL >