February retail sales better than expected as consumers put EU woes to one side
Retail sales rose by 2.0 per cent year-on-year (value, non-seasonally adjusted) in February according to the Retail Economics Retail Sales Index. The three month rolling average, which provides a more accurate underlying trend, rose to +1.2 per cent, the highest since October last year.These results exceeded expectations and showed that momentum has continued from January's boost in spending. It should also help ease some concerns that Brexit is weighing on consumer sentiment.
Retail Economics Retail Sales Index: Total retail sales
Source: Retail Economics - Retail Sales IndexNevertheless, we still expect 2016 to be a tougher year than last as renewed fiscal tightening erodes disposable incomes, firms moderate on hiring plans in the face of uncertainty over the EU and inflation begins to accelerate, albeit on a shallow trajectory. The main engine of growth in the economy remains anchored to consumer spending. Cheaper petrol, food, energy bills and an increasing appetite for credit has left households with a windfall. Although 2015 ended the year on a whimper, these latest figures show that when consumers are in the mood, they are prepared to spend within retail. Nevertheless, non-retail consumer spending continues to outpace spending in the retail sector with robust growth across Recreation and Culture (+9.7 per cent) and Hotels, Restaurants and Bars (+13.6 per cent) according to Visa.In terms of sales growth, the strongest performance came from Furniture and Flooring (+11.2 per cent), Homewares (+8.1 per cent) and Health and Beauty (+7.4 per cent) in February. However, deflation persists within the retail sector. The ONS reported that, on average, prices fell by 2.5 per cent in February suggesting that deeper promotions than last year were needed to stimulate sales growth. Electricals also saw robust growth with sales up +5.7 per cent on the year. There was particularly strong performance across Computing and Telecommunications while Electrical Household Appliances struggled. Food sales continued their recent run of better performance with sales up 1.5 per cent, year-on-year, the strongest since February 2014. This is the third consecutive month of growth. Food deflation is expected to ease in the coming months with inflation likely to return towards the end of Summer 2016. This will boost top line growth for the grocery sector although margins will remain under intense pressure from the fiercely competitive environment. Overall, these are positive numbers and better than consensus estimates. However, we remain cautious that the economic recovery continues to be consumer-led and that the retail sector is not benefitting to the same extent as other parts of the consumer sector.A comparison of the BRC's Retail Sales Monitor and the Coffer Peach Business Tracker, which measure the performance of around 30 bars and restaurant chains, shows that leisure spending has consistently outpaced retail sales growth over the last 18 months. The latest data showed that total sales growth across pubs and restaurants rose by 3.2 per cent in February, according to Coffer Peach Business Tracker. This compared with 2.0 per cent for retail sales according to Retail Economics. The difference is even starker compared with the BRC's Retail Sales Monitor, an accurate gauge of large retailers, which suggested growth of 1.1 per cent during the same period. Similarly, the Visa Consumer Spending Index reported strong growth across Recreation and Culture and Restaurants, Pubs and Bars – supported by official data from the ONS. Although the fundamentals underpinning UK households remain robust, the boost in consumer spending has not flowed through to the retail sector in the manner that would have been expected just a few years ago.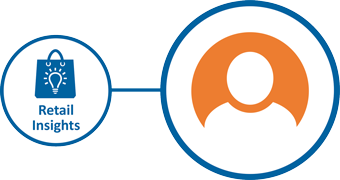 Why get a FREE TRIAL?
It's free for 30 days
Download a great selection of reports
No obligation
No credit card details
Cancel at anytime
No hassle
Excel with our RETAIL INSIGHT
START MY FREE TRIAL >