Continued deflation boosts household spending power in October
October's Consumer Price Index (CPI) remained in deflationary territory with prices falling 0.1 per cent on the year, unchanged from September. This is the joint-lowest rate since the 1960s.Inflation has now hovered around zero since the beginning of 2015. This is likely to be the last we see of deflation for now. We expect inflation to begin to creep back in the coming months. The effect of the higher tuition fees dropped out of annual comparisons and so knocked around 0.1 percentage points off annual CPI this month. Deflation in Food accelerated to 2.7 per cent in October from 2.3 per cent in September which subtracted a further 0.1 percentage points from the overall rate.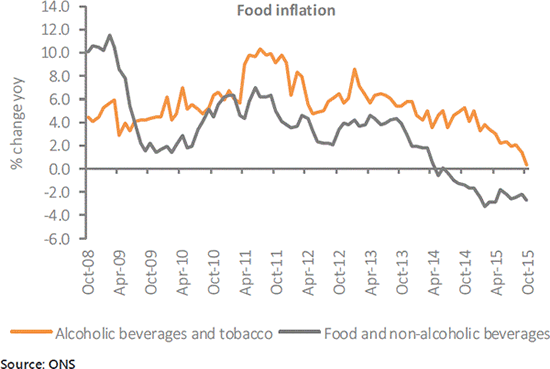 These downward forces were offset by a strong rise in clothing and footwear prices, which saw a monthly record rise in October of 2 per cent – the highest since 1997. The outlook for inflation remains muted and these latest figures should keep the Monetary Policy Committee at ease. Current market forecasts suggest a rate rise towards the end of 2016 although we believe this could occur a little sooner, perhaps in the third quarter of 2016. Nevertheless, inflation will take a long time to get back to target. The Bank expects inflation will not reach 2 per cent until the end of 2017.The rate of deflation across Food and Non-alcoholic drink accelerated in October and fell by 2.7 per cent. The main staples such as Bread (-3.1 per cent), Meat (-4.3 per cent) and Milk, Cheese and Eggs (-5.6 per cent) fell sharply on last year. With real earnings growing at c.3.1 per cent, this will be a welcome boost to household disposable incomes, particularly for lower income households who spend 15.7 per cent of expenditure on food, compared to an average of 11.4 per cent. Price falls are therefore boosting discretionary spending.The outlook for inflation remains weak for three main reasons- Past falls in oil prices- Appreciation of sterling- Weakening demand in emerging markets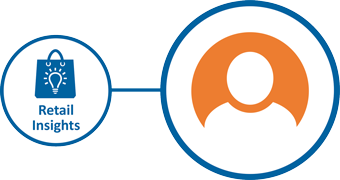 Why get a FREE TRIAL?
It's free for 30 days
Download a great selection of reports
No obligation
No credit card details
Cancel at anytime
No hassle
Excel with our RETAIL INSIGHT
START MY FREE TRIAL >