Consumers shrug off Brexit fears as retail sales buoyed by online shopping
Retail sales rose by 2.6 per cent in May, year-on-year (non-seasonally adjusted), according to the Retail Economics Retail Sales Index. This is the fastest growth since September 2015 and suggests that consumers have shrugged off any fears over the EU Referendum. In the three months to May, sales rose 1.0 per cent, consistent with average levels of growth seen this year, although down on last year's average growth of 1.6 per cent.
Retail Economics Retail Sales Index: Total retail sales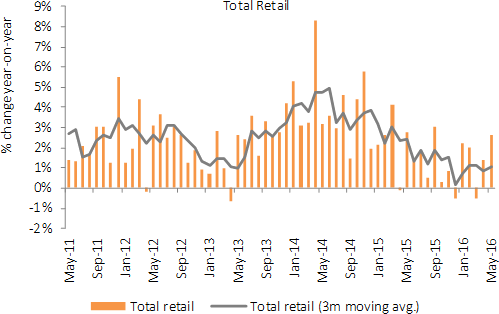 Source: Retail Economics - Retail Sales IndexThese figures suggest that consumer spending is continuing to rise strongly, despite the slowdown in the wider economy. GDP slowed from 0.6 per cent to 0.4 per cent in Q1, while consumer spending picked up from 0.6 per cent to 0.7 per cent during the same period. The strength of retail sales in April and May suggests consumers will continue to plug any wider slowdown in economic output in Q2.Indeed, retail spending is on course for a robust Q2 and expected to beat Q1's rise. Although June's figures are likely to reflect some anxiety over the outcome of the Referendum, they would need to fall by around 0.3 per cent for growth to be pegged back to Q1's levels. However, widespread discounting remains entrenched throughout the industry. The ONS estimate that shop prices fell on average by 2.8 per cent in May – the 23rd consecutive month of shop price deflation. Meanwhile, labour costs have risen significantly with the implementation of the National Living Wage on 1 April. Looking further afield, factory gate deflation has slowed sharply in recent months meaning retailers are seeing upward pressures on the costs of goods sold. Rents and leases also continue to creep up while business rates remain a significant burden. Overall, retailers' margin erosion cannot continue indefinitely and we expect to see the pass through of these costs to consumers in the coming months meaning shop price deflation will ease. Admittedly, should the British public decide to leave the EU later this month, all working assumptions and forecasts will need to be significantly revised.
Retail Sales
Food sales maintained their momentum in May with growth of 1.5 per cent on the previous year. Year-to-date, sales growth has averaged 0.9 per cent in 2016, markedly higher than -0.3 per cent for 2015. This is despite falling prices across the sector with the latest ONS figures suggesting food deflation accelerated from 2.5 per cent to 2.8 per cent in May. This implies volumes rose c.4.2 per cent.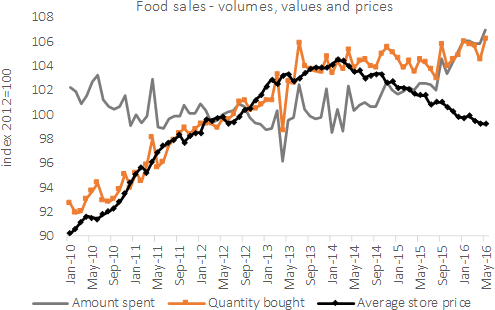 Source: ONSWe expect the supermarket price war to rumble on with the arrival of Sean Clarke, Asda's new CEO, already signalling his price-focused intentions. Further, the launch of Amazon Fresh, the new food delivery service, is likely to disrupt the market placing further emphasis on price, convenience and quality. Within the non-food categories, Electricals had another strong month with sales up 7.1 per cent, year-on year. This was driven by a strong performance in the Computer and Telecommunications category. Anecdotal commentary suggests that demand for wearable technology is growing rapidly with consumers looking for products to aid healthy lifestyles. Televisions were also in strong demand as households upgraded models in time for the Euro 2016 competition. Clothing recovered some lost ground in May with sales up 1.5 per cent on the previous year. The combination of warmer (average 11.3°C vs 9.6°C in May 2015), drier (64.4mm rainfall vs 109.6mm in May 2015) and more sunshine hours (213.8 hours vs 176.6 hours) boosted demand for summer clothing.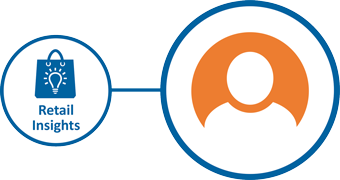 Why get a FREE TRIAL?
It's free for 30 days
Download a great selection of reports
No obligation
No credit card details
Cancel at anytime
No hassle
Excel with our RETAIL INSIGHT
START MY FREE TRIAL >