UK Retail Sales Report summary
December 2020
Period covered: Period covered: 01 Nov 2020 – 31 Nov 2020
Retail sales rose by 2.3% in November, year-on-year, according to the Retail Economics Retail Sales Index (value, non-seasonally adjusted, exc. Fuel) – despite the closure of non-essential retail for large parts of the country.
Online sales rose by 79.6% in November, driven by a rise in non-food online sales of 113.7% according to the ONS.
2nd national lockdown
Store-based sales for non-food retailers saw sales drop 26.7% in November. While this was a significant decline, it was much less severe than the fall in sales during the first lockdown.
In part, retailers were much more prepared to deal with the disruption caused in the second lockdown.
Many have invested heavily in boosting online capacity and have created more frictionless multichannel operations.
Spending shifts online
Consumers were able to revert to previously 'learnt' behaviours more effortlessly, switching to 'lockdown buying habits'.
Having broken down initial barriers of setting up online accounts, entering payment details and overcoming issues of trust, the effort to transition to online shopping has become easier for consumers.
This is also in combination with retailers' investment to improve their online proposition and boost capacity.
Supermarkets benefit
The closure of 'non-essential' retailers encouraged shoppers to purchase non-essential items from 'essential' retailers – primarily supermarkets.
Our research found that 18.2% of consumers we surveyed said that they had intentionally purchased non-essential items such as clothing, toys or electricals from supermarkets that they usually would have purchased elsewhere.
Store-based retail sales drop was less severe in the 2nd lockdown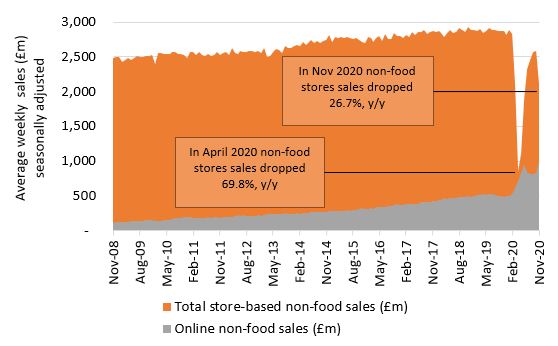 Source: ONS